Optimizely Campaign product update
We are continuously working to develop Optimizely Campaign for you, so you can stay in touch with your customers.
You don't want to wait until the beginning of the next quarter to get an overview of all the new features in Optimizely Campaign? Or you want to know what big and small improvements there have been in our other products? Stay up-to-date with the release notes on Optimizely World. Also check out the Optimizely User Guide - here you'll always find an overview of the latest customization.
Q1 2023
Split your transactional messages by target groups
Transactional Campaigns are highly important for email marketing. Their open rate of more than 80% far exceeds the average of regular campaign emails. This makes optimizing your transactional messages all the more important.
A new feature in Optimizely Campaign enables you to customize your transactional messages for target groups. This is possible via the new Target Group node in the editor for transactional campaigns.
A special benefit of this feature: You can adjust the number of adressed target groups without changing the API integration. You can also continuously adjust the transactional messages in running campaigns.
Figure 1: Example for a campaign with messages customized for target groups. Recipients get discount vouchers of varying value depending on the date of their last purchase.
Use transactional messages with A/B tests in Marketing Automation
Previously, transactional messages with A/B tests were not available in Marketing Automation campaigns. This changes in 2023: You can now use flexibly configured A/B tests in Marketing Automation campaigns. This reduces the complexity of the automation graph and helps you keep track of campaigns with complex logic.
Another advantage is that you no longer need to reconfigure a Marketing Automation campaign when you wish to change the number of message variants or adjust an A/B test. Thus, you can fully focus on continuous A/B testing and optimizing your campaigns.
Figure 2: Previously, transactional campaigns with A/B tests were not available in Marketing Automation campaigns. This complicated the design of such campaigns.
Figure 3: Now, with the latest update, A/B tests can be used in Marketing Automation. This simplifies the campaign graph.
Q4 2022
New feature for segmenting Apple Mail Privacy Protection (AMPP) users
Are open rates still reliable KPIs for email marketers? Marketing teams must ask themselves this question since 2021. This uncertainty was caused by the iOS 15 update which automatically loads tracking pixels and thereby falsifies open rates if the user agrees to this. Depending on the business sector and type of campaign, misleading open rates may be displayed for up to 25% of recipients. This does not only affect the KPI reporting of open rates but may also skew A/B tests for optimizing subject lines or campaigns for reactivating recipients who do not open their messages.
Optimizely Campaign faces this challenge and since October 2022 offers an option to create target groups for users of AMPP to get more reliable data. The new action filter can be used in various ways:
detect recipients with automated opens
identify inactive recipients more precisely
intelligent selection of dynamic content values
store usage of AMPP in recipient lists
calculate the percentage of automatic opens and adjusted open rates
We have outlined examples for dealing with AMPP in a blog post.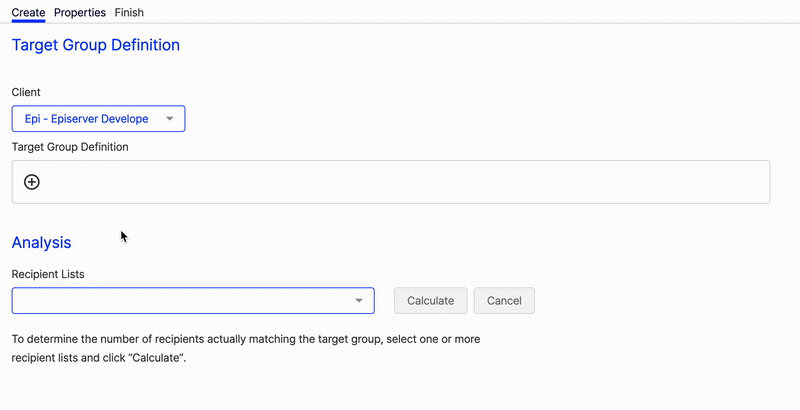 Q3 2022
New target group segments due to the CDP Integration
In 2013, the term 'Customer Data Platform' (CDP) was created by the well-known American marketing technologist David Raab. A CDP is a customer data platform (≠ data warehouse) operating as a software-as-a-service. A CDP collects and unifies first-party customer data from various sources to provide a unified view of each customer. The goal is to enable marketers to create targeted and highly personalized marketing campaigns that previously would have required a data scientist.
In 2021, Optimizely acquired US-based CDP provider Zaius to complete its product portfolio around understanding the customer context. With the Optimizely Data Platform (ODP), Optimizely Campaign customers now have access to the new algorithm-based audience segments to optimize their campaigns. Through the bi-directional interface, customer events registered in Campaign are sent to the Data Platform for analysis, visualization and segmentation, which in turn returns target group segments to Campaign. These include customer lifecycle, winback, or purchase probability segments.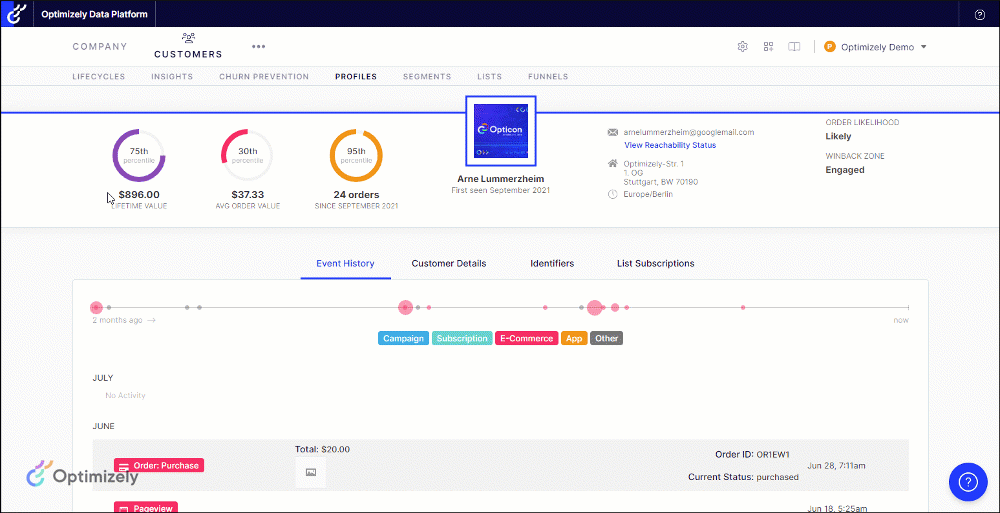 New contacts and leads through Facebook Lead Ads
Facebook Lead Ads (Instant Forms) makes it easier for end users to fill out forms. The user's Facebook profile provides all the necessary information. This not only reduces the effort, but also minimizes the risk of entering wrong or incorrect values. You can combine Lead Ads with your Optimizely campaign account now.
Leads are imported from Facebook into Optimizely Campaign in real time. Link an Instant Form to a recipient list to automatically add new recipients (including double opt-in). You can pause the sync between Facebook and Campaign at any time or create new lead syncs for additional forms.
Image editing directly in the browser
Many image editing features that previously required a graphic designer or a specific image editor are now available directly in the Optimizely Campaign interface: crop or flip photos to fit perfectly into your newsletter layout. Adjust colors to blend, or highlight images; add custom text overlays to convey your message at a glance. A selection of predefined effects ensures eye-catching results in no time.
Print mailings
10% conversion rate and 8% higher shopping cart sales - personalized print mailings can be a valuable part of the marketing mix. They automatically trigger event or status-related messages to send coupons for birthdays, for example, or to win back customers. With the update of Optimizely Campaign's interface to the German Post's 'Print Mailing Automation' product (Video), you now have far more print products available than before. In addition, there is the nice possibility to now directly access its Adobe Indesign and PDF files.
Certified Sender Alliance Widget for the Performance Dashboard
Whitelisting your shipping domains with the Certified Sender Alliance of the eco association is one of the key levers for optimizing deliverability. The decisive factor here is the complaint rate. To ensure that you always have an overview of this, we have added a Complaint Widget to the Campaigns Performance Dashboard to provide you with transparency regarding the 7-day average and the current daily complaints.
Link in email opens app in Android
We now support – like the iOS Universal Links - also Android App Links which were introduced with Android 12. When a recipient clicks on a link in the email on their smartphone, a check is now made under the shipping domain to see if the user has the customer's mobile app installed. If so, the link opens directly in the app. Otherwise, the web page is in the browser. Link seamlessly to content in your app or on your website. With universal app links, you can always provide users with the best possible mobile experience, even if your app is not installed on their device.