27. April 2021
Product marketing roadmap: A guide to creating a go-to-market plan 
Preparing for a product launch can be overwhelming. Discover how to create a great product marketing roadmap with Welcome.
---
For retail businesses, product marketing is a key element of a successful business plan.
Without good product marketing, you'll struggle to find leads that are interested in your product.
Or, even worse, your leads won't understand how good your product is, and they'll look elsewhere.
This guide to what product marketing is will explain how you can start showing off your products at their very best and why Content Marketing Platform's software is the perfect companion for your product marketing team.
What we'll cover today:
What product marketing is and why it matters
How to create a product marketing plan
Content Marketing Platform's marketing orchestration software tips and tricks
What is Product Marketing?
Product marketing is marketing done by the product and marketing teams that's aimed at selling products or services to customers.
A product marketing campaign usually involves everything from creating promotional images and product descriptions to driving sales funnels with landing pages and email automation.
Unlike more traditional branches of marketing, product marketing is more focused on retaining existing customers by creating hype and appeal around specific products. For this reason, product marketing tends to involve thorough research into the company's target audience.
By understanding the customer, product marketers aim to strengthen the buyer's personal interest in a brand and its products.
The product marketing team is involved in almost every stage of the selling process, including:
Product management strategy
Sales
Customer relations
Marketing
That's why certain members of the product marketing team may report to different departments. According to Product Marketing Alliance, 61.7% of product marketers report to marketing, while 16.4% report to product, 11.7% to CEO, and 1.4% to business development.
Why You Need a Product Marketing Plan
The first stage of advertising new products is the creation of a product marketing plan.
A product marketing plan is the marketing strategy that the product management team creates. This will act as a marketing roadmap that the team can follow from early marketing stages to final sales.
Having a comprehensive product marketing plan is vital for product marketers. Without a clear, detailed roadmap, it will be impossible to make informed marketing decisions each step of the way.
As Harvard Business School discovered, 30,000 new consumer products are launched every year, but 95% of them fail — so having a clear, well-informed plan matters.
A good product marketing plan can also act as an overarching workflow for the whole marketing team.
Once the plan is set, all of the various tasks involved in product marketing should fall into place. Essentially, a good plan will help all of the product team members to work together like cogs in one cohesive product marketing machine.
How To Create a Product Marketing Plan With Content Marketing Platform
The most common product marketing plan should prepare the product marketing team for a new product launch.
Here are the steps that should be included in your plan for a streamlined project management experience:
Product Launch Planning
Conduct preliminary buyer persona and keyword research

Build a roadmap using Content Marketing Platform's software

Place your tasks within a timeline

Set deadlines for task completion and review

Prepare to analyze a range of metrics after the product launch

Oversee the execution of the product launch plan
Let's take a look at each of these steps in a little more detail. We'll also show you how Content Marketing Platform's all-in-one software has everything you need to create a product marketing plan that will see you through from your initial research to the big launch day and beyond.
Research shows that 77% of high-performing projects make use of project management software. Here's how Content Marketing Platform can help you join that significant group.
1. Conduct Preliminary Buyer Persona and Keyword Research
Before you create a roadmap for your product launch, you should begin with extensive buyer research.
Developing an in-depth understanding of your target buyers will help you throughout each stage of the planning process.
Spend some time finding out what your current customers want and need from your products. To really get to know your audience and their habits, you can use:
Polls
Social media campaigns
Response forms
Reviews
You may also wish to do some research into your customers' spending habits.
For instance, according to a study, 65% of people who buy products as soon as they come out are men. If your product is aimed at both men and women, you may wish to market the product at men first, then slowly market the product to women over the next few months.
Content Marketing Platform's platform has several features that will make it easy for you to document the data you collect about your ideal buyers as you create your action plan in the lead-up to the product launch.
2. Analyze the Product's Purpose — What Problem Does It Solve?
Another important part of your research is collaborating with the product team to develop a nuanced understanding of the new product's purpose.
Consider the following:
What problem does the product solve?
How does it solve this problem better than your competitors?
What are the key product features?
As research found, 83% of customers are willing to pay more for innovative products. Ask yourself and your team, "What makes this new product a true innovation?"
To develop a marketing plan for your product, you and your team members will need to know everything there is to know about the product and why your target customers will want it.
3. Build a Roadmap Using Content Marketing Platform's Software
Alongside product and customer research, preparing for a product launch should always begin with a product roadmap.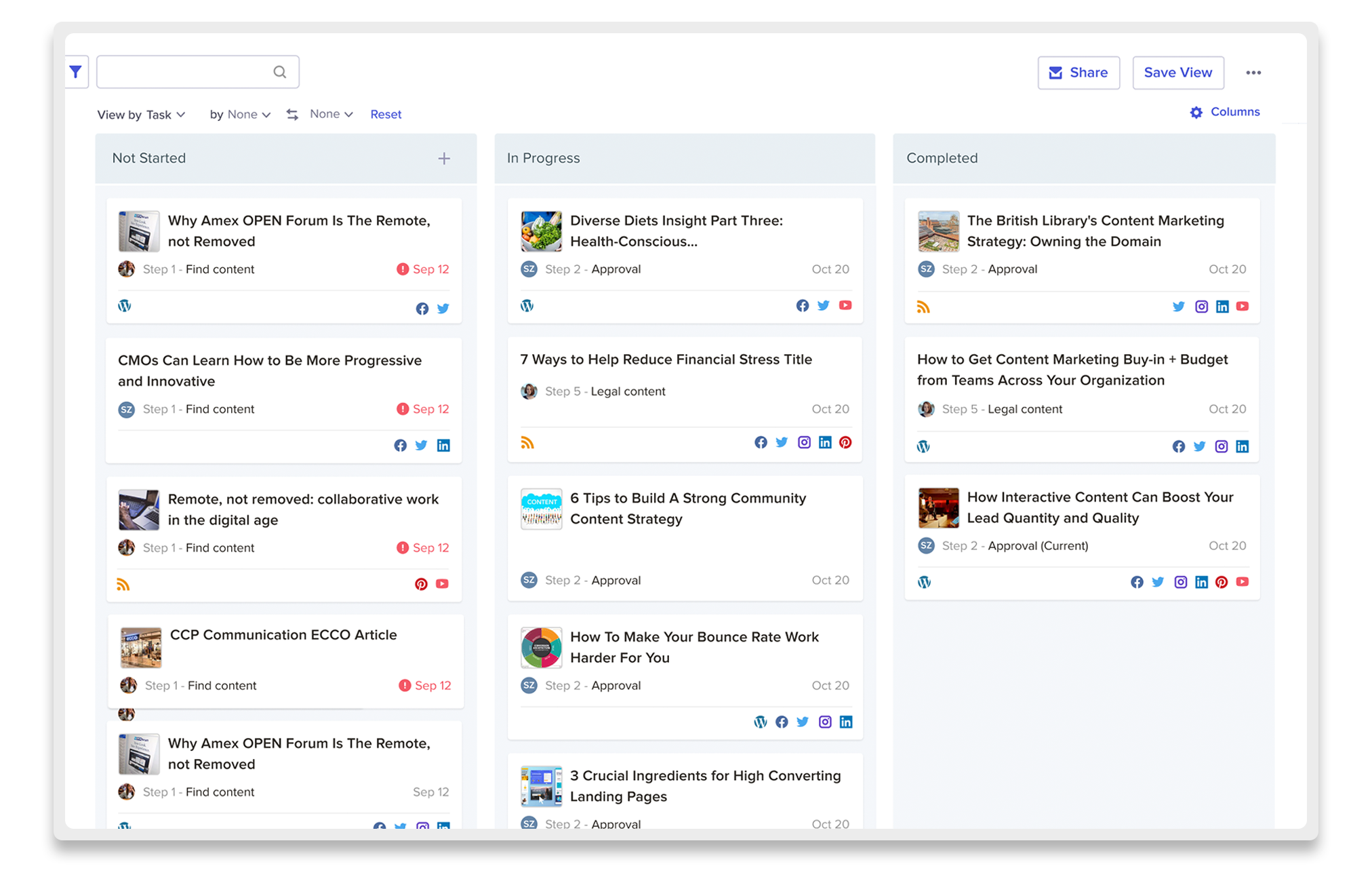 Use Content Marketing Platform's software to create a product launch calendar. Mark down crucial dates, including the launch and announcements.
By laying out the product timeline, you'll begin to get an idea of how much time you have to create your marketing materials.
With Content Marketing Platform's user-friendly calendar tool, you can view an overview of your product launch plan. You can also use our dropdowns and filters to view specific aspects of your plan as it becomes more complicated.
4. Place Your Tasks Within a Timeline
Once you've laid out important dates, begin to fill in your team's tasks. For every element of the launch, you'll likely have a range of tasks that must be completed.
A whopping 77% of buyers look for different content at each stage of the product research process, so you should produce a wide range of content as part of your product marketing campaign.
Your marketing tasks might include:
Taking promotional product photos
Writing and publishing relevant blog posts about the product
Organizing an email campaign to promote the product to leads
Publishing a series of social media posts about the product
Offering discounts and deals to returning customers alongside the launch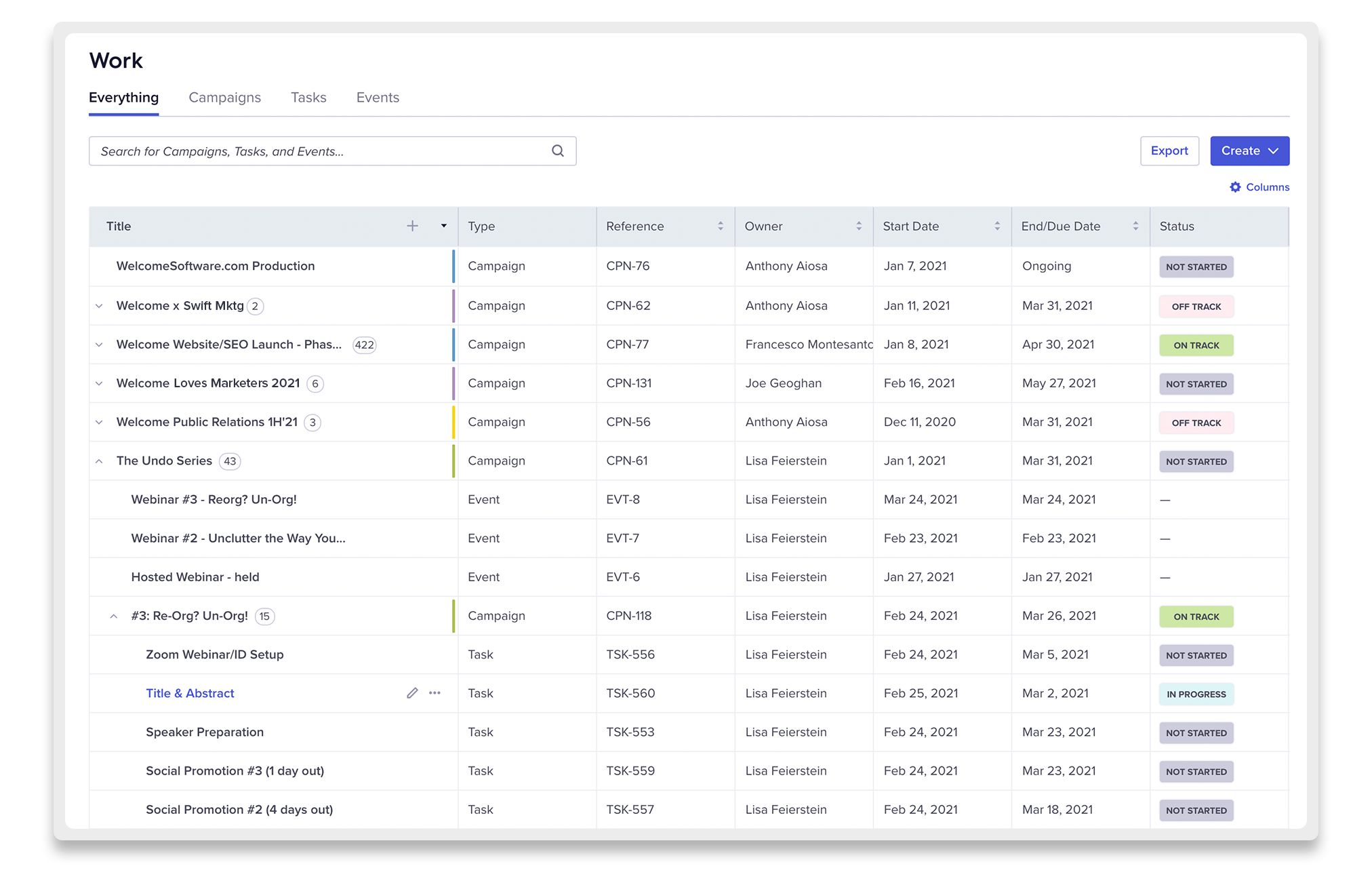 Content Marketing Platform makes it easy to organize your team members' workflows for all of their deliverables. Split up tasks into mini-tasks or milestones and use our workflow templates to share these task breakdowns with staff.
Roadmapping your tasks this way will help everyone stay on the same page.
5. Set Deadlines for Task Completion and Review
As the project manager, one of your jobs is to make sure all of the product team's tasks are completed by their due dates.
You can use Content Marketing Platform's workflow functionality to set deadlines for every milestone to help your team stay on track with their tasks.
When a team is working in sync and meeting all of their deadlines, a campaign should flow easily from one task to the next.
You can also use our platform to encourage seamless collaboration between team members as they go from one milestone to another. Marketing can be hugely collaborative, with multiple people contributing to one deliverable.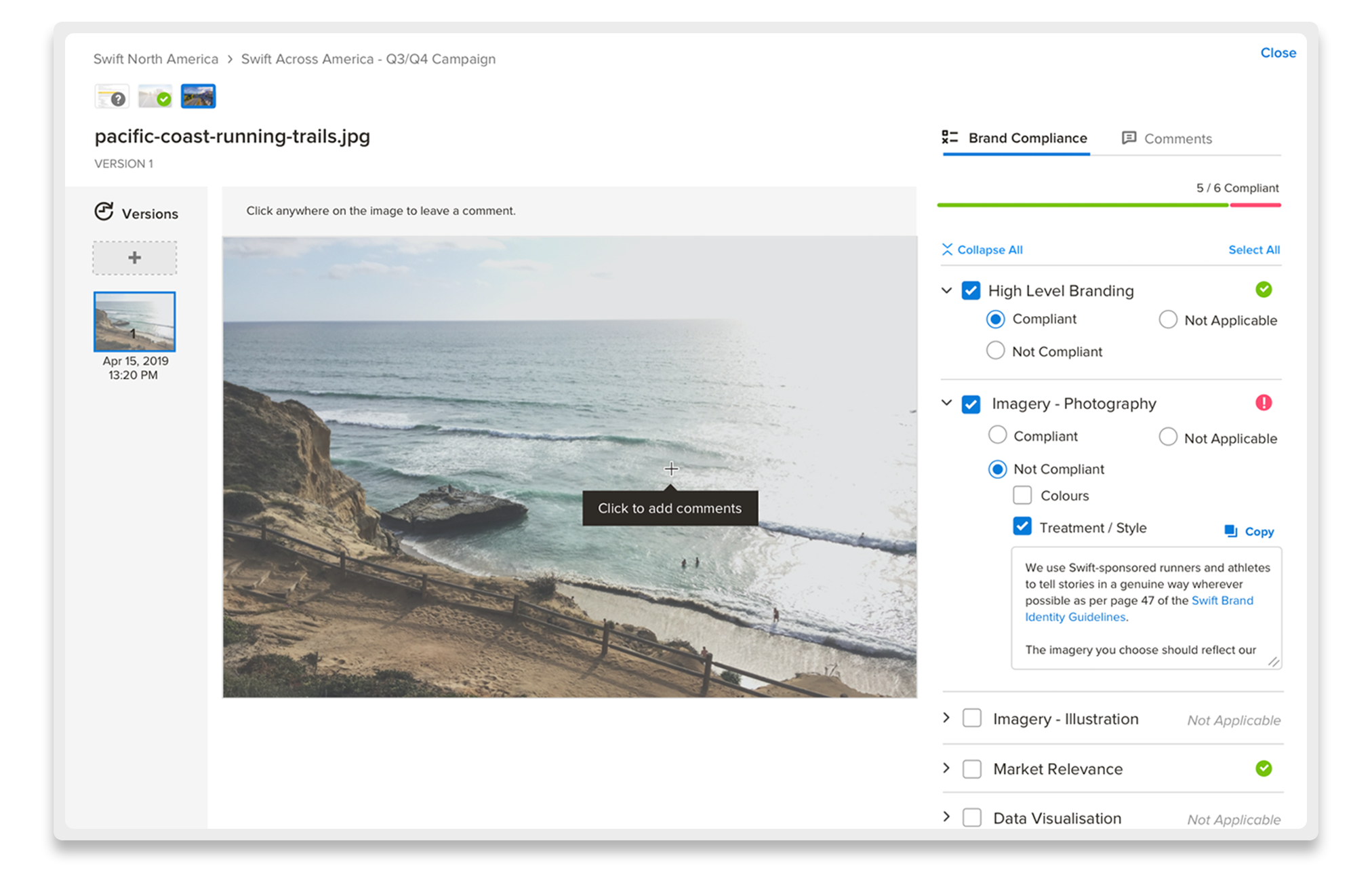 With Content Marketing Platform, you can tag and message team members so that the right people get the right files. Team members can even collaborate and work on the same document or file within the system at the same time.
6. Prepare To Analyze a Range of Metrics After the Product Launch
Sending out marketing materials is only half the battle.
You will also need to conduct intelligent tests throughout the process to ensure the product launch is optimal. Understanding the launch's strengths and weaknesses can help you to develop a stronger process for next time.
Conduct beta tests with real users in the run-up to the launch to help your development team add new features and make informed changes to the product. This can also help your marketing team make adjustments to the way the product is advertised.
Content Marketing Platform makes it possible for the product manager and marketing manager to monitor how the team is working as a whole.
With Content Marketing Platform's time tracking and workload metrics, you'll be able to make practical adjustments to your product launch process to optimize your team's productivity and efficiency.
It can take a few product launches to develop a system that works for you. With Content Marketing Platform's metrics, you'll be able to track the success of both the product and the team behind it.
7. Oversee the Execution of the Product Launch Plan
Throughout the entire product marketing process, Content Marketing Platform makes everything traceable and transparent.
With Content Marketing Platform, you and your team will be able to quickly check on the progress of the launch without the need for endless emails about deadlines and tasks. Instead, everything you need will be easy to see in our calendar visualization.
Final Thoughts: A Guide to Creating a Product Marketing Plan, Faster!
Product marketing can easily become overwhelming and confusing. You and your team probably have several tasks happening at once, from digital marketing to product development to metric monitoring.
With Content Marketing Platform's agile, intelligent all-in-one platform, you'll be able to centralize your marketing efforts in one user-friendly place.