What is marketing resource management?
Marketing Resource Management is a purpose-built software that streamlines all marketing operations. Take better control over marketing initiatives.
---
Editor's note: Forrester recently published its most recent Wave for Marketing Resource Management (MRM), Q1 2020. Get a complimentary copy of the report here.
---
What is Marketing Resource Management?
The term "Marketing Resource Management" has been around for a number of years — dating back to the early 2000s, in fact. But what exactly is Marketing Resource Management now, nearly two decades later?
Marketing Resource Management is a purpose-built software that streamlines all marketing operations – including content management, money management, people management, and brand management. With a blend of technology and process, this software helps marketers take control of all marketing initiatives and tasks.
Marketing Resource Management Defined by Forrester
Within its latest Wave, Forrester defines Marketing Resource Management as a "tool or suite of tools that helps marketers with financial planning, performance measurement, collaboration and calendaring, project management, content production, asset management, brand compliance, and marketing fulfillment."
In that evaluation, which featured a select group of 12 vendors, one interesting note was the "background" of each company. There were point solutions for financial management, generic project management tools, and even traditional content marketing platforms. This diverse vendor mix directly represents the fluidity, growth, and evolution of the Marketing Resource Management category.
Why Use Marketing Resource Management?
At NewsCred, this evolution is one we're excited about. It's our belief that today's marketers are sophisticated; they're eager for modern, innovative marketing software that both helps them work better, as well as brings together large, distributed, enterprise teams. And it's our belief that a single, purpose-built solution — one that helps marketers collaboratively plan, execute, and manage their work — is exactly what those marketers are hungry for.
That's why we're building the world's first work management software for marketers, as well as why we believe Forrester recognized us as a "Strong Performer" and "one to watch" in its 2020 Marketing Resource Management evaluation.
Read on to learn more about the capabilities Forrester views as critical for Marketing Resource Management, and how NewsCred's software directly supports each.

Key Capabilities of Marketing Resource Management
Marketing Resource Management Capability #1: Money Management
Forrester defines Money Management as: "Money tools deliver deep financial planning and allocation functionality. Money-focused MRM vendors are capable of tracking not just content production costs, but also overall marketing program costs — such as technology licensing fees, agency fees and contracts, and personnel costs. They can also connect to marketing performance metrics to provide marketers with a holistic view from which they can make informed budget allocation and spend optimization decisions to efficiently hit KPIs." Source:The Forrester Wave: Marketing Resource Management, Q1 2020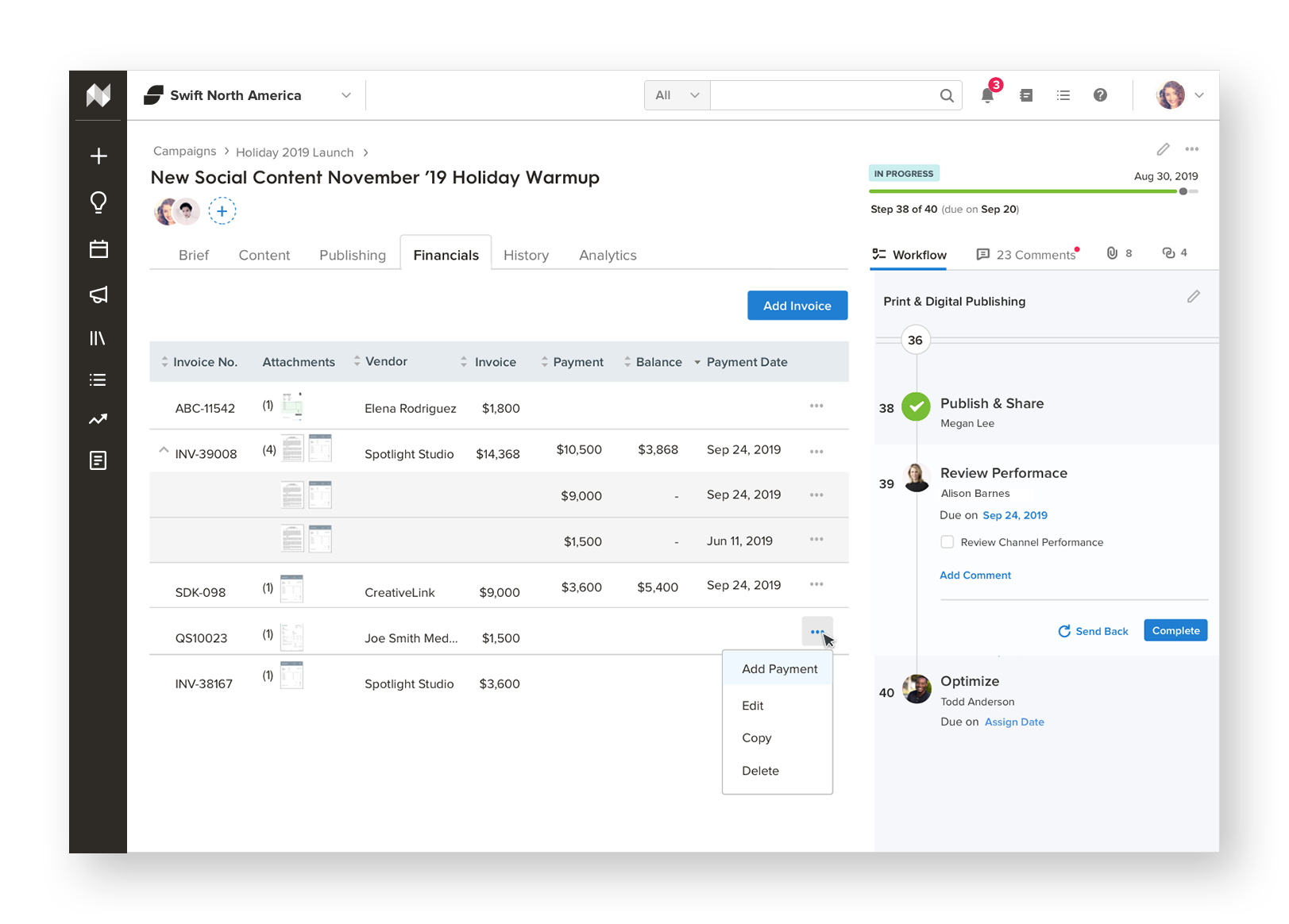 NewsCred unifies campaign and content execution with native in-app budget and spend management tools to provide full visibility into marketing investments and ensure tighter alignment across marketing, finance, and broader corporate goals.
Specifically, NewsCred helps marketers:
Manage their financial activity directly alongside the associated content creation and marketing execution.
Seamlessly integrate with existing ERP and financial reporting systems — giving marketers unprecedented financial visibility.
Measure campaign allocations, monitor the overall health of the budget, and identify high-performing campaigns.
Ultimately, this enables teams and marketing leaders to maximize total spend, measure marketing-attributed revenue directly alongside actual costs, and track true return on marketing investment (ROMI).
Marketing Resource Management Capability #2: Content Management
Forrester defines Content Management as: "Content workflows centralize content ideation, production, and sharing. Content workflows in MRM enable creative teams, agencies, and channel marketers to ideate, share, and measure content. By centralizing content creation and storage, disparate teams can combine creative briefs to reduce redundant asks, repurpose existing content, and easily find imagery without version control issues. Content-oriented MRM tools can track content usage, ensuring trams aren't relying heavily on the same assets, and patterns in what types of content, imagery, and sentiment perform well in campaigns." Source: The Forrester Wave: Marketing Resource Management, Q1 2020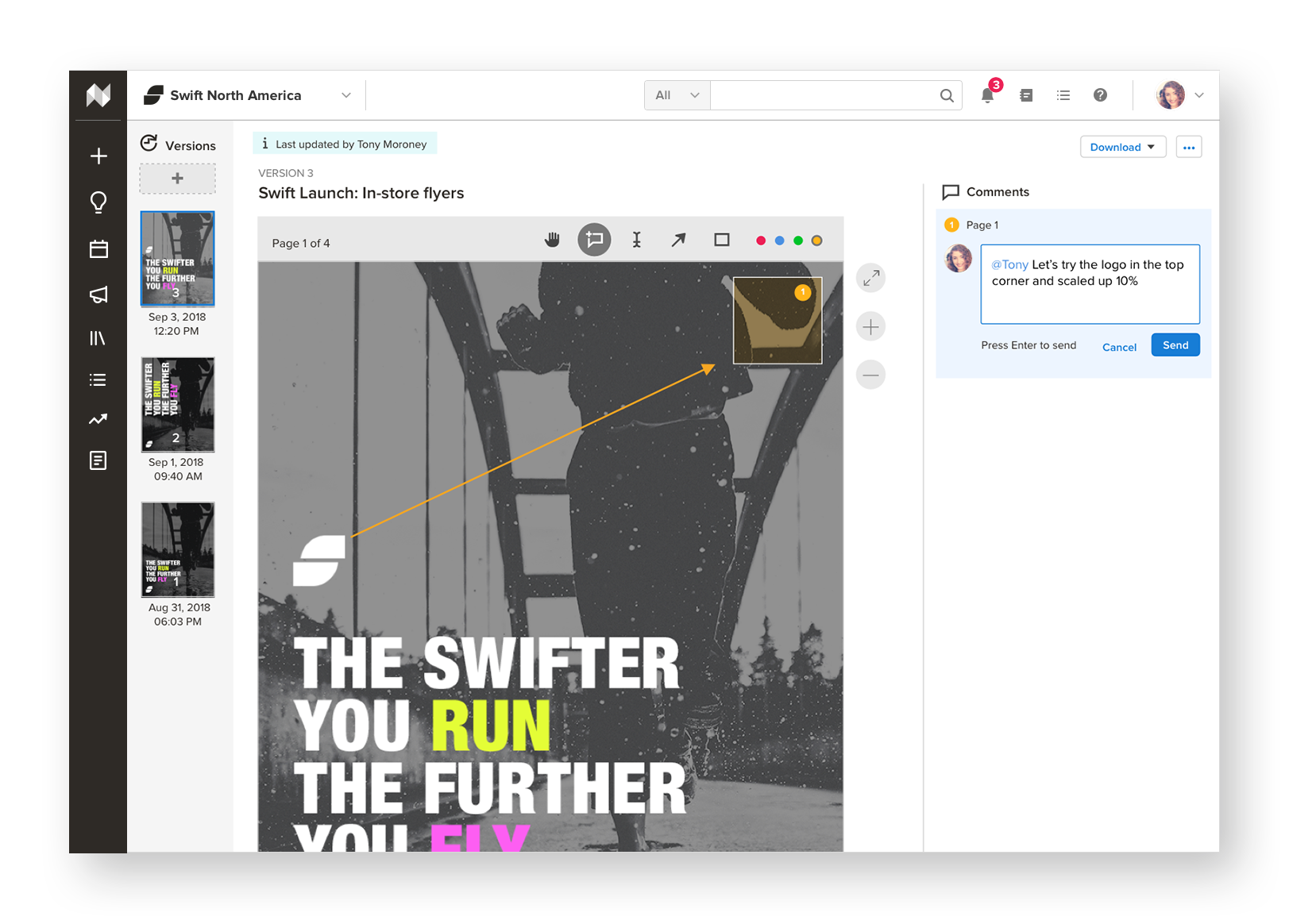 NewsCred brings marketing teams (across every channel and discipline) together to produce the various deliverables that their campaigns depend on — from text, images, infographics, PDFs and multi-media — quickly, easily, and collaboratively.
Specifically, NewsCred provides:
Dedicated task and intuitive workspaces for end-to-end content management and production.
Creative briefs to allow teams to develop a content strategy — complete with task dependencies and objectives — ensuring every team member is aligned and equipped with necessary information before beginning work.
Flexible, enterprise-grade workflows along with powerful, multi-format editors, teams have the necessary tools to create, version, and compile multiple assets.
Ultimately, NewsCred seamlessly bridges the gap from planning to execution, helping teams become more efficient and productive by using tailored processes and robust tools that accelerate production, review, and approval workflows.
Marketing Resource Management Capability #3: People Management
Forrester defines People Management as: "People tools offer advanced collaboration and calendaring features. The people offering of MRM creates a shared space for internal and external marketing partners to plan and collaborate on marketing activities. Agencies, local marketers, and corporate marketers can create sophisticated campaign flighting plans and coordinate campaigns to ensure they use consistent messaging and tie back to broader brand strategy." Source: The Forrester Wave: Marketing Resource Management, Q1 2020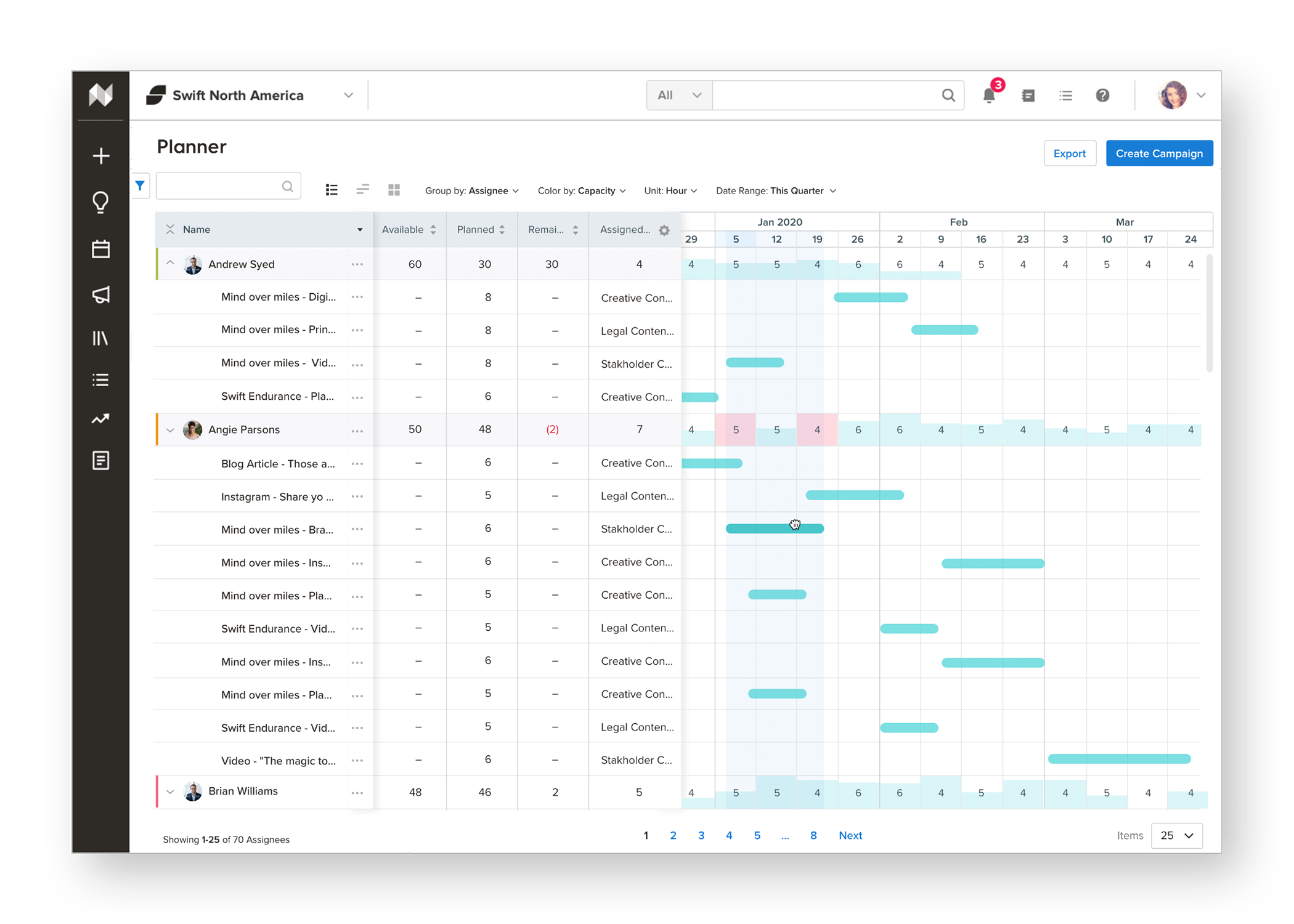 NewsCred enables marketing leaders to monitor the capacity of every team and individual contributor with visibility across all campaigns and task assignments, ensuring resources are able to prioritize more strategic, value-adding work.
Specifically, NewsCred provides:
Time tracking & capacity planning, to monitor how many hours are being spent on a specific project or campaign and ensure work will be completed on-time (while taking into account work hours, holidays, time-off, and existing resource commitments)
Campaign timeline calendars, to visualize long-term marketing activity with updates in real-time— and facilitate more strategic planning with a single, unified view of all planned and active marketing campaigns
Operational reporting, to answer questions such as "what is our resource utilization rate" and "how many resources did we used to produce X"?
Ultimately, NewsCred helps marketing leaders increase the efficiency of existing resources and maximize the output of each team, while also effectively managing the overall workload balance to avoid employee burnout.
Marketing Resource Management Capability #4: Brand Management
Forrester defines Brand Management asL "Brand management puts safeguards around marketing content and campaigns. MRM's brand management capabilities give corporate marketers control to ensure marketing assets comply with brand guidelines, such as fonts, colors, logos, and mandatory disclosures for regulated industries. Advanced template capabilities help franchisees and distributed marketing partners localize corporate assets while remaining on brand, and company stores centralized brand assets and makes it easy for distributed teams to create production orders for things like banners for local events and branded swag." Source: The Forrester Wave: Marketing Resource Management, Q1 2020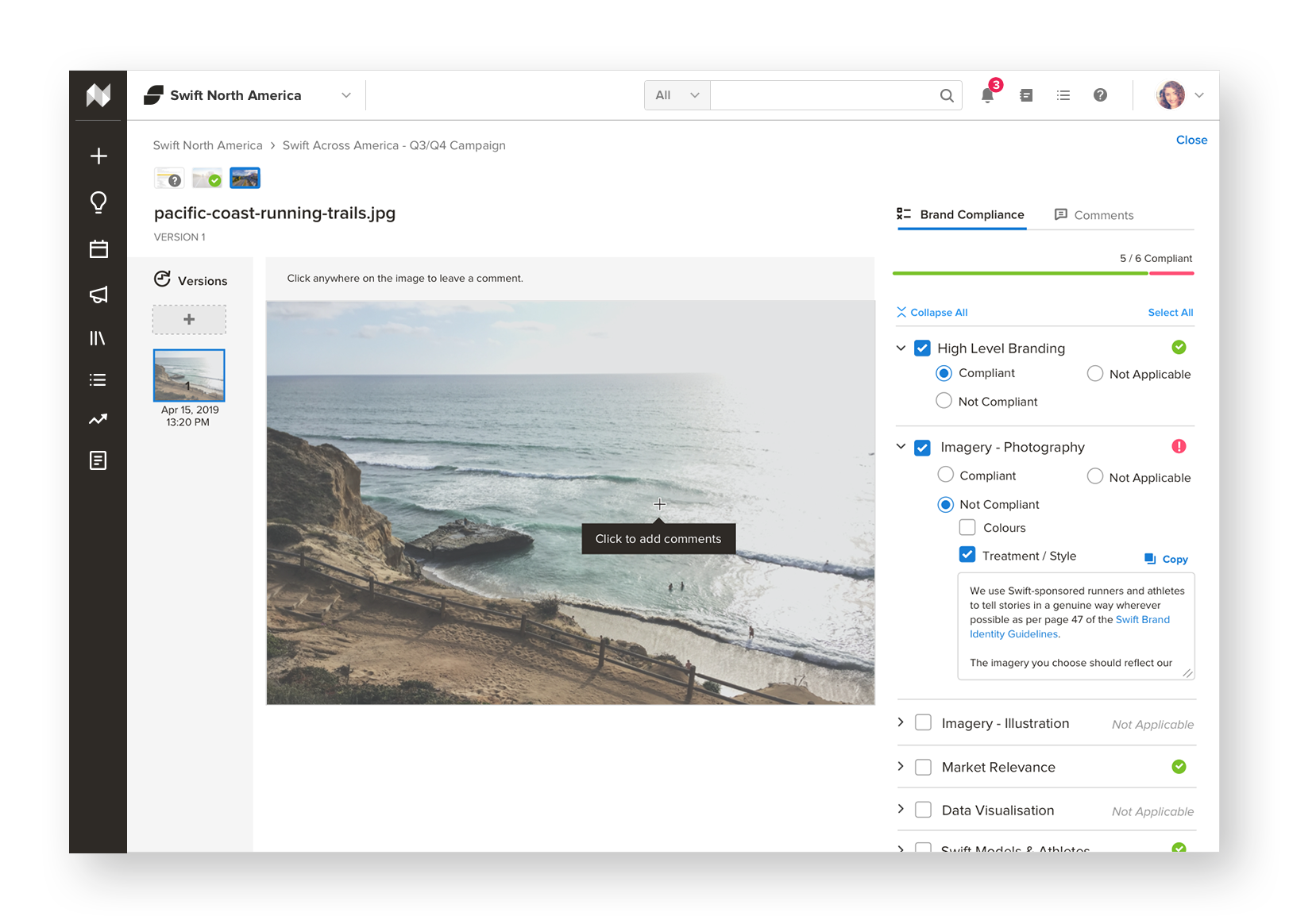 NewsCred empowers teams to maintain brand control and facilitate consistency across all campaign-supporting content, ensuring compliance even at the largest of scales.
Specifically, NewsCred provides:
Brand Compliance Workflows to review in-progress work (against imported, custom brand guidelines) and request changes as part of content creation workflows
Marketing Templates across Campaigns, Strategic Briefs, Work Requests Intake Forms, Asset Types and more, to help to standardize how work is initiated and completed
Intake Forms which enable all internal stakeholders to quickly and easily submit a request for creative and marketing services, and easily retrieve the final deliverables
Ultimately, NewsCred gives teams the ability to manage content production processes, operate intuitive workflows for approvals and brand management, and ensure compliance and governance across all campaigns and supporting assets.
---
The Importance of Marketing Resource Management
For large enterprises, the need for modern, cutting-edge, and intuitive marketing work management solutions is growing quickly, especially when you consider the top challenges facing marketers in 2020.
And that's why we're building the world's first marketing work management software.
Purpose-built for the complexities of marketing, NewsCred's software transforms conventional organizations into modern teams, providing them with specially-designed tools to manage the entire marketing campaign and content lifecycle. By enabling marketers to collaboratively plan, produce, and manage all of their marketing activity from a single platform, NewsCred provides unprecedented visibility and control, enabling the world's leading brands to increase team efficiency, accelerate campaign execution, and elevate marketing results.