Report
B2B Digital Experience Report 2020
Download Episerver's global survey of 600 leaders in marketing, IT and ecommerce roles at B2B companies to learn how they rank their strengths, weaknesses, opportunities and threats as it relates to B2B digital experience.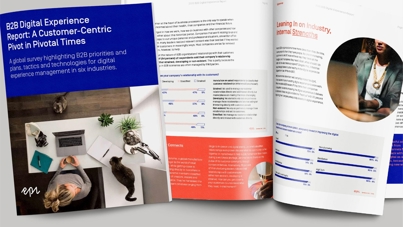 B2B Digital Experience Report 2020
About the report
The B2B Digital Experience Report: A Customer-Centric Pivot in Pivotal Times
This report provides B2B leaders a non-promotional view of the B2B digital
experience market. You get a snapshot of the data through the lens of industry changes in the wake of COVID-19.

Across industries, selling directly to customers through ecommerce is the top opportunity in B2B.
B2B trends are revealed in the report including specific trends for companies in six industries:
Healthcare
Financial Services
Commercial Services & Supplies
Manufacturing
Distribution
High-Tech