Creating digital leaders
Have you ever made a decision and wondered what the outcome would have been if you chose the other option? That's the essence of experimentation; it allows you to see the outcome of different options.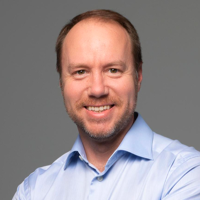 Alex Atzberger is the CEO of Optimizely. Alex joined Optimizely in 2019 after spending nearly 15 years with SAP, where he was President of SAP hybris and previously SAP Ariba. In 2013, Alex was selected as a Young Global Leader by the World Economic Forum, and he holds an MBA from Harvard Business School. He lives with his wife and dogs in New York City.
---
Experimentation is very hard in the physical world. It takes a long time to set up and experiments are difficult to target. Imagine you operate a retail store and want to test a different layout of your goods. You might do this once every few months. And if you want to do this only for a certain demographic? Impossible.
This all changed when businesses went online. Suddenly the testing of two different options – most commonly known as A/B testing – became easy to implement and scale. And rather than just testing two variables, some companies started to experiment with twenty – think A/B, C/D and so on –and on all aspects of their digital experience. They implemented a culture of experimentation, a culture of making data-driven decisions, and ultimately a culture where the behaviors of the customer – not the opinions of the executives – decided the optimal customer experience.
When we tend to think about digital leaders, companies that seemingly act more customer-centric than any of their peers, companies that are widely admired for the experience they provide to their customers, then we often are thinking of companies that use experimentation. We often think about companies using Optimizely.
Optimizely's mission has always been about helping companies compete and win through digital. Nearly 1,000 companies are using Optimizely to instill a culture of experimentation to their enterprises. Episerver has pursued the same mission – to empower growing companies to compete digitally – by providing to more than 5,000 companies the capabilities to create highly personalized content and engaging ecommerce experiences, all through a platform that leverages customer data and AI to predict the next best action.
In the combination of the two companies we can now pursue the same enduring mission – to create digital leaders – and realize the full potential of both platforms in service of our customers. We see three immediate benefits of the Episerver and Optimizely combination:
Customer centricity: Together Episerver and Optimizely can bring the behaviors of customers into the decision-making process, and by doing so transform your business to put the customer back at the center of your experience design. It extends Episerver's current recommendation capabilities that are based on what customers do on a site and adds behavioral data - driving increased engagement, lifetime value, satisfaction and repeat purchase, for example.

Behavioral data is the most powerful data marketers and merchandisers can have about their customers. Think about the analogy of the retail store: three people might walk in, all in the same demographic, but only once you observe what they browse for can you best predict their next action, and make the right recommendation.
Democratized experimentation: Together Episerver and Optimizely can combine the process of content creation, merchandising with optimization.

"Creation plus optimization enables all of our customers – regardless of size – to do more testing, in more places, with greater ease than ever before," said Jay Larson, CEO of Optimizely. "Experimentation is integrated into the creative process rather than being treated as a separate discipline."
Differentiated experiences: Together Episerver and Optimizely can empower you to differentiate your digital experiences. By collecting massive amounts of data from experiments, consumed content, customer data, and commerce interactions, you can constantly hone the algorithms that drive recommendations. In fact, Episerver and Optimizely will bring together the most advanced capabilities to create the ultimate system of differentiation to compete and win in today's digital-first economy. Nobody has ever achieved anything new by being like everybody else.

"Winning in today's digital world requires delivering the best and most personalized digital experiences," said Larson. "Together, we will enable our customers to do more testing, in more places, with greater ease than ever before. We believe this combination will make experimentation a mainstream business best practice and an essential part of competing and winning customers in an online world."
We are excited to create the next wave of digital leaders. There's no exceptional experience without experimentation.