How to convert anonymous visitors into leads
Most people on your website at any given time are going to be anonymous.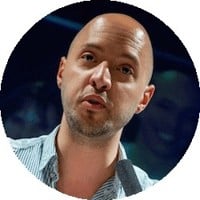 ---
According to Marketo, on average anonymous visitors can account for up 98% of visitors to your website.
This is a huge problem. If you don't have your web visitors' contact information, you don't really have any information at all.
How can Marketing reach this huge chunk of potential buyers in a personalized, customized way when you don't even know their names?
How can your Demand Generation team grade the quality of your website traffic if they have no idea whether you content is attracting the right buyer persona or ideal customer profile?
How can Sales have a relevant conversation with these people if they don't have an email or phone number to reach them on?
Anonymous people aren't leads
The most common response to converting anonymous website visitors into leads is to use gated content (assets such as white papers or webinars).
Getting people to relinquish their contact details for a piece of content on your website isn't easy, though. You have to rely on the asset being compelling and that you to have the credibility that means anonymous visitors believe you will deliver enough value in your gated content that they will give you their details.
Of course, there are a variety of ways to make the process more agreeable to anonymous visitors. Reducing the number of fields you require people to fill out is one of the simplest and most effective ways to get more people to fill out a form, whether you want them to sign up for an email newsletter, for a webinar, or for anything else.
Another way to increase the likelihood of generated more leads is to simply produce more gated content. The rationale being that the more content that there is to sign up to the higher the likelihood that there will be something that piques the interest of an anonymous visitor.
In both cases, however, this remains an infuriatingly passive stance on the part of the marketer: relying largely on fortune and the goodwill of your anonymous browsers to sign up.
What if there was a way for you to be more active and personalize the gated content that is recommended to your anonymous visitors?
Get the right gated content in front of your anonymous visitors
At Episerver, we know that the content buyers consume on your site is highly indicative of their needs, interests and their likely purchase intent. If you can understand what an anonymous visitor is interested in, then you can recommend the right piece of gated content to maximize the chance of them signing up and relinquishing their contact details.
With natural language processing, our content recommendations capability automatically analyzes the content on your site to identify the topics that are contained within each article. It then tracks the reading arc of each website visitor on your site to understand which content topics are most relevant to them. Even if these web visitors are not yet identifiable these interests can still be captured by using cookie profiling to tag an anonymous visitor. Helpfully, once your anonymous visitor signs up, the cookie is automatically unified with their identifiable information in your CRM so that you now have a name, contact details and their interests.
Start generating leads from anonymous web visitors
The technology now exists make sure that even your anonymous visitors are recommended the right piece of gated content.
Don't believe us? Book a demo to see for yourself.