How to measure and optimize omnichannel campaigns with Episerver Marketing Automation
If you're an existing customer curious to get started with Episerver Marketing Automation, or simply want to learn how to use it more effectively, here's your 5-minute breakdown of how to measure and optimize omnichannel campaigns.
---
Episerver Marketing Automation is our marketing automation and omnichannel communication bundle that enables you to quickly create and run campaigns across web, email, mobile push and app notifications.
Building an omnichannel campaign with Episerver Marketing Automation is so simple that you really don't need to sit here and read about it. If you know how to drag and drop, then you're already ahead of the game. Marketing Automation lets you focus on measurement, optimization and getting the best ROI and performance out of your platform, instead of wasting time on configuration and set up.
Measuring campaign effectiveness
As a marketer, you'll understand the abundance of metrics and KPIs that are available to us. Sometimes it's hard to understand where to focus our efforts. Episerver Marketing Automation makes this easier, by providing you with highly actionable analytics. Two examples of Episerver Marketing Automation actionable insights are:
Analytics
A/B testing - Episerver Marketing Automation allows you to easily create control and challenger emails to test against each other. You can easily edit each mailing to give it an entirely different look and determine which version is the most successful for your chosen goal. For example, if you would like to compare two emails against each other to determine what gives you the best open rates, you may choose to compare a subject line with personalization tokens vs a generic subject line.
Visual link analysis/attention analysis - The visual link analysis shows you, in one glance, how often each link withint a mailing has been clicked. The analysis data is displayed directly over a screenshot of the original mailing and helps you to detect patterns of behavior that you may otherwise be unaware of. With these insights you may decide to place higher value links where the email sees the most clicks.
Marketing Automation's attention analysis also provides insights into which areas of the email attract the most attention, which can help drive decisions such as logo, call to action or promo offer placement.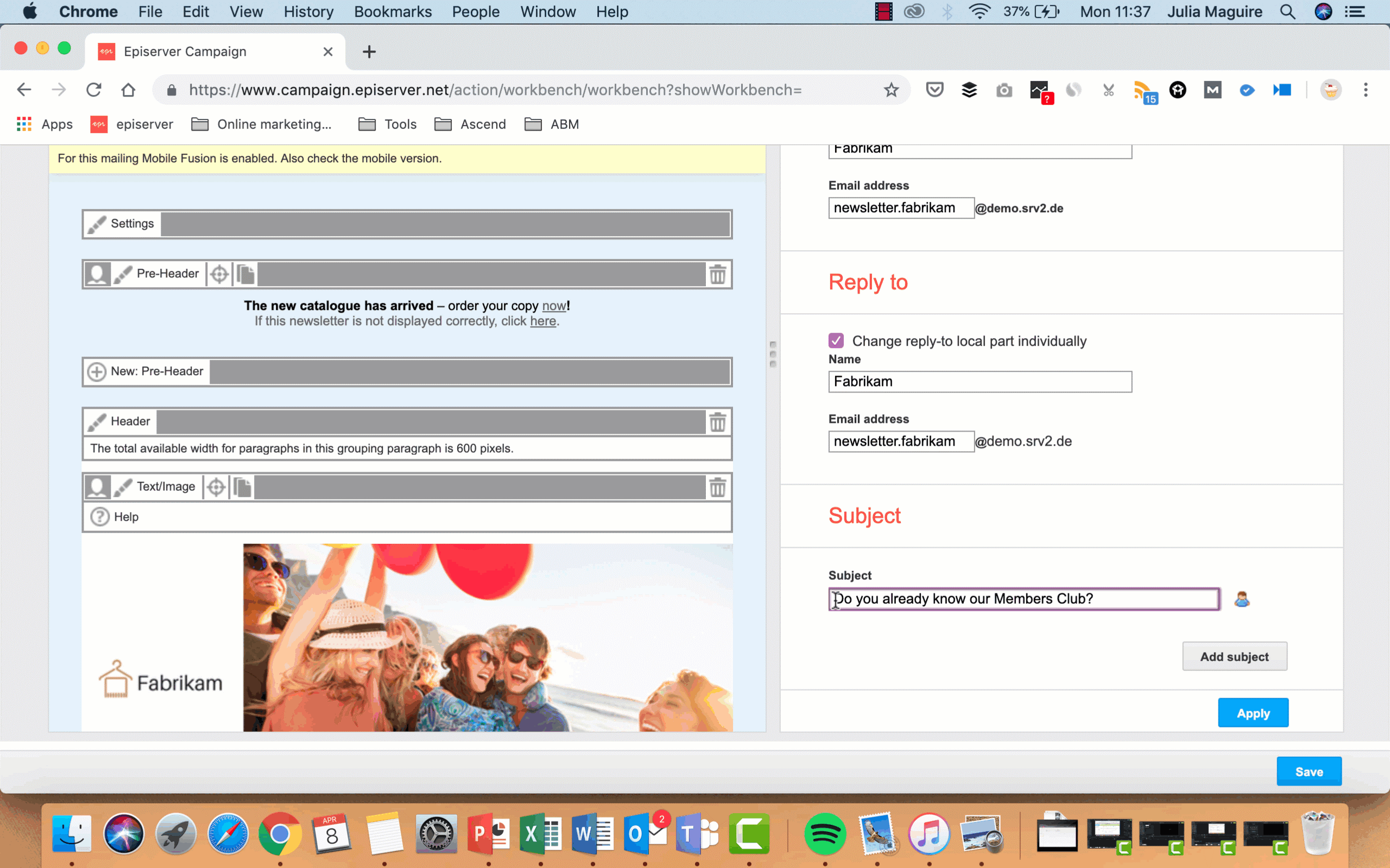 Use your actionable insights to optimize campaigns
Everyday, 269 billion emails are sent around the world. Given this flood of messages, it's not always easy to get the attention of your recipients. You've read about the insights that Marketing Automation provides you, but how do you act on these insights to significantly improve your marketing campaigns?
Send time optimization - With Episerver Marketing Automation you can delay the sending of your messages until the perfect time, to try and send the email at the exact moment your recipients open their inbox. This feature detects when recipients actually check their email inbox and it sends youe message to each individual at their own customized time that matches the rhythms of their every day life. The longer the customer relationship, the more accurate the optimized send time. And if a recipient changes their behavior, their profile will be updated accordingly.
Personalization and targeting - Personalized product recommendations offer enormous potential. Send mailings that are prompted by a purchase, a registration or a similar action, with contents automatically adapted accordingly. Act upon the insights gained from the attention analytics to ensure your higher-quality or higher-prices goods are located in the best spot to aim to drive a greater Average Order Value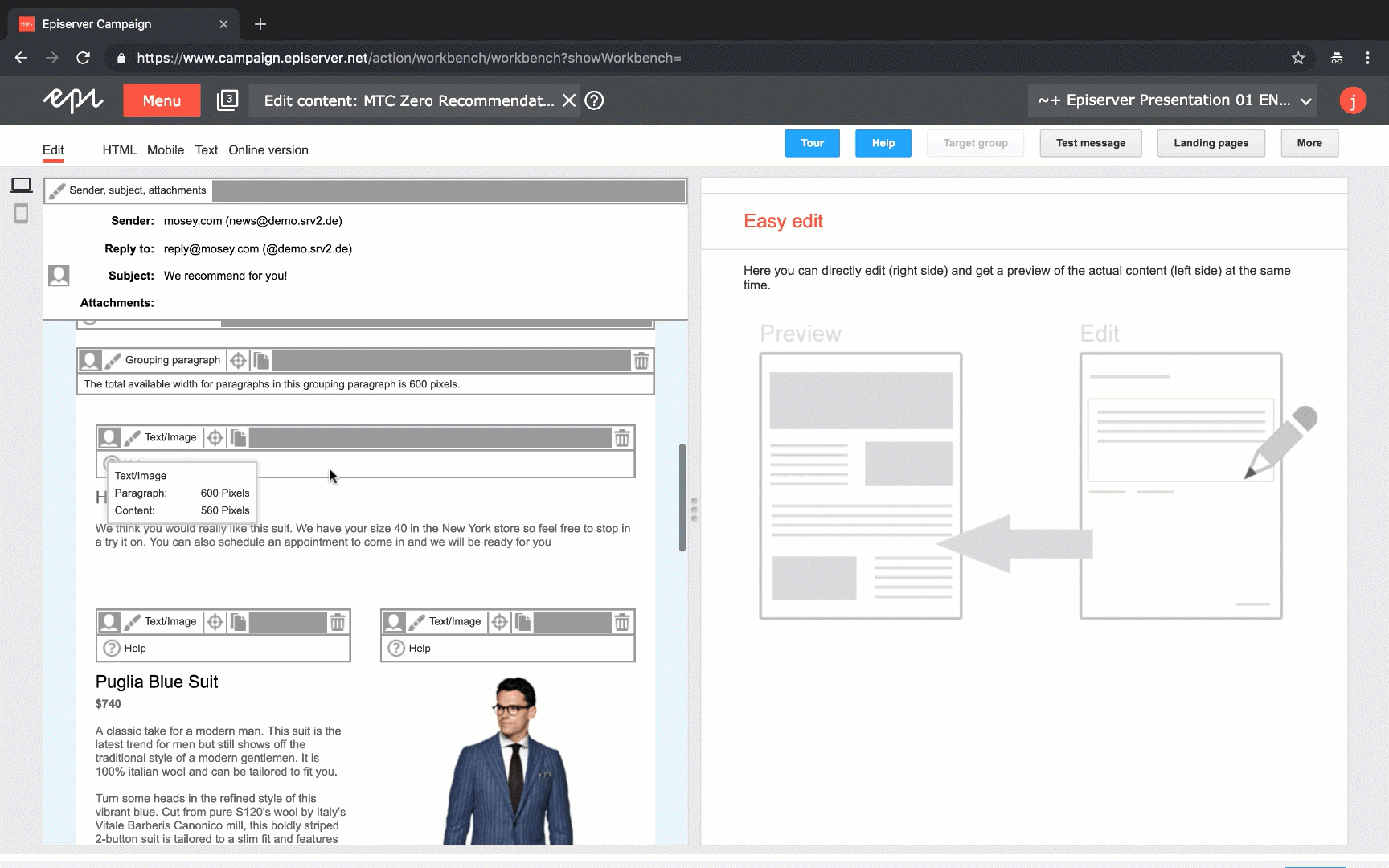 Let your visitors help you boost conversion rates
Want to know how you can purchase Marketing Automation?
As an existing Episerver customer, you can purchase our Intelligent Campaigns bundle to access the full suite of Marketing Automation, Personalization and Deep-analytics.