Post-covid predictions for the manufacturing and distribution industries
1918. The year of the Spanish Flu, the pandemic that took an estimated 50 million lives worldwide. Quarantine, school closures and event cancellations were the norm.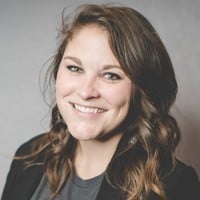 ---
100 years later, and it's all too familiar. COVID-19 has upended any sense of normalcy we had in our personal lives, communities and businesses.
Many manufacturing and distribution companies have been around for decades, some more than 100 years. In fact, many of them were founded around the same time that the globe was struck by the Spanish Flu all those years ago. To start a business at that time would have required courage, incredible innovation and a heck of a lot of foresight. A century later, many of them are still operating because they've built business foundations that can endure anything.
To build a manufacturing or distribution company with staying power requires an astute ability to lean into change, drive transformation and relentlessly prioritize the customer. Successful manufacturers and distributors evolve and adapt to their current climate and invest in tools and technologies that better enable their team and their customers.
COVID-19 has had an undeniable impact on manufacturing and distribution companies. In the wake of the outbreak, industrial busineses are re-thinking technology investments, re-forecasting inventory and adjusting processes and plans.
This is all happening before our eyes, but what happens after? How is the world going to change post-Covid and what can manufacturers and distributors do to prepare for maintaining business for the next 100 years? Here are five predictions:
Pickup lockers, curbside service, delivery tracking and other new ways of fulfilling orders will ramp up.
In some ways, necessity is the mother of invention. COVID-19 has forced many B2B companies to come up with new and creative solutions to get customers their orders.
Some companies like Distributor Corporation of New England have introduced pickup lockers, allowing customers to easily pick up merchandise outside the warehouse in secure lockers. Others have offered curbside pickup with consistent text and email delivery tracking.
Of course, offering customers more efficient ways to pick up orders shapes their expectations for the future. Now that customers know a world with less wait time and visible delivery tracking, their preferences and expectations will remain and steadily increase.
Episerver data shows 76% of manufacturing and 77% of distributors say they currently have a customer-centricity gap in which the digital experience they offer does not meet customers' expectations.
To stay ahead of the competition, manufacturers and distributors must offer clear visibility into order status, inventory availability, and continue to innovate the fulfillment process to thrive long after COVID-19 is a thing of the past.
Buying preferences will continue to shift toward digital.
As shelter-in-place and stay-at-home orders have been mandated, consumers and B2B buyers alike have flocked online to make purchases, expecting Amazon-like experiences. Though ecommerce sales have not increased in every industry, reliance on digital buying mechanisms is here to stay.
At the height of the Coronavirus outbreak, we heard from companies who had seen an uptick in online activity even from their most technology-averse customers. Customers are growing more comfortable with digital tools and adoption of digital is on the rise.
Manufacturers and distributors will reconsider ecommerce investments.
Of course, as buying preferences shift, manufacturers and distributors will need to innovate to meet new expectations. Many B2B companies are finding out the hard way that they are not fully equipped to serve customers in a digital-first world.
For many, it's tempting to pause investments in technology during this uncertain time. But reconsidering investments now could save business in the long run. According to Episerver's second-annual B2B Digital Experience Report – a survey of 600 global B2B decision makers – companies agree that investments in technologies like personalization and ecommerce need to be prioritized in 2020.
In addition, most manufacturers and distributors predict that ecommerce will be a significant revenue driver by 2025. In fact, 93% of manufacturers and 95% of distributors surveyed said they expect that more than 20% of their revenue will be derived from the B2B ecommerce websites they own and operate by then.
In manufacturing and distribution, ecommerce is no longer a matter of "when" it's a matter of "how". COVID-19 is accelerating digital transformation at many companies, putting an end to debates and knocking down prior resistance.
Salespeople will evolve into data scientists.
As many salespeople are conducting business from their homes, they are forced to find new ways to create customer touchpoints. In order to make product recommendations for example, salespeople need access to analytics that help them better understand customer behavior and needs.
Episerver's March 2020 survey of B2B leaders indicates 35% of manufacturers and an equal percentage of distributors say "providing our salesforce with digital selling tools" is one of the most significant opportunities for their business in the next year. The salespeople who can add value through data-backed consultative services will keep relationships healthy and close more sales through tactics like upselling and cross-selling. They need the digital tools and training to be successful though.
Customer prioritization will continue to be the name of the game.
Customer prioritization is a long-standing reality in the manufacturing and distribution industries. Manufacturers and distributors have always found a way to say "yes" to their customers. During the outbreak, manufacturers and distributors have found ways to accommodate changing demands and have placed priority on certain products and customers. Personalization can help in prioritizing how to cater to these customers, from products to content.
In fact, 42% of manufacturers and 37% of distributors say personalizing the digital experience to each customer needs improvement in their organization according to March 2020 data from Episerver.
A lot is changing in the manufacturing and distribution industries. As the Coronavirus outbreak continues to shock the greater economy, manufacturers and distributors need to be agile and pivot at a moment's notice. Doing nothing, could cost manufacturers and distributors everything. The most successful manufacturers and distributors will focus on building a digital-first business today, so they can better serve their customers tomorrow.