April 20, 2021
How to create a client intake form that actually converts
A client intake form is essential for a streamlined start to engaging potential clients. See why these forms are so useful for marketers.
---
It's no secret that, no matter what business or industry you're in, attracting and winning new clients is an ongoing, all-important process. That's why companies spend big bucks on marketing plans, SEO efforts, referral bonuses, and other lead generation and acquisition activities.
There's another tactic, however, that's virtually free and easy to implement: the client intake form. For small businesses to large corporations and everyone in between, intake forms are essential for a streamlined start to engaging potential clients. They also make a strong first impression, making prospective clients feel heard and empowered.
Read on to learn about what client intake forms are and how to create ones that can actually help boost your business and improve the work that you do.
What is a client intake form?
A client intake form is a simple questionnaire designed to get valuable information out of prospective clients so that businesses can better serve them. At the start of a client relationship, an intake form ensures a streamlined way to collect the data, materials, and resources needed to get started on the project at hand.
Whether you're working at a law firm, marketing agency, or any other business that depends on client work to function, an intake form is an essential step toward nailing your proposal — and figuring out whether you'd be a good fit in the first place.
Crafting a successful client intake form
Filling out online forms isn't most people's idea of a good time, but it doesn't have to be painful. A well thought-out intake form can help you get to know prospective clients, and vice versa — saving you valuable time and speeding up your workflow. But a poorly-executed form can do the opposite, losing your business potential clients and important leads. So, how can you make sure that doesn't happen?
Ask the right questions
Whether using online forms, a pre-existing template, or creating your own client intake form from scratch, it's important to ask the right questions. Any inquiries should be relevant to your particular business and professional goals as well as to your potential client's interests. Be sure to include the basics — like names, positions, budget parameters, and preferred contact methods — as well as more in-depth areas, such as:
Scope of work, including timelines, expectations, and rounds of revisions
Relevant information, like brand guidelines and design assets
Industry specifics and project particulars
Important KPIs and business goals
Preferred technologies and collaboration methods
Note that these examples are intended to get you thinking of questions specific to and relevant to your business and are by no means one-size-fits-all.
Consider design and branding
Keep in mind that smartphones now account for half of all web traffic, so it's important that your brand experiences and content efforts — including client intake forms — are designed to be mobile-first and easy to read and engage with on any device.
These forms present an important opportunity to stand out from the crowd by asking the right questions, as we discussed above, but also by offering yet another touchpoint for building brand awareness. Don't forget to include your business name and logo in your intake form layout, as well as contact instructions and any helpful links. And if space permits, try out a feedback prompt to learn even more about prospective clients, their suggestions, and any questions they may have for you.
Don't go overboard
Remember: keep it short and sweet. Filling out a client intake form shouldn't take more than five to 10 minutes, or else it's not likely to get filled out, completed, and sent back to you with all that juicy information. For inbound leads that have expressed a higher level of interest, a more thorough set of questions may be appropriate — just be careful not to overwhelm your users.
If your company provides various types of services, consider creating a set of questions specific to each target user or business. This can help streamline your workflows even more and make for a smoother onboarding process down the line.
How can Welcome help?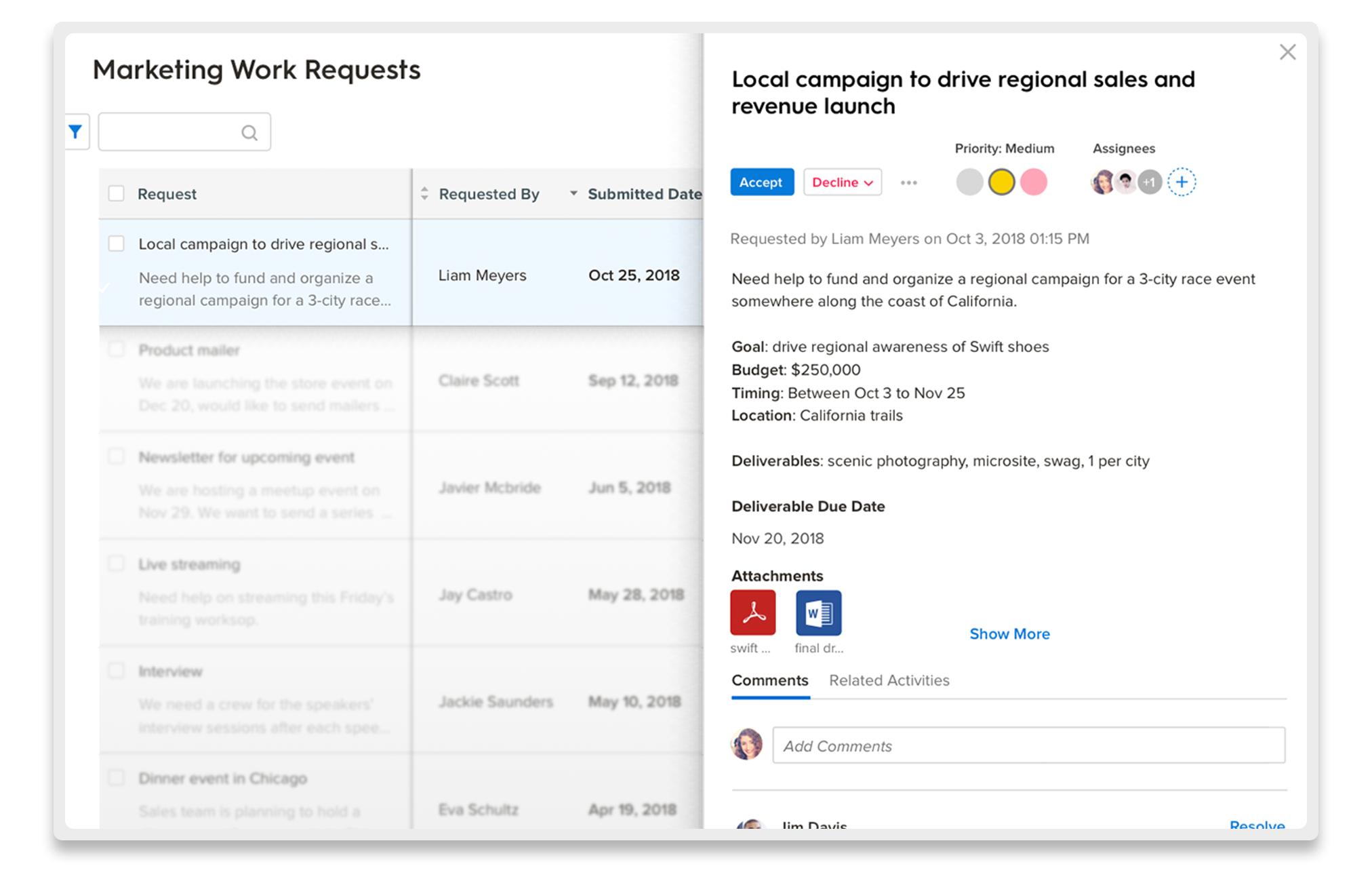 Welcome's marketing workflow management software gives stakeholders a fast and easy way to handle marketing requests and intake forms, while marketing and creative services teams benefit from a central, intelligent, and natively integrated queue of work.
Where to share and publish intake forms
As with any kind of content, once you've created your intake form (and ideally before), it's time to think about distribution. You may decide to make a dedicated landing page, email blast, or both (which we recommend) to get your intake form out there. Social media is another option, when appropriate, and posting serialized snippets of various parts of your questionnaire can make for engaging and effective content — especially on professional networks like LinkedIn.
No matter how you choose to communicate and share your client intake form, make sure it's easy to find on your company website. Once it's been sent, downloaded, or otherwise delivered, don't forget to follow up, but also know when to step back.
Online tools for intake forms and form templates
Questions can be multiple choice, fill-in, short answer, or whatever makes most sense to you, your business, and the software you happen to be using. Whether it's Hubspot, Mailchimp, or another digital marketing service, there's no lack of form builders and form templates to be found online.
Finally, search engines crawl intake forms just as they would any other page of content, so don't go thinking that keywords and adwords don't matter here; they do. Start treating your client intake form as just another essential part of the marketing machine, and you're bound to see a difference in how you do business.
How can Welcome help?
Client intake forms work to minimize prep work and status updates, allowing marketers to focus on the more important stuff: strategy, sales, and telling amazing stories. Welcome's marketing orchestration platform helps teams eliminate the chaos of ad hoc inbound marketing requests so they can get a better handle on resources and priorities from start to finish, again and again.