november 23
Empathy, AI and data: keys to customer loyalty
Successful businesses require leveraging empathy, AI and data in customer experience effectively. Read on to learn how all three perform.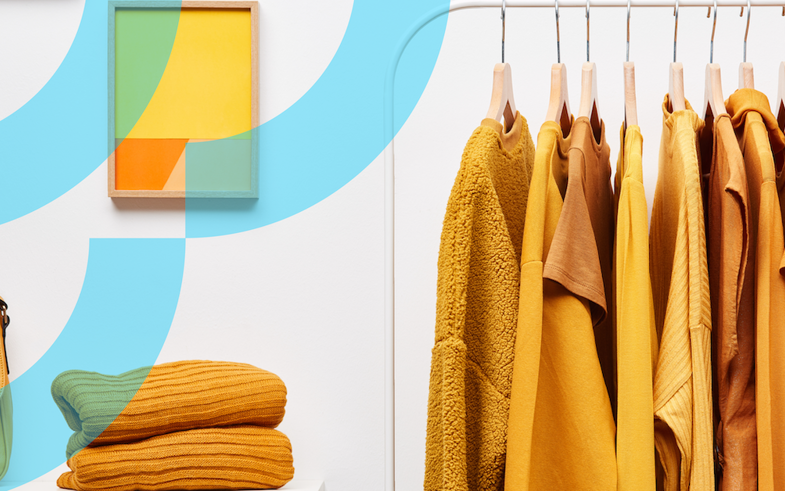 ---
Are you looking to improve your business' customer experience quality? You're not alone.
A recent poll asked organizations, "What is the top priority for your business in the next five years?" A staggering 45.9% said customer experience, with the focus on product second and pricing third.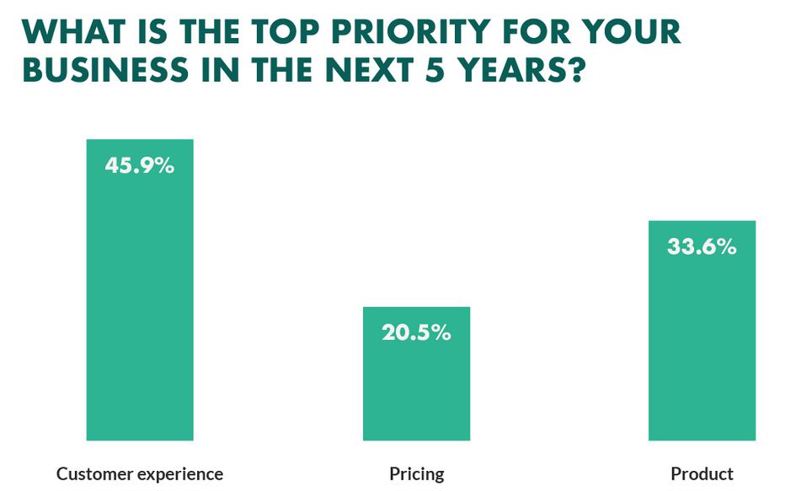 Image source: https://www.superoffice.com/blog/customer-experience-statistics/
To provide top-quality customer experiences, consider leveraging empathy, artificial intelligence (AI) and data in customer experience.
Read on to learn how you can effectively use these three key touchpoints to provide satisfying experiences to online buyers.
Why invest in customer experience?
Here are a few metrics to warrant nurturing the customer experience:
Since quality customer experiences translate to customer retention and newer customers, organizations globally concentrate on enhancing the customer-centric facet of their business.
Empathy in customer experience
The idiom "putting yourself in another person's shoes" denotes showing empathy. Empathy means understanding what another person is feeling or seeing things from their perspective, which is crucial for an excellent customer experience.
There are three types of empathy:
Cognitive empathy – You can see things from the point of view of another.

Emotional empathy – You can understand what another person is feeling. Emotional empathy may also cause you to react physically to what is happening with the other person.

Compassionate empathy – This is where you act on the cognitive or emotional empathy you experience.
To offer the best customer interactions, whether on the phone, from a chat or by email, the support personnel must use all three types of empathy. The customer needs to know that you are listening to them and understand them. Above all, the interaction when it comes to customer feedback needs to be genuine.
The following are some expressions for training the empathy muscle:
"I would feel [adjective] too in that situation." (Emotional empathy)

"I'm sad to hear this happened." (Emotional empathy)

"It's completely understandable that you would need assistance with this." (Cognitive empathy)

"You're right." (Cognitive empathy)

"This issue has cost you a lot of time and money. Let me make it right." (Compassionate empathy)
AI in customer experience
While developing human empathy is of the utmost importance for a good customer experience, digital empathy is also possible. Chatbots could include empathy phrases personalized to the customer. Conversation analysis tools also detect emotions like stress and prompt the customer service agent to respond appropriately.
AI is beneficial throughout the entire customer experience, not just in support cases. Here are some more examples:
Personalizing emails – AI can analyze customer purchase behavior, geographic location and other factors to send a customized email.

Displaying search results – By examining customer data, AI can show search results that are most relevant or of interest to the customer.

Predicting the best prices – AI can study a market and predict price fluctuations to enable the customer to make an informed purchase. We see instances of this in airfare, hotel and electronics.

Replenish customer supplies – By reviewing the frequency of past purchases, AI can proactively recommend a resupply of a product, like fabric softener or whole coffee beans.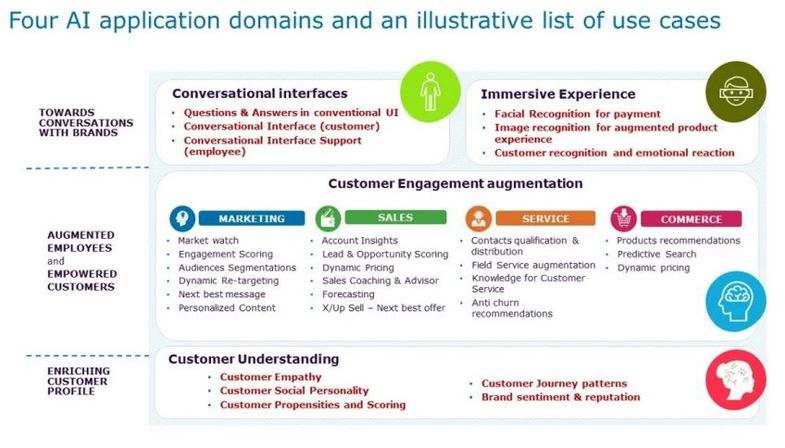 Image source: https://www.capgemini.com/service/perform-ai/real-world-ai-customer-experience-solutions/
Data in customer experience
Data analysis continues to be the keystone of delivering superior customer experiences. There's always room for improvement because there's constant digital transformation. Here are some customer satisfaction areas on which to focus:
The customer journey – How did the customer get to your website? What pages did they click through until they made a purchase? Continuously analyzing this information will help a business understand its customers and facilitate the online experience.

Centralizing data – Related to the customer journey is having a central location for data. If a customer requests support through one digital channel (e.g., mobile chat) and then picks up the conversation later through another medium (e.g., desktop chat), they shouldn't have to repeat themselves since the agent has the historical data on hand to continue the case.

The customer perception of your business – There are several ways to discover what people generally think about your business. Social media and online reviews can provide insights into how people view your brand. Another method is to conduct a survey. The caveat here is to ensure that the request is convenient for the customer or even worthwhile in a modest way (e.g., a gift card at the end of the survey).

Put into action what you learn – You've created customer profiles and seen buyer perception of your business. Make improvements based on this data. See ways to personalize the experience for each user. Eliminate customer pain points, like non-intuitive site navigation or poor mobile usability to prevent churn.
Ensure an outstanding customer experience with Optimizely
Optimizely can enhance your business workflow to help you deliver exceptional customer experiences and secure customer loyalty. Our Intelligence Cloud will centralize customer data from any channel, use AI to predict buyer behavior and transform customer information into real-time profiles.
Learn how to develop your digital potential and improve customer relationships by contacting Optimizely today!