Volaris: Building an Optimization-Driven Company Culture
Volaris, an ultra low-cost airline based in Mexico City that transports an average of 15M travelers annually. Volaris' commitment to customer service and the company's deep understanding of their travelers' needs distinguishes them from other airlines. However, being the second largest airline in the region, the company faces stiff competition from rival airlines looking to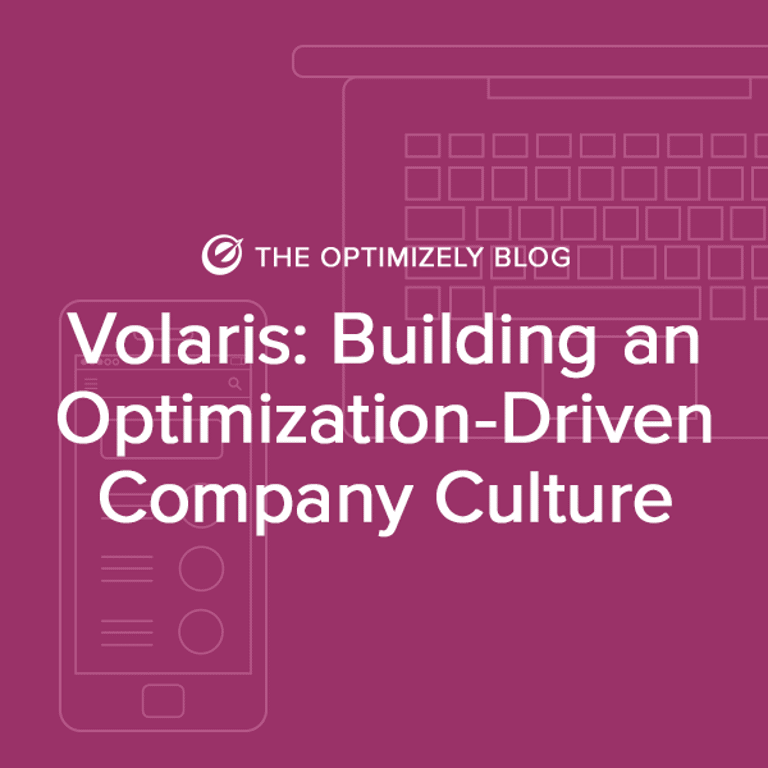 ---
Volaris, an ultra low-cost airline based in Mexico City that transports an average of 15M travelers annually. Volaris' commitment to customer service and the company's deep understanding of their travelers' needs distinguishes them from other airlines. However, being the second largest airline in the region, the company faces stiff competition from rival airlines looking to gain a foothold in the Americas. Volaris' website is their main point of sales for tickets and ancillary purchases, and customers value the ease of the online booking process.
"Before we had Optimizely, we had no way of knowing whether a change in design or layout on our website would have a positive or negative impact. We were flying blind."

– Julio Farfan, Head of Web and Mobile Optimization at Volaris
New and returning customers alike frequently visit the Volaris website to check airline prices. In order to increase sales, Mr. Farfan, Head of Web and Mobile Optimization, and his team decided to draw on the collective knowledge of the entire company. Farfan set out to solicit ideas across the organization – from engineers to flight attendants – on how to increase sales by tailoring the website experience to different travelers. Volaris then partnered with Optimizely to build a data-driven company culture.
Crowdsourcing Conversions
"When we got started, most of the company didn't know what A/B testing was," says Farfan. If a product manager wanted to change the color of a product or the style and layout of a page, they had no way to test whether it would improve the user experience or not. Whenever a change to the website was made, the update would appear to every visitor on the site. If the new layout or color scheme failed to resonate with customers, conversions on the site would drop and the company would lose revenue. The web and mobile optimization team decided that they needed a way to test changes before implementing them.
"Once we started to use Optimizely, we noticed an immediate internal shift – people began to test new ideas before sending out build requirements to the development team," says Farfan.
The sudden interest in optimization and experimentation at Volaris inspired Farfan to involve the entire company. His team opened an idea submission contest for more than four thousand Volaris employees. Additionally, they shared an infographic with employees that explained why Volaris was collecting ideas and how A/B testing worked.
This provided a new way to gain insight from every level of Volaris' diverse workforce. As a prize, the top three employees whose ideas had the greatest impact on the business would win a free roundtrip ticket to any Volaris destination.
Results
The first year that Volaris implemented an experimentation program with Optimizely the company recorded an increase in incremental revenue from website sales between 2.1 and 2.3%. This success encouraged them to continuously test new methods to advance the brand.
Inspiring Internal Innovation
The competition to crowdsource A/B testing ideas for the website resulted in over 100 submissions from Volaris employees – approximately 70% of which were tested through Optimizely.
Creating a Sense of Urgency Leads to Increased Bookings
The winning submission that drove the most revenue came from a member of the sales team. The idea was to set up a timer during a promotion that counted down the days, hours and minutes to the promotion's end. Reviews of the timer's impact showed an increase of conversions by up to 10%.
Key Takeaways
For the travel industry — especially airlines — the website is the top driver of bookings. Creating experiments to test changes to the website booking funnel makes it possible measure the effectiveness of those changes.

Employees are the best source of new ideas and inspiration. Create a data-driven culture by crowdsourcing ideas to test and implement.

Increase transparency and collaboration by sharing A/B test analyses and results company-wide to motivate team members to share ideas.