24. oktober, 2022
What do digital marketers do? (and what should they do?)
Digital marketers are responsible for incorporating new digital tools into their catalog of legacy advertising strategies.
---
In 2020, Hershey's caused an uproar when it updated its classic Christmas commercial to a new, digital version. While some people were upset that the brand replaced the 30-year-old original stop-motion ad, that didn't stop Hershey's sales from growing 12% that year.
Digital marketing is much more than shiny new ads. Digital marketing straddles the intersection of new advertising channels and emergent marketing strategies. While legacy marketing relies on traditional ad channels like billboards and radio, digital marketing is an opportunity for companies to seize the future.
Understanding what digital marketers do (and, more importantly, what they should be doing) is vital for companies wanting to level up their marketing strategies and grow into the digital age.
Key takeaways:
Marketers should build on their legacy media strategies while embracing the power of digital marketing.
Digital marketing gives advertisers access to a growing list of ad channels.
Optimizely gives companies the tools to leverage their digital experiences.
What do digital marketers do?
Digital marketers adapt legacy marketing strategies to digital mediums. They use the same tactics that worked with print, outdoor, and linear advertising to make marketing decisions in the digital age. Digital marketers avoid change in favor of time-tested marketing strategies.
And as each day goes by, this approach becomes less and less effective.
What should digital marketers do?
Using the lessons learned from legacy advertising is an important part of marketing, but digital marketing should be much more than that. Digital marketing gives advertisers access to a new world of opportunities: new ways to reach customers, new ways to drive traffic and new ways to meet needs.
The best marketers don't limit themselves to analog strategies but don't abandon legacy advertising channels.
Overview of digital marketing channels
In addition to print, outdoor, and linear advertising, digital marketers have access to several new advertising channels.
1. Web optimization
Traditional advertising reaches out to customers where they are: print ads in the newspapers they read, commercials on the tv channels they watch, and billboards on their morning commute.
Digital marketing allows advertisers to expand this strategy with search marketing. Search marketing leverages SEO (Search Engine Optimization) to drive traffic from web searches to the company's website.
For example, an apparel manufacturer might optimize their website for keywords like "crewneck," "graphic tee," and "moisture wicking" so that when customers do web searches that include those keywords, their site will appear on the first page of results.
Optimization is one of the most important strategies for digital marketers because it connects customers looking for solutions with organizations able to provide them. While a billboard for a car manufacturer reaches every driver that passes by it—whether they're interested in buying a car or not—web optimization can reach users specifically interested in shopping for cars.
2. Content marketing
Content marketing is a tool to drive search engine optimization and provide useful information to prospective buyers.
Content marketing includes digital video, blogs, podcasts, etc.—content that doesn't have the main goal of making a sales pitch but rather providing information or entertainment.
Not only is content marketing an effective way to drive traffic to your platform, but it's also a way to educate consumers about the strengths of your product. Well-informed consumers are more comfortable making purchasing decisions and more likely to understand your company's value proposition.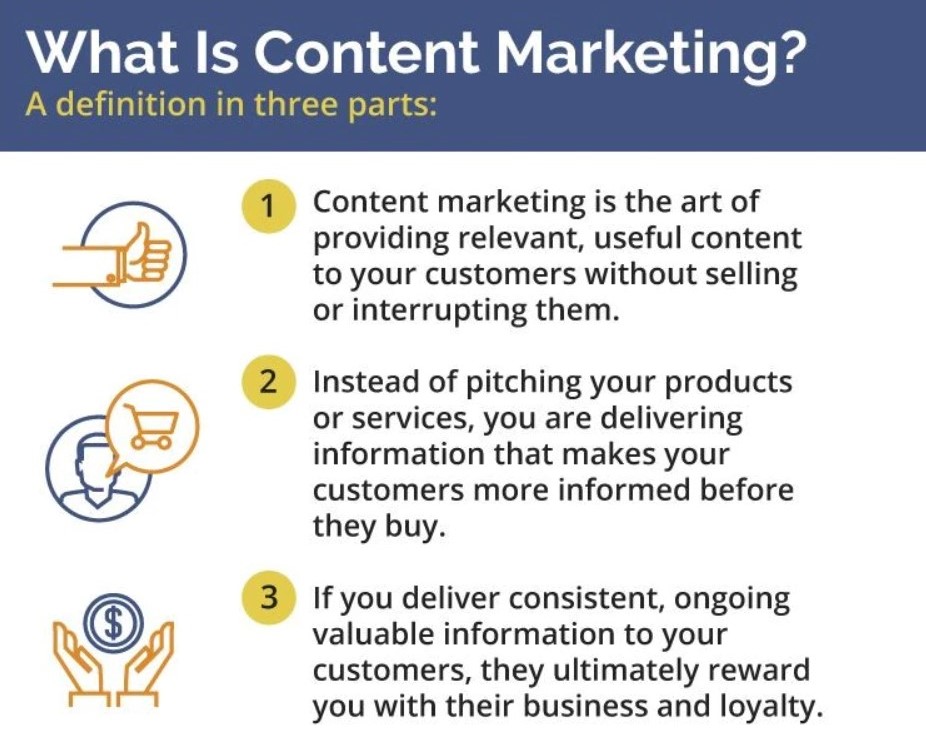 3. Social media
While social media is a form of content marketing itself, it's also much more than that. Social media gives companies a channel to reach customers and provides a platform for interaction and engagement.
Social media content can include livestreams, influencer marketing, Instagram posts, and automated chatbots.
While 74% of consumers say they've used social media to shop for new products, 94% say an online review has led them to avoid a business. Social media is a highly influential digital marketing channel that can open new doors to success or reveal the dirt under the rug if you don't provide quality customer service.
There are several different social media platforms that digital marketers should be aware of. LinkedIn is the top platform for B2B lead generation, while Facebook has the broadest reach and a wealth of consumer data. Despite being a relative newcomer, TikTok is a rising star in the social media world and a key touchpoint for B2C marketing to younger generations.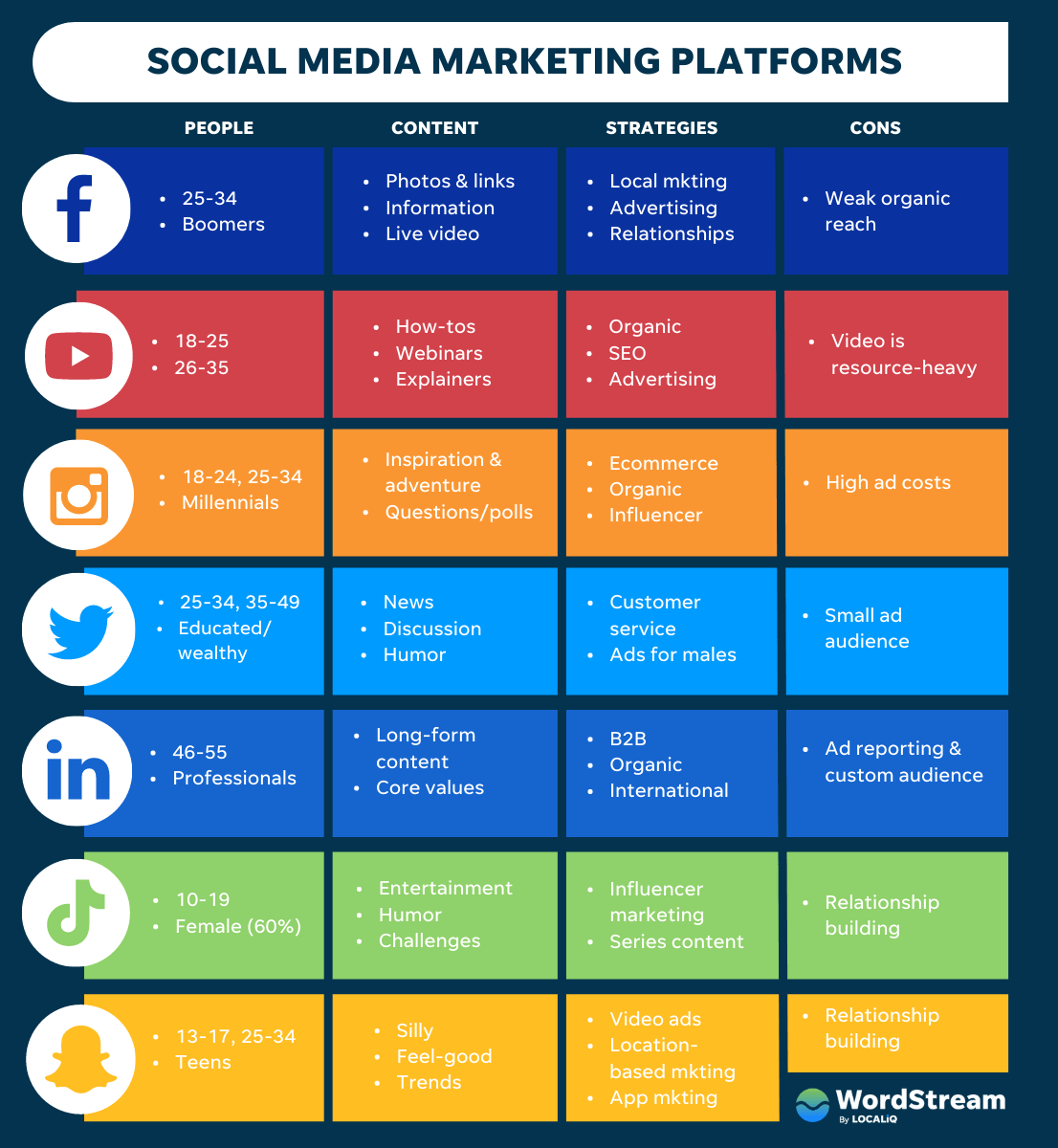 Why digital?
Before the renaissance of digital marketing overturned the paradigm, marketers had limited options for getting their message to consumers. There are many reasons companies should incorporate digital marketing into their strategy in the digital age, but the two biggest considerations are cost-effectiveness and quick feedback.
1. Cost-effectiveness
While legacy advertising casts a wide net, digital marketing can target specific market segments. A radio ad reaches everybody who listens to a particular station at a particular time, leaving marketers to settle for finding radio stations with the most overlap with their target demographics.
With an ad delivered on a radio alternative like Spotify or Pandora, the message can reach customers within specific demographics, geographics and even psychographics.
What this means for digital marketers is that mass media like television and billboards are best suited to building brand awareness and goodwill, while digital advertising is best suited to reaching specific market segments.
2. Quick feedback
In tv advertising, a commercial requires weeks or months of creative planning and execution, a significant commitment to an advertising budget, and then months or even years to measure the success or failure of the campaign.
Compare this to TikTok: a social media manager can conceptualize, create, publish, and promote an advertisement in minutes and get immediate feedback. While legacy media is like a battleship: large, long-term, but highly influential—digital marketing is like a jet ski: agile, iterative and cost-effective.
Manage your digital experiences with Optimizely
Harnessing the power of digital platforms is the razor's edge between success and failure for marketers.
Managing your digital experience is a crucial discipline for your organization. Optimizely is a digital experience platform that specializes in content management, e-commerce and web optimization so that you can take your digital marketing to the next level.
Take advantage of your digital marketing opportunities with Optimizely's team of experts on your side.
Book a meeting today to learn more about how Optimizely can help.