Feature experimentation. Feature management. All-in-one.
Introducing the Q3 roadmap for Feature Experimentation. Read on to learn more about Optimizely's new features and usability and performance updates now available to the leading experimentation and feature management platform.
Your Optimizely Feature Experimentation round-up
As the year flies by, we continue bringing more capabilities and performance improvements to Feature Experimentation.
More and more customers are migrating from our legacy Full Stack to the new Feature Experimentation, and our One-Click Migration tool is nearly ready to exit beta... plus we have numerous feature improvements, including rule scheduling and multiple experiments per flag to tell you about. If you are still on legacy Full Stack, now is a better time than ever to migrate to Feature Experimentation!
Read more below. 
Q3 updates coming to Optimizely Feature Experimentation
Next evolution of experimentation
1-Click Migration (Full Stack to Feature Experimentation)
Feature Experimentation delivers a significantly faster user experience, plus many feature improvements over the legacy Full Stack.
To help you take advantage of these new enhancements, our one-click migration tool enables you to migrate your projects from Full Stack to Feature Experimentation in minutes – without impacting live experiments and retaining all existing flags. Migrate now and leverage all the powerful new functionality of Feature Experimentation!
Watch the 3-minute explainer video or read how to upgrade for more information.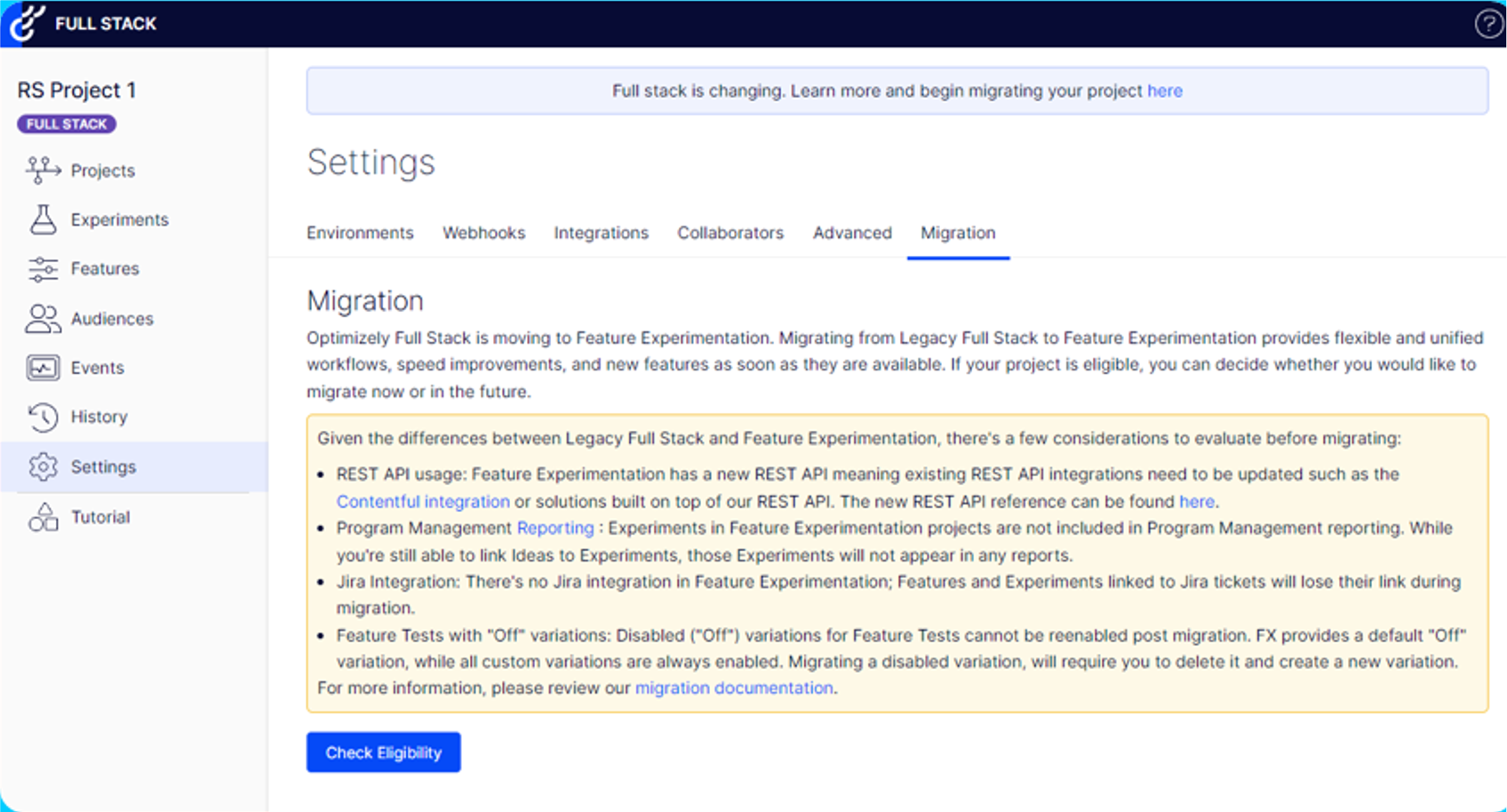 Planning
Flag and Rule Scheduling – Coming Soon
As you advance your culture of experimentation, finding efficiencies can help improve velocity and reduce friction. The ability to plan staged, progressive deliveries is a game changer – letting you plan experiment execution ahead of time, with confidence in scheduled changes.
Automatically migrate existing Flags built with legacy technology to the new Feature Experimentation platform.
Set a duration for a flag or rule to toggle on/off.
Schedule changes to audiences, and traffic allocation, to occur at any future point.
Smoother progressive rollouts
Plan experiment execution ahead of time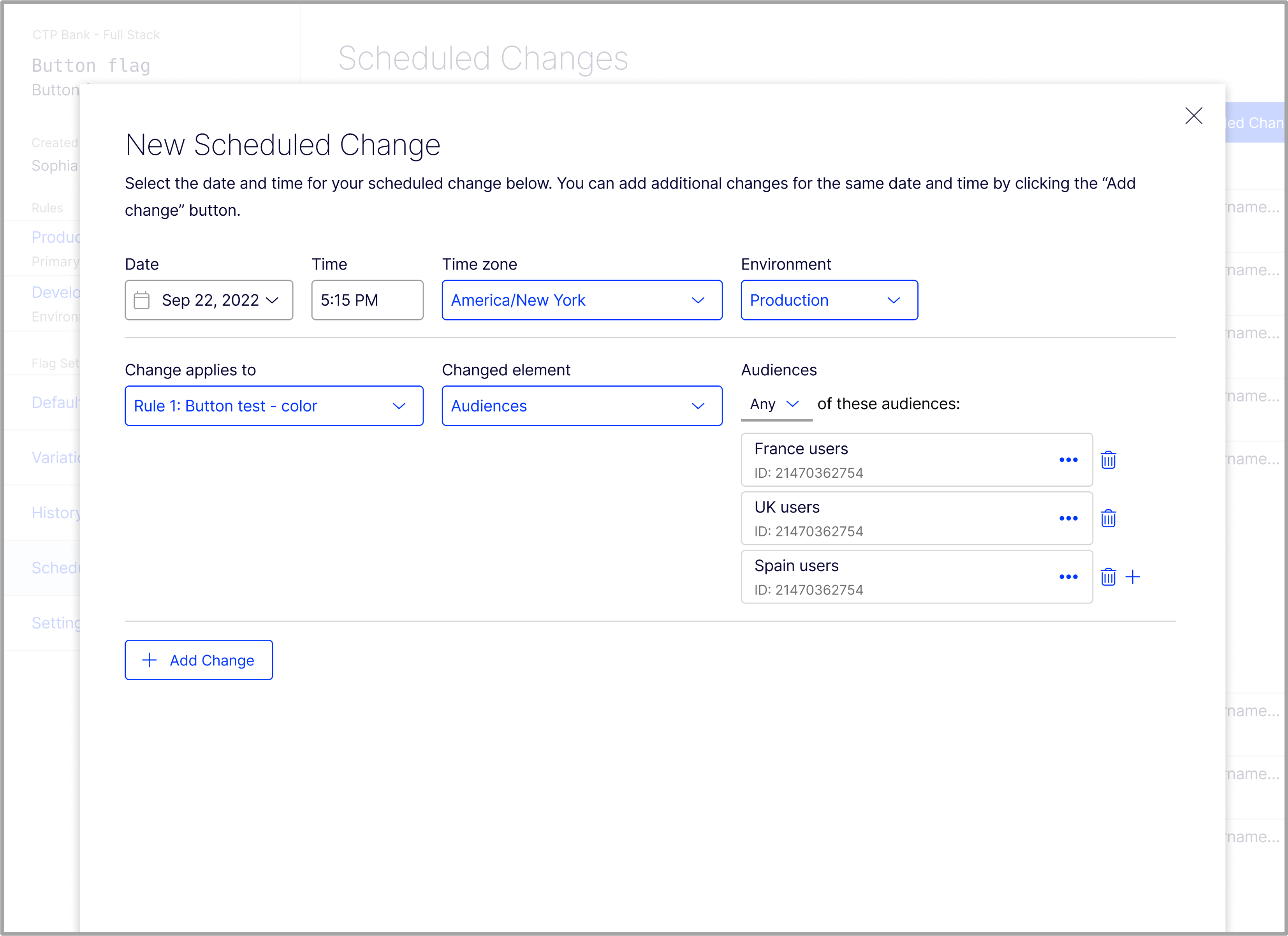 Accelerate your program
Multiple experiments per flag
With the ability to add multiple experiments to a flag, experimentation teams can achieve a higher experimentation velocity, increase win rates by targeting experiments more effectively and deliver personalization at scale.
Add multiple experiments and targeted deliveries to a flag.
Run the same experiments on different audiences simultaneously, with separate results.
Deliver the right experience to the right people at the right time as you personalize experiences.
Improve experimentation velocity without additional developer help with low-code deployments across any device.
Learn more about Optimizely's roadmap
And that's a wrap on the Feature Experimentation round-up! We'll be back in your inbox soon with more exciting product updates.
Have an idea for a new feature? Don't forget to use our feedback link!
Talk with your Customer Success team to learn more.
Join us on World, the global Optimizely community site hosting forums, blogs and documentation for the Optimizely platform. Engage with the worldwide Optimizely community and learn about product updates to stay up to date on how to unlock your potential with Optimizely.
Disclosure and Safe Harbor. [2022-8]. This product roadmap is intended to outline our general product direction. It is intended for information purposes only. It may not be incorporated into any contract. It is not a commitment to deliver any material, code, or functionality, and should not be relied upon in making purchasing decisions. Customers who purchase our products should make their purchase decisions based upon features and functions that are currently available. Any unreleased services, features, functionality, or enhancements referenced in any document, roadmap, blog, website, press release, or public statement that are not currently available are subject to change at our discretion and may not be delivered as planned or at all.  The development, release, and timing of any features or functionality remains at the sole discretion of Episerver Inc. (dba Optimizely).