How to write a creative brief
When executed correctly, a creative brief will help communicate your values, vision and the end result you're looking for. Keep reading to learn how you can create your own and see some examples so you can get off and running as soon as possible.
---
Whether you're partnering with an external creative firm or going in-house, sharing a marketing campaign brief ensures that everyone's on the same page. After all, if you're spending time and money to work with an agency on a well-executed marketing campaign, you want to make certain you're getting the most out of your partnership. If you have an internal team, they'll thank you for telling them exactly what you want.
Let's check out the standard elements to include, along with some examples.
What's the purpose of a creative brief?
You can use a creative brief to provide the blueprint for all deliverables, whether you're working on promotional assets, a podcast, social media visuals — the list goes on.
A well-executed brief will help the stakeholders understand how you see the project, the audience you're trying to reach, what kind of deliverables you're looking for, objectives, and more relevant information. If you're not clear about how you want your brand to sound and feel in your creative assets, the execution of your campaign can suffer.
Creative brief examples and elements
Most briefs will look relatively similar. So, we've broken down a standard format for you to follow to ensure no details are left out.
Your company's mission statement
An explanation of the project, and how this request for creative fits into the overall strategy of the campaign
Audience information, including the markets and personas you're targeting and any pertinent demographic or psychographic profiles
Your "big idea," or the objective you're hoping to achieve with the creative deliverables
The voice and messaging of your brand
Your competition, and any challenges or push back you anticipate
Logistical details including your budget and the time frame in which you need the project completed
A creative brief will generally be a single page — two pages max — as shown in PayPal's example below.

Here's a more detailed look at what to include, as well as some top tips on how to create a quality creative brief.
Part 1: Your company's background
You want to present the core elements of your business so that an external agency can understand your brand. If you have a specific point of view or set of values, or are mission-driven, this is the place in which you want to communicate that. Of course, this part might be left out if you're working with someone internally.
Part 2: Your project
This section will help creatives understand what you're looking for in terms of their deliverables. For instance, you'll explain whether you're requesting a 30-second commercial to help raise awareness of your newest product launch, a six-week podcast to spread the word about the high-profile clients you've engaged, or perhaps a new website to refresh your branding.
Part 3: Your target audience



The more you understand about your audience, the better your creative team will be able to nail your request. Here, you'll include who you're looking to target with this specific campaign and the details you have about their behaviors and desires that can be relevant to helping creatives execute effectively.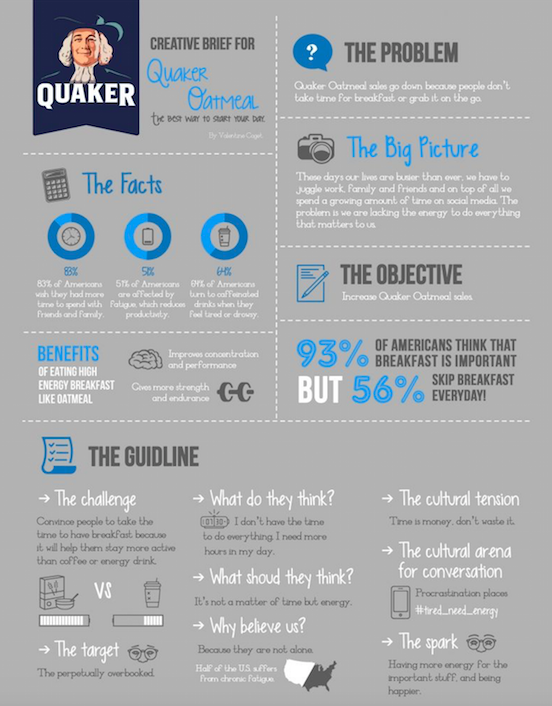 Part 4: Your objective



Are you hoping to potentially reach new customers, or realign your brand with another demographic? Providing your desired outcome to creatives will help them visualize the most effective execution.
Part 5: Your voice
Do you have a specific tone of voice in which you always communicate? Is there messaging you need to hammer home? This should reflect your brand and speak to your target audience. Just like Hasbro did under "Mandatories."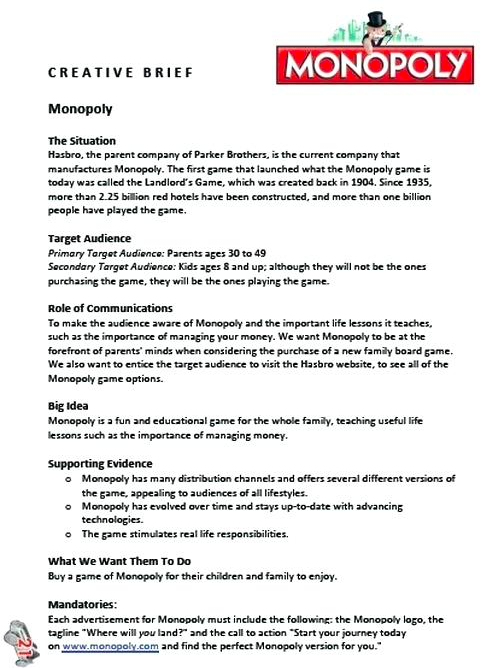 Part 6: Your competition
Including your competition isn't a must, but doing so enables your creative team to see who you're up against so they can uniquely position you in the market. Define competitive companies, products or even specific campaigns — whichever is most relevant.
Part 7: Your scope
Finally, you may want to include exactly what you're looking for, the budget you have, and deliverable due dates. This will be part of a larger conversation, of course, but providing this information in a creative brief can help your creative partner make sure they are aligned — and so you don't overspend if you're employing an outside firm.
Next steps
Your creative brief is an integral part of your integrated marketing plan. As you aim to reach consumers with a cohesive narrative across all of your marketing channels, a well-executed creative brief can help to ensure consistent messaging throughout your campaign.