The ultimate guide to marketing calendars
Calendars help you keep track of everything your marketing team is producing and publishing. In order to be useful, a marketing calendar needs to contain several key pieces of information.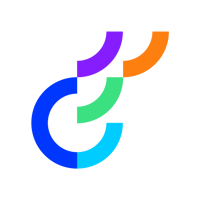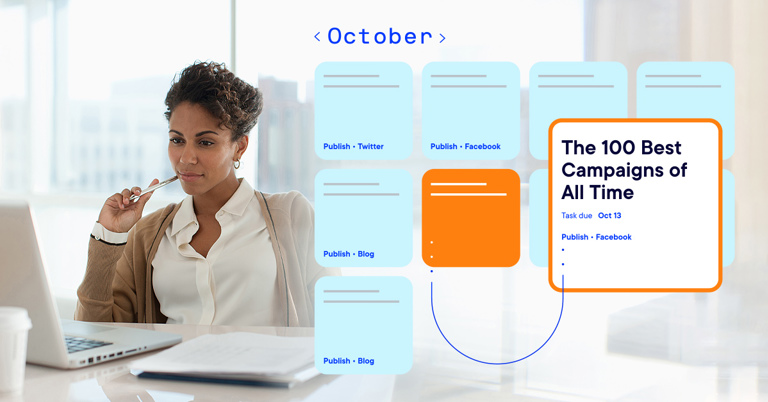 ---
The Ultimate Guide to Marketing Calendars
Marketing is a creative field that involves things like crafting clever social media content, writing compelling copy, designing eye-catching infographics, and more.
However, marketing also requires organizational skills. That's where having a robust marketing calendar comes in handy.
Calendars help you keep track of everything your marketing team is producing and publishing. In order to be useful, a marketing calendar needs to contain several key pieces of information.
We'll teach you everything you need to know about these calendars to help you make the most of them, including:
What Is a Marketing Calendar?
A marketing calendar is a calendar that helps you plan and execute your brand's marketing strategy. A practical calendar displays both campaign overviews and more detailed information about projects, such as who is responsible for them, what progress has been made, and when tasks will be completed.
Your team should use an overarching calendar to display all of its initiatives, as well as granular calendars for specific campaigns or media, like a social media marketing calendar, advertising calendar, or editorial calendar for your content marketing activities.
Shared digital calendars are more useful than paper or whiteboard calendars because they allow for greater visibility and collaboration. Although you can build a calendar in a spreadsheet, it's best to find a solution that integrates with the rest of your marketing tools to streamline processes.
Why Do You Need a Marketing Calendar?
A marketing calendar can help your team increase accountability, alignment, and visibility, meet goals, prevent overlapping efforts, and stay on budget.
Increased Accountability
A calendar is an essential project management tool that helps you execute your marketing plan and meet deadlines. When you know when a LinkedIn post will go up or who needs to provide approvals for a newsletter, your team can go ahead and just do the work.
Meeting Goals
When you follow through with your plans, you can meet your marketing goals more easily. A calendar helps you stay on target so that no task gets left behind.
Increased Alignment
A calendar can keep your team aligned on projects that are planned and in progress. When everyone knows who is working on what, you can manage expectations and bandwidth more easily.
Avoid Overlapping Efforts
Calendars help your team avoid an overlap in efforts. A social media calendar, for example, can help prevent accidental double posts from team members who work on different campaigns but manage the same accounts.
Increased Visibility
Calendars can also give external stakeholders insight into the inner workings of your team. Your calendar should serve as a single source of truth to ensure clients, bosses, and investors are in the know about upcoming and in-progress projects.
Staying on Budget
When you're aware of everything that's going on within your team, you can better control your marketing budget. That includes managing your freelance budget, understanding your entire team's bandwidth, and knowing when you need and have the resources to add people to your team.
What Should Be Included In a Marketing Calendar?
Using Different Types of Marketing Calendars
Your team doesn't need to work off of just one marketing calendar. In fact, it's best to have a comprehensive calendar that lets you quickly see which blog posts are in the works and what ad creative is going live at any time, and several content-specific calendars to help the team members assigned to these projects stay focused.
So, in addition to a main timeline, you may also want to consider creating calendars for each of your marketing channels, including a(n):
Content marketing calendar for organizing blog posts, reports, whitepapers, web pages, and more.
Social media calendar that keeps your social media campaigns organized by showing what is being published to which channels and when.
Email marketing calendar for planning your newsletter publication schedule.
Advertising campaign calendar that shows when you're running digital, print, radio, and out-of-home ads.
Events and partnerships calendar for organizing webinars, conferences, influencer campaigns, and more.
Let's take a deeper dive into three major types of marketing calendars you may want to use:
1. Marketing Plan Calendar
This is the mother of all planning calendars, from a marketing perspective. This will include everything in your marketing plan.
Your marketing plan calendar moves beyond just content creation. It also includes project timelines, major milestones, and expected dates of completion for the campaign in general.
This is the resource your team members will look at when they need to remember any dates involved in your marketing plan, be those content or task-related.
2. Editorial Calendar
An editorial calendar is a calendar you'll use to organize all of your content thematically throughout the duration of your campaign. This is where you'll include themes, topics, and dates for various content types as well as other important dates to remember during the campaign.
Here's an example: let's say you're a flower shop planning your editorial calendar for the year. You may want to highlight dates such as Christmas or Mother's Day (high volume periods) as particularly important time frames in your content planning approach.
3. Social Media Calendar
An editorial calendar encompasses all your content, whereas a social media calendar only captures your social media platforms. This content may be a part of your editorial calendar, but only social content will be included in your social media calendar.
This is particularly helpful if you have a robust, multi-channel social media presence. If you're active on several channels, having a calendar strictly for your social media marketing efforts will prove invaluable.
Essential Elements of Marketing Calendars
In order for these different types of marketing calendars to work together (and work for you), each calendar should include:
A high-level overview of projects. Color coding helps you visualize what is happening when.
Deadlines, including not just final due dates, but also intermediary milestones that help keep the project moving along.
Who is involved in the project. When you use a sophisticated calendar tool like Content Marketing Platform's, you can easily tag all parties involved so that they automatically know when it's their turn to take action.
Project details, like a brief, resources, and assets that should be used. All of these details can be difficult to fit into a calendar built through Microsoft Excel or a Google Calendar. But with a calendar tool built for marketers, all of this information can fit seamlessly into your timeline.
These features and organizational tactics help your team stay on track of marketing campaigns and facilitate your workflow.
What to Look For When Comparing Marketing Calendars
There are lots of marketing calendar solutions out there. While creating something in Google Sheets or Docs can help get the job done, a more sophisticated tool can help empower your team's best work and increase efficiency.
When comparing tools, look for one that:
Lets you do more than just see projects and deadlines. The best calendars facilitate projects by letting you add briefs, share resources, and upload assets.
Streamlines collaboration. You should be able to easily add both internal and external stakeholders, like freelancers and clients, to projects in the calendar.
Promotes visibility. Stakeholders should easily be able to access the calendar to understand what's going on at any given time.
Helps you stay on target. Look for progress tracking features that make it clear what's been done and what's left to do on a project. Your calendar should be part timeline, part checklist.
Lets you customize as much as possible. You should be able to customize views, filters, calendars, colors, and more so that your calendar works for you, instead of the other way around. Bonus points if you can save these customizations for easier use next time.
Lets you toggle views. Since what works for one member of your team may not work as well for another team member, it's important to look for a calendar that offers various layouts, such as traditional calendar, timeline, and Gantt views.
Makes it easy to sort through projects. Look for advanced filtering tools that help you find in-progress and planned campaigns in a breeze.
Plays well with your other marketing tools. Just like your team works with other departments at your company, your calendar should integrate with the other tools in your tech stack.
Helps you grow. Your calendar should be more than just a calendar. It should help your marketing team do its best work by offering other capabilities, such as a place to brainstorm and draft different types of content, tools for leaving feedback on a podcast, or the ability to track KPIs and metrics.
Don't settle for a calendar that doesn't come with these capabilities.
Marketing Calendar Templates
What Makes A Good Content Calendar Template
There's a thin difference between a good calendar template and a great marketing calendar.
That said, marketers who document their strategies are 313% more likely to succeed.
An editorial calendar is the logical foundation of your content strategy. That's why you need an effective content calendar.
Some of its qualities include:
Customer-Centricity in an Editorial Calendar
A Calendar Template That Is Goal Defined
A Calendar That Qualifies and Categorizes Leads
Research and Metrics in a Content Calendar
Capacity Planning Goes A Long Way
Customer-Centricity in an Editorial Calendar
What was the reason behind that decision to have social media posts each Friday, or similarly the sending of emails each morning?
It could be because your team members are burnt out, your customers show more social media engagement on weekends, or that you just like posting on Fridays?
An effective editorial calendar should always have the customer at the center. If you're posting on Fridays, it should be because the customer is more active on Fridays.
Instances in the calendar should use metrics to discover:
When the customers are more active for a particular medium
Seasons and holidays when the prospect favors a specific medium
Feedback on the pieces of content the audience likes
A Calendar Template That Is Goal Defined
Goal definition is one of the most crucial aspects of an effective marketing strategy.
What are your marketing efforts set to achieve? It could be:
Lead generation and conversion

Customer retention and brand loyalty

Brand awareness of a product launch
Thought leadership and brand awareness
For lead generation, a marketing campaign calendar will mostly lean on blogs and email marketing. For thought leadership, on the other hand, long-form content such as white papers should have more prominence.
An occasional podcast on the content marketing strategy will be great for building a knowledge base, brand loyalty, and customer retention.
A Calendar That Qualifies and Categorizes Leads
One thing we can all agree on is that all leads and prospects are not the same. That said, the journey of conversion should reflect on your content calendar since the development of leads is not linear but an arc.
Your content marketing strategy should map out the top-funnel lead, middle funnel, and bottom-funnel lead. Always see to it that:
Content creation is at all levels of lead qualification
The start of your marketing campaign should leverage top-funnel marketing strategies
The types of content should become more intensive as the marketing strategy progresses
Content should not leave out loyal and existing customers
Research and Metrics in a Content Calendar
Content ideas and planning should happen in the context of a lot of research and metrics. There should be a statistic or metric behind each instance in your content calendar.
While creating your integrated marketing calendar, ensure to:
Leverage feedback on already existing blogs
Get guiding statistics from Google Analytics
Perform a content audit
Capacity Planning Goes A Long Way
Your content calendar should also consider the amount of workload your team members can handle at a time.
To streamline workflows, it should also equally distribute tasks across teams, departments, and stakeholders to ensure that no single person is overburdened by the work.
The following Content Marketing Platform tools come in handy:
Progress tracking
Time management
Productivity management
That's A Lot Of Trouble: Why Go Through It All In The First Place?
Well, why spend time on a marketing calendar template?
Marketers have better things to do on Fridays, beer included. Excel spreadsheets are also cheap, and your marketing is probably doing fine.
Benefits of content calendars include:
To Effect Your Marketing Strategy
Creating Your Marketing Crystal Ball
Empowering Your Marketing Teams
1. To Effect Your Marketing Strategy
Though many marketers may not admit it initially, content marketing is hard. Subsequently, many large and small businesses run on almost ineffective marketing strategies.
Social media posts go unnoticed, public relations are in dire straits, and email campaigns are a disaster where prospects unsubscribe unceremoniously.
This is often due to the lack of a plan in marketing activities, something a content marketing template is here to fix.
2. Creating Your Marketing Crystal Ball
A well-documented marketing plan will enable you to strategize on tomorrow's marketing today. No shocks and surprises again.
You don't want a situation where it's the 4th of July, when prospects always respond best to your marketing efforts, but you already spent your budget on other marketing activities.
3. Empowering Your Marketing Teams
Show me your marketing team, and I'll tell you how successful your marketing strategy is. Is your team running around with ancient and outdated marketing tools?
Do they use sticky notes and spreadsheets with no plan whatsoever while missing due dates and deadlines?
If so, then, Houston, we have more than a problem.
A marketing calendar template empowers your marketing team. It takes their productivity and marketing efforts and puts it to the best use.
Eventually, you end up with:
Happier
Motivated
More productive team members.
What a Social Media Calendar Template Looks Like
As noted above, your social media calendar will look slightly different from an editorial calendar or even your marketing plan calendar. It only covers your social assets.
A typical social media calendar will contain the following information:
Length of the social media campaign
Frequency of posts
Platforms you plan to use
Here's how a hypothetical week of social content may look:
Monday: 2 tweets, 1 Facebook post, 1 blog on LinkedIn
Tuesday: 2 tweets, 1 Facebook post, 1 Instagram post and story
Wednesday: 2 tweets, 1 Facebook Post, 1 blog on LinkedIn
Thursday: 2 tweets, 1 Facebook post, 1 Instagram post and story
Friday: 2 tweets, 1 Facebook Post, 1 blog on LinkedIn
Note: these aren't necessarily best practices for the number of posts or which platforms to use. This is just an example to show you how your calendar may look after you've selected the social networks you'd like to use.
A Marketing Calendar Template that Supports Winning Marketing Campaigns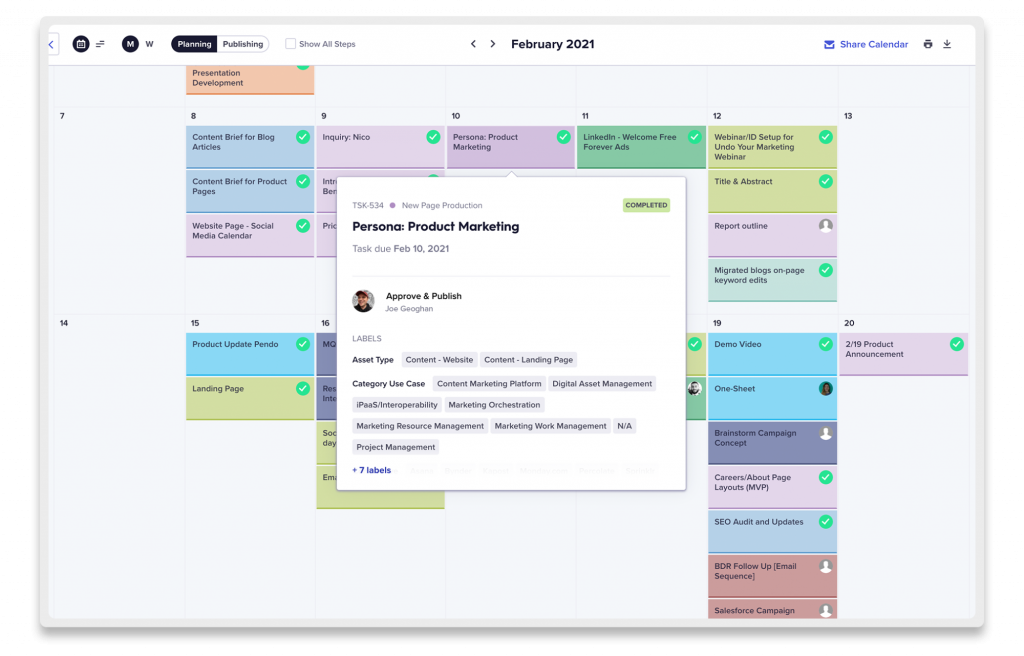 So what will a successful marketing calendar template look like? Some of the basics include clearly listing the campaign the calendar belongs to as well as the responsible team members for each task/content format.
Your calendar should match the length of the campaign. In other words, don't include months/weeks falling outside the campaign's range – that's useless data your team doesn't need.
When it comes to the actual calendar part of the template, here are some of the features you'll want to include:
An overview of all major campaign-related tasks and associated deadlines
The schedule for all content marketing posts
The schedule for all of your social media posts
The schedule for all your email marketing efforts
Different members of your team may be responsible for each aspect of your marketing plan. Still, it's good to have all this information in one place.
View your marketing plan as an ecosystem, with all parts interrelated. Your calendar enables your team members to understand how these pieces will function together and when they will occur. That way, there's less confusion and clutter.
Creating the Ultimate Editorial Calendar Template
There is no perfect way to create an editorial calendar. However, the following steps are a constant in almost all effective calendar templates:
Choose A Content Marketing Calendar Tool
Perform Some Role Definition In Your Content Calendar
Single Out Your Social Media Target Audience
Content Ideation For Your Content Marketing
Choose Your KPIs and Metrics
Come Up With A Publishing Schedule For Your Marketing Plan
Calendarize Your Publishing Schedule
1. Choose A Content Marketing Calendar Tool
Before you begin, you have to choose a content marketing calendar tool. Some marketing management software like Content Marketing Platform offer free marketing calendar templates that you can customize to your functionality.
However, for a simple and non-complex marketing plan, you can use free tools like:
Google Sheets
Microsoft Excel templates
Free download marketing templates
2. Perform Some Role Definition In Your Content Calendar
Role definition goes a long way to streamline the workflows in your marketing campaign. This is something that should spill even into your content calendar.
In so doing, each instance of your marketing template should answer the question "by who?" Ensure to:
Assign roles such as head of email marketing and head of social media
Assign a team leader to each team
Assign each task to a team member
Assign different pieces of content to content creators
Cluster social media platforms and put someone in charge
3. Single Out Your Social Media Target Audience
Now that all stakeholders have defined roles, what's left is to define your audiences. Remember, you can attract different audiences for different marketing channels.
Your elderly prospects are not likely to be on Instagram. Similarly, your teenage leads are probably now discovering LinkedIn.
Customers like relevant and personalized content. That's why vague and non-personalized content has 88% lower response rates than personalized content. For successful content mapping, ensure you have:
A target audience for each social media platform
Buyer personas for an effective marketing strategy
A separate tab for email marketing target audiences
4. Content Ideation For Your Content Marketing
After defining your target audience, what your content calendar template needs is content ideas. At this stage, your stakeholders not only brainstorm the content creation and ideation but also:
The marketing channels for the content, i.e., social media and email marketing
The types of content, i.e., blogs, podcasts, email
The social media platforms for each type of content
With this vision in mind, a marketing team can then go ahead and plan current and future content for their marketing strategy. Ensure to:
Brainstorm on keywords for search engine optimization
Come up with topics that are relevant to the target audience
Ensure to have a healthy balance between recent news and evergreen content
5. Choose Your KPIs and Metrics
What good is a marketing plan if you can't tell whether it's working? This is where the key performance indicators (KPIs) come in.
These are metrics that help you measure your marketing campaign's progress and discover whether your marketing efforts are paying off. Key marketing metrics include ROI, SEO, engagement, and time on site, among others. Ensure to:
Leverage progress tracking tools on platforms like Content Marketing Platform
Utilize free analytics tools such as Google Analytics
Perform content audits every once in a while
6. Come Up With A Publishing Schedule For Your Marketing Plan
With all that as a foundation, what's left and probably the most crucial is scheduling. This is determining when to disseminate the content to your target audience.
Remember, content creation is nothing without timely content distribution. To achieve your marketing goals, you have to ensure:
You appreciate seasonality (engagement spikes) in your marketing schedule
Your publishing schedule is at the prospect's convenience
Your social media marketing can be automated
Your publishing schedule respects special marketing days for your small business
7. Calendarize Your Publishing Schedule
With the wealth of insight and information, the second last step before content creation is filing your content marketing template. If it was a social media calendar, fill it with the social media content relevant to your marketing plan.
Using Content Marketing Platform's Marketing Calendar Template
Looking for a calendar template? Look no further than Content Marketing Platform.
Our marketing orchestration platform comes with a calendar that has all of the must-have features listed above. The best part is, you can access our calendar template with a free Content Marketing Platform account.
Here's how to use Content Marketing Platform's marketing calendar feature:
Head to the "Plan" tab on the left side of your dashboard.
To add a new project to the calendar, click on the purple plus sign on the top right corner. You can create a new campaign, event, task, work request, or pitch request.
Depending on what type of project you want to create, you'll need to provide different information. For example, to create a blog post, you'll need to enter a tentative title, a brief, a start date, a deadline, links to media assets, and attachments (if needed), and then assign the blog post to a team member.
Once you fill your calendar with projects, you can toggle between various views: list, calendar, timeline, and board. You can even create and save custom views for custom calendars, such as a social media calendar or editorial calendar.
You can even sort the calendar using various filters, such as by assignees, campaigns, important dates, status, and more.
While you can tag external stakeholders on your calendar in Content Marketing Platform, you can also easily export your calendar as a PDF or CSV to use off the platform.
Content Marketing Platform's calendar has all the features you need to keep campaigns moving along seamlessly.
A Marketing Calendar Should Empower Your Team's Best Work
At the end of the day, a calendar shouldn't be the focus of your work. It should be a helpful resource and project management tool that sits in the background and empowers you to do your best work.
Content Marketing Platform's all-in-one marketing orchestration platform has all the tools you need to plan, execute, and measure the success of your marketing efforts.