7 april, 2021
How to create an editorial calendar that doesn't suck
Editorial calendars are the solution to get your marketing teams aligned. Learn how to create an effective editorial calendar with Welcome.
---
Want to know the best way to exhaust your teams and burn your marketing budget?
Work in siloes—every marketer, designer, manager for themselves. It's a surefire way to miss deadlines, duplicate work, and waste just about everyone's time.
Sounds silly, right?
Yet, that's how many marketing departments run (even today).
The solution is obvious: you need to get every team and every marketer on the same page.
Easy, right?
Armed with a browser full of innumerable tabs, a whiteboard with squeaky dry erase markers, and a belligerent group of time-starved marketers trapped in a room—yes, you're destined for failure.
Fortunately, you don't need all that.
You just need an editorial calendar.
An editorial calendar is the perfect solution to getting your marketing teams aligned and working together in effortless harmony.
In a world where 60% of content marketers create net new pieces of content every single day, an editorial calendar answers the critical who, what, when, where, and how questions.
Talking about editorial calendars is easy—actually creating one (that doesn't suck) is a little more challenging. Well, at least it's challenging if you don't have the right tools and know-how.
Stick around, and we'll give you both.
This guide will walk you through everything you need to know about how to create a downright effective editorial calendar.
What Is an Editorial Calendar?
First, let's get on the same page with editorial calendars. An editorial calendar is a bird's-eye calendar view of all your marketing initiatives.
Every marketing department is different, so no two editorial calendars look the same. But at a basic level, your calendar answers the questions:
What are the major upcoming content themes?
When are the critical deadlines and publishing schedules?
Where is this content being published and delivered?
Who is responsible for creating and distributing the content?
How do we make it all happen?
An editorial calendar is the roadmap to achieving your marketing goals. It's what connects your nitty-gritty marketing tactics to your big-picture goals and priorities.
Let us show you what we mean.
Editorial Calendar and Content Calendar in Action Together
While often used synonymously, an editorial calendar and a content calendar aren't the same things. There are subtle but important differences.
Your editorial calendar is the high-level part of the plan where you choose tactics, channels, collaborators, and deadlines.
The content calendar is the nitty-gritty part of the plan where you outline all the specific details and workflow of each deliverable.
For example, let's say your business releases a new product to solve an identified customer need. They want marketing to drive 20,000 new visitors on launch week to the product page to prove its worth and conversion.
Your marketing team now has the concrete goal of driving 20,000 in web traffic to a page—let's decide how to make it happen with an Editorial Calendar:
You determine that you're going to run a collaborative cross-channel marketing effort.
You engage content marketing, demand generation, public relations, and creative services to help with blog posts, email campaigns, paid ads, guest posts, and a public relations push.
You set the last day of the month as the final deadline for everything to be primed and published.
You then make plans for the specific types of content and workflows with a Content Calendar:
The nurture team outlines the email campaign subject lines and automation series.
Demand generation begins budgeting out which channels they'll prioritize the paid ads and which copy will drive the most conversions.
Content marketing plans the articles and engages creative services to get digital assets created.
Why Does Your Team Need an Editorial Calendar?
Does your team need an editorial calendar?
Well, no more than your feet need shoes or your cereal needs milk.
Sure, you can get by without it, but it's downright uncomfortable and irritatingly unnecessary.
Here are a few data-backed ways creating an editorial calendar can help your marketing team:
Strategize Your Content: 92% of organizations view content as a business asset, but only 46% have a documented strategy for managing content. An editorial calendar is the documented strategy.
Align on Themes: 28% of businesses say that a lack of having a solid content marketing strategy is a major challenge when creating content. Makes sense. It's hard to know what to create without an overarching strategy—that's where an editorial calendar comes in handy.
Streamline Your Work: Marketers waste almost a full day every week on duplicative marketing efforts (328 hours per marketer annually). An editorial calendar gets everyone on the same page to avoid redundant work and batch content.
So, what's stopping teams from creating an editorial calendar? Well, marketing departments are getting more and more complex. Plus, thanks to 2020, they're becoming increasingly remote, too.
Listen to this: 82% of marketers say their business doesn't have the right technology tools to manage their content marketing efforts.
Marketers who rely on Google Sheets and calendars find that the calendar tools aren't robust enough to provide the necessary details, organization, and collaborative features. And when a marketing tool doesn't work, marketers simply stop using it.
That's why we built Welcome. It's an integrated marketing platform built specifically for marketing teams to do marketing things. Whether that's planning, analyzing, and publishing content or managing your budget, bandwidth, and human talent from a single dashboard—Welcome helps marketing teams do it all.
Whiteboards vs. Spreadsheets vs. Software—Which to Use?
Different marketing teams take various approaches to conquer editorial calendars. Some use sticky notes, while others use whiteboards. Some use Excel spreadsheets or Google Calendar, while others use editorial calendar software.
Which should your team choose?
Let's look at the pros and cons of each:
Whiteboard
Get out your dry erase markers because things are about to get old-school.
A whiteboard is a physical calendar in your office that outlines your editorial calendar.
Sometimes you'll even get lucky enough to have different colored markers.
Pros:
Cons:
Not remote-friendly
Takes time to update
Can't outline dependencies
Not always up-to-date
Spreadsheets
Microsoft Excel and Google Sheets are the most popular spreadsheets for doing just about anything. You'll create the format, code in the formulas, and create the endless linking tabs to make it all work together.
Pros:
Cheap
Simple or complex
Familiar tools
Always accessible
Cons:
Not easy to program
Easy to neglect
Limited integrations
Software
A marketing platform like Welcome comes pre-built with editorial calendar templates and drag-and-drop features to help you set up an end-to-end calendar in just about 10 minutes.
OK, it might take a little longer than that, but you get the picture.
Pros:
Powerful, unified marketing
Endless integrations
Easy-to-use
Drag-and-drop editors
Available APIs
Cons:
Subscription costs
Learning curve
So, if you're just trying to plan an activity for the VP's birthday, a whiteboard will suffice. And if you want a high-level look at your marketing activities, a spreadsheet can get the job done. But if you want an integrated marketing platform for planning big-picture and nitty-gritty editorial calendar details, then you're going to need software like Welcome.
7 Steps to Creating an Editorial Calendar
Not every editorial calendar is created equal. Some are great, others are meh, and others make life more complicated.
Every great editorial calendar has a few must-have elements. Below, we'll walk you step-by-step through creating an editorial calendar that can stand the test of time.
1. Choose Your Editorial Calendar Platform
An editorial calendar will only work if there's a single source of truth. You can't have one team on Trello, another team on Asana, and another using a physical whiteboard—it just won't work.
Choose a single editorial calendar platform, and stick with it. Here are a few things you might want to think about before choosing:
Features and Functionality: You'll want to choose a platform that comes pre-loaded with editorial calendar templates and features that make it seamlessly work with your team's workflows. Don't settle for a platform that'll require you to change your processes—find a solution that molds to your team.
Pricing: Your calendar platform will need to be affordable. However, keep in mind that some all-in-one solutions could replace the need for other bits of costly software. For example, Welcome's platform could help consolidate your project management, calendars, budgeting, capacity planning, and analytics software.
Integrations: Find a tool that works with all your other software solutions. Ideally, it'll work with your social media channels, email marketing campaigns, SEO keyword management, and more.
User-Friendly: It doesn't matter what bells and whistles it has—it doesn't even matter if it's free. If it's not user-friendly, it's not going to work. Welcome was built specifically for marketers—if you're a marketer, you'll feel right at home. If you're a developer, you probably won't (unless you secretly want to be a marketer).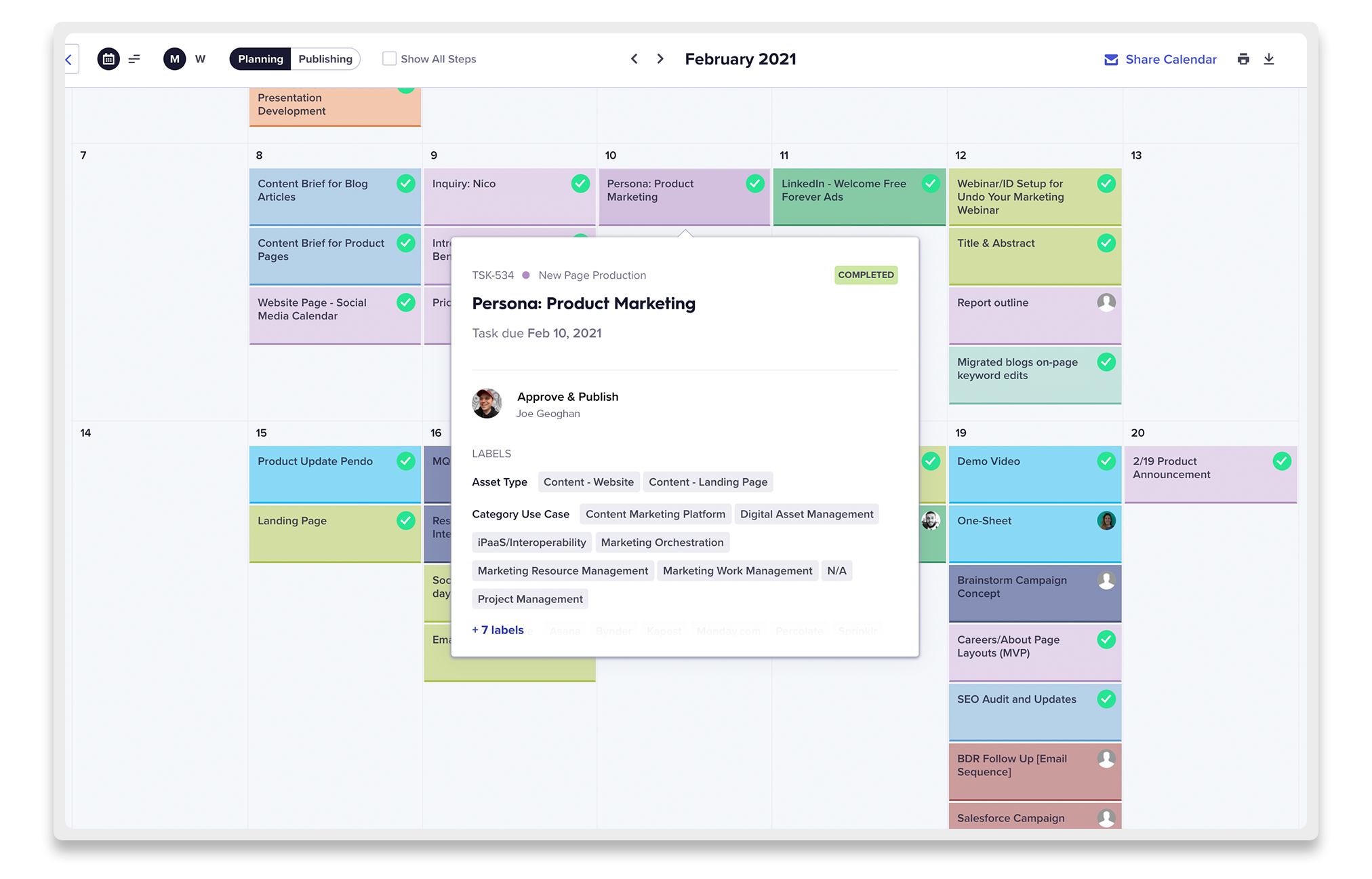 2. Decide on Your Big-Picture Topics, Themes, and Highlights
Next, it's time to start planning from a top-down approach.
Brainstorm the big-picture topics, themes, and highlights to add to your calendar.
Do you have an important product release launching in Q3? Write it down.
Does your annual end-of-year recap campaign need support? Throw it in there.
Once you have the big-picture items in your calendar, it's time to align on additional elements. Here are some to consider:
Themes: Do the themes align with your brand? Create a good balance between self-promotional and audience-serving content.
Channels: What channels will you use? Are any being used too often? Which ones aren't being used enough?
Audience: Determine your target audience for each campaign. Are there any secondary or tertiary audiences? Is any audience getting neglected?
Call-to-Action (CTA): Do your campaigns all drive towards the same CTA? And do those CTAs align with your big-picture goals and KPIs?
Customer Journey: What part of the customer journey does this content fit into? Is it all awareness-stage content, or are there consideration, purchase, and loyalty-centered content, too?
This step is critical! Don't skip it.
For example, you may discover that all your CTAs are driving towards lead-generation, but the executives are focused on traffic and awareness. Or you may find all the campaigns in your editorial calendar are targeting one specific target audience, and you're neglecting your other personas.
Without taking the time to build out your editorial calendar plans, you'd never discover these important insights—well, at least not before it's too late.
3. High-Level Plan the Next 12 Months
Start big and work back. Don't start outlining blog posts, email campaigns, and podcast episodes until you have the big-picture themes planned out.
Ideally, you should plan your editorial calendar at least 12 months out.
Use colors on your calendar to make it easy to visually see and organize what's coming up.
Welcome's calendar features give you all the views you need to see high-level and drilled-down campaigns all from a single easy-to-use dashboard:
Yearly, Quarterly, and Weekly Filters: Depending on your business's size and number of products, you could have different priorities every week, month, and quarter. Welcome gives you the filters you need to zoom-in and zoom-out as much as you need to see exact timeframes.
Timeline and Gantt Views: Convert your calendar view into a timeline or Gantt chart to examine dependencies, start dates, end dates, and everything in between.
Activity Roll-Up: Drill down from themes to campaigns to tasks to subtasks or reverse the cycle. This ensures every theme has supporting tasks and every task supports a theme.
Team Calendars: Filter calendars to see each team's campaigns to ensure they roll-up to bigger initiatives. Look at your global editorial calendar, content marketing calendar, creative schedule, social media calendar, email promotions calendar, and more.
Health and Progress Tracking: See what's coming up, what's behind, and what's on track with at-a-glance actionable calendar views.
Saved Filters: Filter your calendar to show specific teams, individual contributors, campaigns, target audiences, channels, or any mix of custom metadata to give you the exact view you want.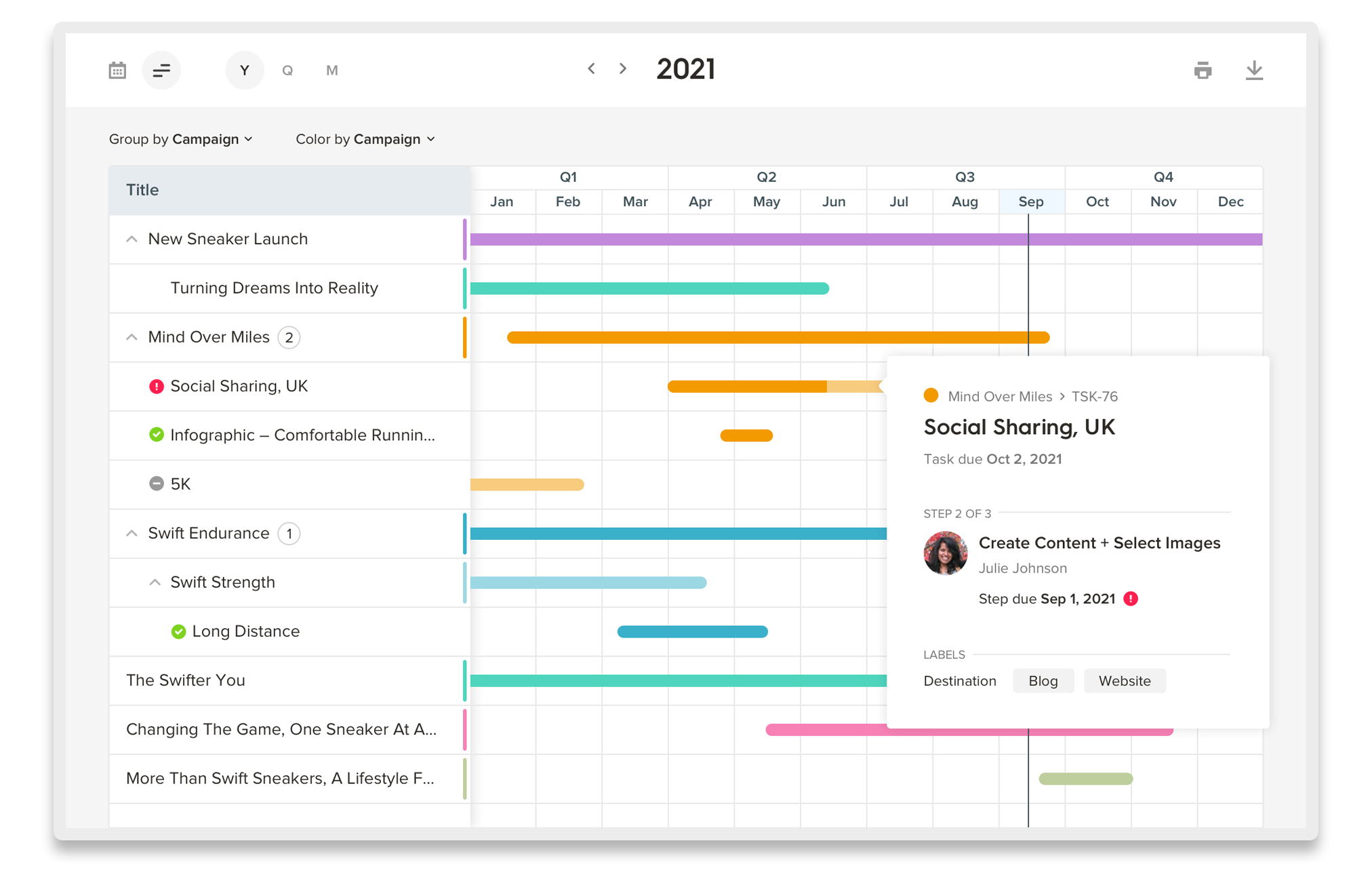 4. Map Your Marketing Tactics Back to Your Editorial Calendar
Don't create themes and campaigns to align with your content—create content to align with your themes and campaigns.
An editorial calendar helps you avoid getting distracted by shiny object syndrome by mapping back each marketing tactic to your editorial calendar.
Use your calendar to look at each marketing strategy and tactic to ensure it supports a campaign or big-picture theme. If it doesn't, then rework it to make it fit or cut it from your team's to-do list.
Here are a few marketing strategies to keep on track:
Email Marketing Strategy: Double-check your campaigns and nurture series to ensure each email ties back to a big-picture priority.
Content Marketing Strategy: Look at the individual blog posts, guides, and whitepapers to align them to campaigns.
SEO: Spend time optimizing and building backlinks for the pages critical to your greater marketing initiatives.
Social Media Marketing: A lot happens across social media, but ensure the overall aim of the content is to support specific campaigns and business goals.
Creative Services Support: Creative teams are the most vulnerable to shiny object syndrome—they have content creation requests from all over the business pulling them in various directions. Ensure the podcasts, infographics, videos, illustrations, and other content they produce ties back to big-picture priorities.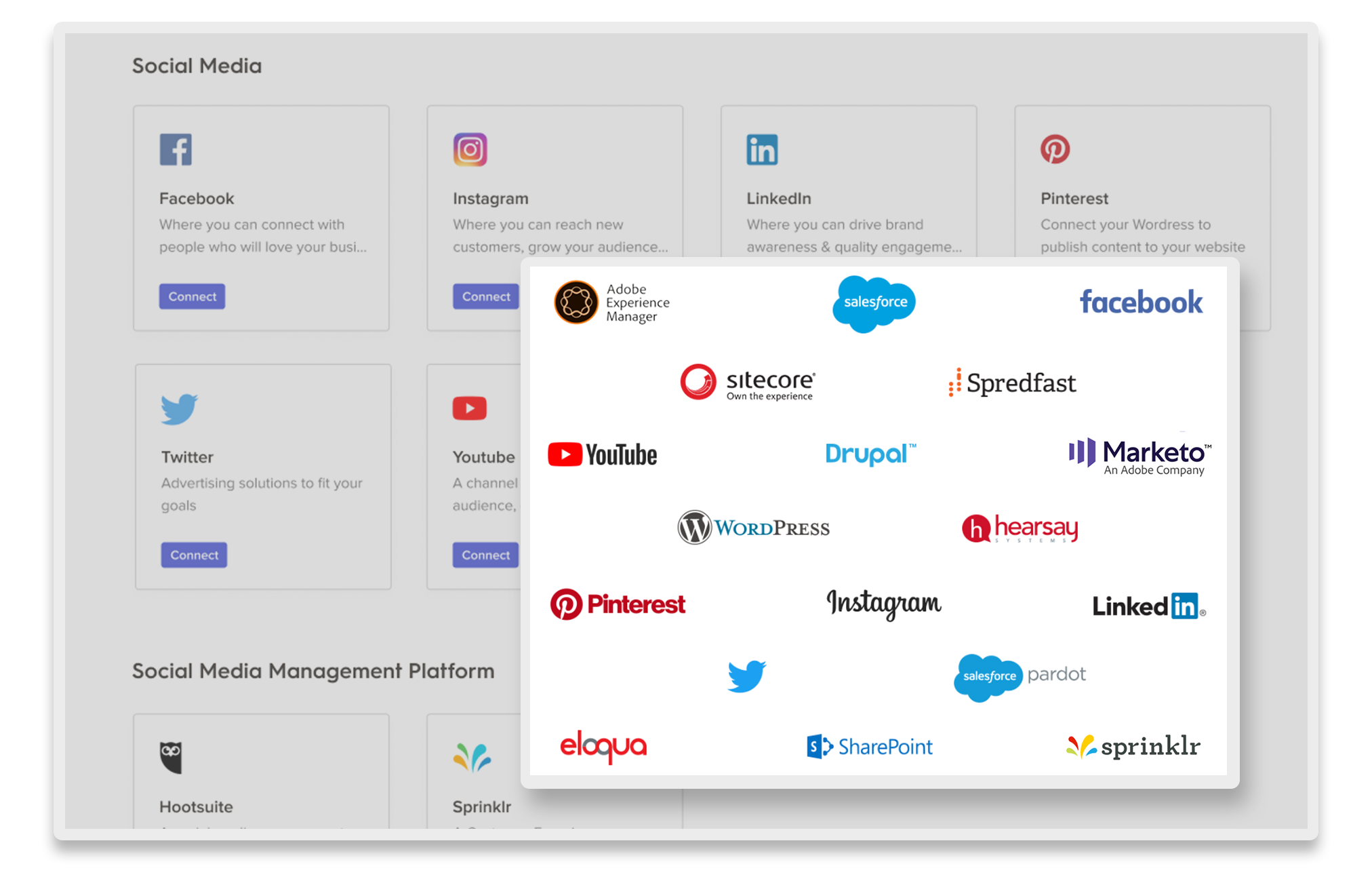 5. Document the Nitty-Gritty Checklist-Based Workflow
Your editorial calendar is the high-level overview, but you'll need to fill in the blanks in your content marketing calendar to support it.
This is where your fine-tuned content strategy fits into the bigger editorial calendar.
Only 53% of organizations have a formal workflow process for planning and delivering content—no wonder 65% struggle with consistently creating engaging content.
Document the content creation process from start to finish for each piece of content. That could include the following tasks:
Target priority
Brainstorm supporting content ideas
Decide on a content item
Determine a deadline
Write an outline
Write the content
Request graphic design support
Review and edit content
Optimize content for SEO
Create promotional content (social media posts, email announcements, paid ads, etc.)
Schedule time and date to publish in WordPress or other CMS
Next, you'd determine who's responsible for each step and what deadline needs to be met to ensure the project is delivered on time.
6. Continue to Refine and Update Your Editorial Calendar
Your editorial calendar isn't a one-and-done item on your to-do list. It should be a living, breathing platform (not document) that's always fresh and up-to-date.
With Welcome, you can get a bird's-eye view of all your marketing team's relevant information from a single dashboard. Not only can you see the editorial components, but you can see your team's real-time capacity, budget, and progress.
Data like this helps you pivot on the fly. Key piece of content falling behind? Check your team members' capacity, and assign someone else to help double-team the project. Campaign heading over budget? Borrow from another low-priority initiative to ensure it gets the support it needs.
The world of marketing changes every day. Remember 2020's plans and goals? Yeah, those were all out the door and in the trash before the end of April.
That's why you need to continually refine and update your editorial calendar. Without it, you'll start throwing darts and hoping something sticks—and that's a surefire way to burn your budget, miss your deadlines, and fall short of your KPIs.
An editorial calendar that's part of a holistic marketing platform keeps everything aligned and in sync: goals, calendars, deadlines, to-dos, assets, bandwidth, budget, and everything in between.
7. Measure the Results
Editorial calendars aren't a nice-to-have—they're a need-to-have. But don't just take our word for it. Measure the results and see for yourself.
Fortunately, if you're using a platform like Welcome, tracking and measuring functionalities are already built-in.
Check how long it's taking to plan, create, and deliver campaigns. Drill down and see exactly how many minutes it takes to write blog posts x, y, and z, and then make more accurate forecasts moving forward.
Measure which content assets get used, by whom, when, and how often—these metrics can inform how you spend your marketing budget and time moving forward.
Don't just start an editorial calendar because everyone else is doing it—start one because it delivers real results.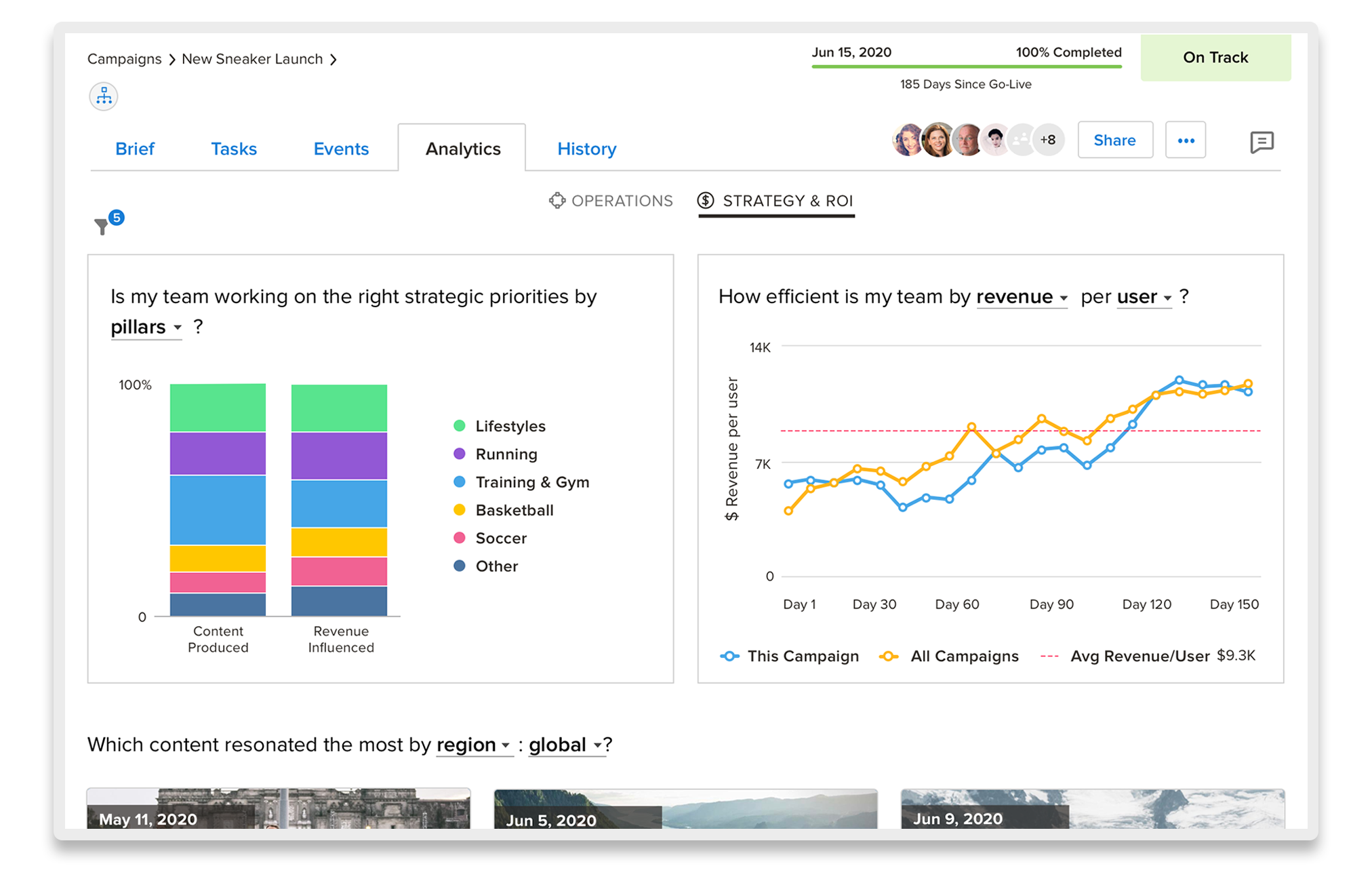 Build Your Editorial Calendar (and Much More) With Welcome
Editorial calendars are great, but they're just one tool in your marketing toolbelt. Don't add another separate, siloed solution to your marketing management program—consolidate with a one-stop-shop for all your marketing needs.
Welcome unites editorial calendars, content marketing calendars, creative services, workflows, asset management, resource management, and so much more into one easy-to-use platform.
And for those tools you can't consolidate, we have hundreds of best-in-class integrations to get them synced up and working with your marketing platform.
Have a tool we don't provide an integration for? No problem—we offer a public API for you to build anything to meet your unique use case.
Welcome does it all—so why read lots of words about it when you can try it free for yourself? Experiment with our Free Forever plan to get all the hands-on action to need to fall in love with the platform.
To see everything in action, sign up for complimentary access