Feature Experimentation
Free Feature Flagging
Rulla ut nya funktioner gradvis och bevisa förbättringarna med mindre risk, utan kostnad
Reduce risk and recover faster
Experiencing errors, performance spikes or user backlash? Switch off features without redeploying code. Fail safer with rollouts targeted to a small percentage of users before launching at large.
Manage all features in one place​
Stop managing rollouts in config files and tracking features in tedious spreadsheets. Release features quickly, easily rollback and enable collaboration so you can reduce the burden on development and QA.
Test rollouts on any device
Deliver optimized experiences on every channel. Confidently roll out and test everything from new pricing on your website, push notifications on your mobile app to a new feature for an Alexa voice skill.​
Customize open-source SDKs​
Instead of building from scratch, extend our platform to fit your needs. We provide an easy user interface to handle maintenance, documentation, language support and user permissions.​
Skapa ett kostnadsfritt konto för Feature Flagging
Kom igång direkt, inget kreditkort behövs.
Sluta lansera, börja rulla ut​
Nu behöver du inte längre hantera komplicerade sammanslagningar. Sluta använda funktionsgrenar och börja istället använda funktionsflaggor för snabbare utveckling, säkrare koddistribution och ökad produktivitet.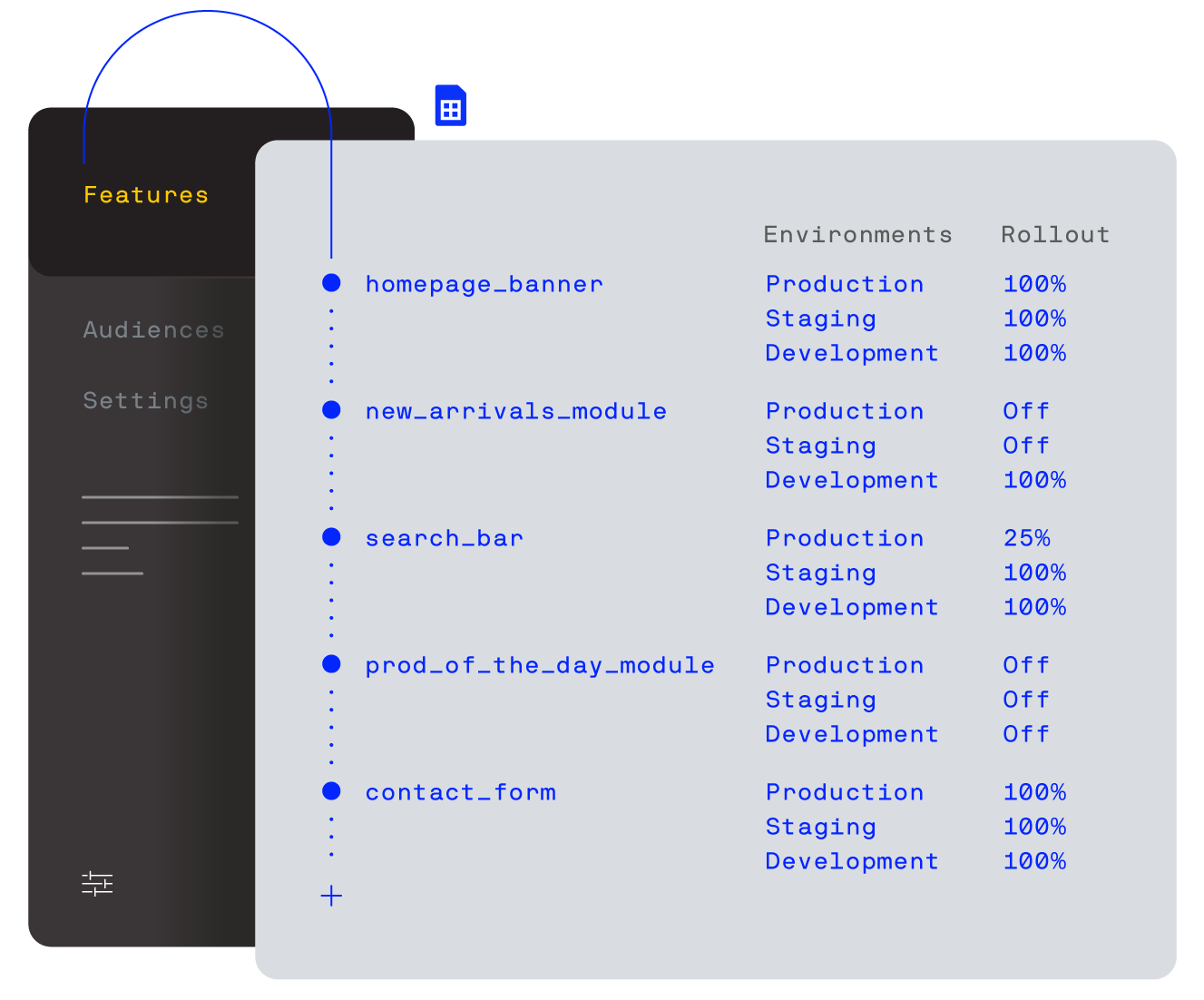 Bevisa värdet med experiment​
Experimentera med funktionsflaggor för att bygga lösningar som levererar värde och fatta smartare beslut med statistiska säkerställda data i realtid. Om du upptäcker fel, prestandatoppar eller användarglapp stänger du bara av funktionsväxlingen för att sedan återgå till hur det såg ut innan du rullade ut nya funktioner. Gör din utrullningsprocess mer motståndskraftig utan att omfördela kod eller omdefiniera budgetar.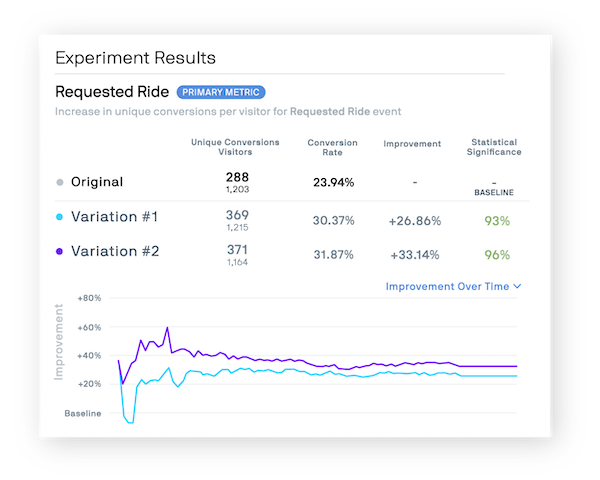 Över 9 000 företag använder Optimizely för miljontals digitala interaktioner
Den mest kraftfulla plattformen för funktionsflaggor
Funktionsflaggor
Separera koddistribution från funktionsreleaser. Slå enkelt på och av funktioner med funktionsväxling (toggles).
Experimentering
Kör A/B-tester på dina funktionsflaggor för att kvantifiera effekten av nya funktioner och optimera befintliga funktioner. Kör ett experiment i taget.
REST API
Integrera utrullningar med ditt utvecklingsflöde för att hantera Feature Flags i stor skala.
Fjärrkonfiguration med dashboard i molnet
Fjärrkonfigurera dina flaggor och experiment i vårt gränssnitt. Kraftfulla funktionsvariabler som gör att du snabbt kan mäta din app och uppdatera funktioner på språng.
Stegvisa utrullningar
Testa och bygg på din kunskap genom att först rulla ut till en liten grupp användare och sedan öka över tid.
Rulla ut överallt
Feature Flagging tillhandahåller SDK:er för de flesta webb-, mobil- och serverspråk som enkelt kan integreras med din kodbas.
Utrullning per målgrupp
Kör betaversioner och målfunktioner för åtkomst till specifika marknader, prisplaner och språk. Specificera trafik och konfigurationer efter mottagare och utvecklarmiljö.
Stöd för flera miljöer
Hantera utrullningar och experiment i utvecklings-, stadieindelnings-, produktions- och anpassade miljöer.