30 mars, 2021
Marketing task management: A guide to workflows for marketers
Take control of your projects and manage all of your marketing tasks in an organized, efficient way with Welcome's marketing task management software. 
---
Running a complex marketing campaign can be overwhelming. Without a clear, consistent marketing task management process, keeping track of your team's marketing tasks might feel like an impossible balancing act.
Instead of becoming overwhelmed, you can get on top of your daily marketing tasks by switching to marketing project management software.
Marketing project management software can help you harness how your team completes tasks and get back on track.
What we'll cover:
What marketing task management is
The advantages of investing in marketing project management software
Marketing project management software features every marketing team needs
How Content Marketing Platform's marketing software covers all of your task management requirements
A Definition of Marketing Task Management
Let's get back to basics and discuss the concept of marketing task management. As anyone who works in marketing probably knows, every marketing project involves plenty of smaller tasks.
"Marketing tasks" and "marketing management" should always go hand in hand.
Marketing Tasks
Marketers in most departments work towards large goals or campaigns, but day-to-day marketing usually involves much smaller marketing tasks.
These tasks might include:
Conducting SEO keyword research
Testing potential emails
Writing blog or social media posts
Designing branded images
Tracking campaign metrics and updating automations accordingly
These small, individual tasks come together to become a wider marketing campaign.
Marketing Management
Marketing management is the process of planning and monitoring a company's marketing campaign.
Marketing managers must have a thorough understanding of how marketing tasks come together to create the campaign as a whole.
Think of a marketing manager as the conductor of an orchestra — in an orchestra, there are multiple sections that all do their own thing. But, when they come together in sync, led by the conductor, they create beautiful music.
Similarly, a marketing manager should be able to "conduct" the many marketing team members as they complete their tasks.
When these tasks all come together at the correct time, the marketing campaign comes together almost like a piece of music.
Why Every Marketing Team Needs Marketing Task Management Software
Managing a successful campaign — or in some cases, multiple campaigns at once — can easily become stressful, confusing, and out of control.
Without rigorous organization and ongoing monitoring, tasks can easily get missed, and everything can fall apart.
Keeping your campaign on track means finding a project management tool that organizes all of your marketing tasks. The tool should help you streamline tasks by creating digestible workflows.
As The Guardian notes, the brain loves a to-do list, and your team will, too. These workflows should break down tasks by milestones.
Most importantly, all of these workflows should be traceable.
That's where Content Marketing Platform comes in. Our marketing project management software helps marketing agencies and project managers centralize and organize their larger campaigns by task.
Content Marketing Platform's organizational software has plenty of benefits — besides simply making your life a lot easier!
Accountability
Have you ever found yourself arguing with a colleague about who was meant to be in charge of a specific task?
Instead of relying on a chain of emails or, even worse, on he-said-she-said, Content Marketing Platform's marketing software has every team member's responsibilities clearly laid out for everyone to see.
Individual team members will have their own set of assigned tasks right on the system, so when things are late or missed, the project manager can quickly track down the right person.
Transparency
For stakeholders and team members alike, Content Marketing Platform's software offers transparency, which can prove invaluable. According to Forbes, transparency is a vital part of building trust.
Marketing project management software lays out the entire project in detail for all to see. For stakeholders, this offers peace of mind and traceability.
This added insight into the project can help team members see their tasks as part of a whole. This, in turn, can help your team make nuanced, informed decisions in their work.
Transparency can even reduce the need for edits or changes as everyone's work is more likely to slot into the overall project neatly.
Time Management
Sending emails back and forth discussing a task can be incredibly time-consuming. When you think of how many tasks go into a marketing project, that's a whole lot of time wasted.
According to McKinsey Global Institute, the average worker spends 28% of their workweek dealing with emails.
With marketing project management software, this kind of collaborative planning can take place directly within the software.
Instead of flitting between your emails and your work, Content Marketing Platform can centralize communications directly within your tasks, saving precious time.
Remote Collaboration
Lately, more people are ditching office spaces in favor of remote working.
According to Owl Labs, in a post-2020 pandemic world, 92% of people expect to work remotely at least once a week. Plus, as Forbes notes, most marketing work can easily be done remotely.
As remote working becomes more common, it's vital that marketing departments consider how their processes facilitate remote collaboration.
With Content Marketing Platform's software, the cloud-based configuration and in-software communication make remote collaboration straightforward. You'll be able to update collaborative workflows and tasks in real-time, share files, and speak with colleagues all within the app.
You can say goodbye to messy processes like sending documents back and forth via email.
Do It All in One Place
For most marketing managers, the idea of having only one window open probably sounds ludicrous.
Managing a team as they complete their tasks usually means having spreadsheets, emails, SEO software, and calendars open at once.
Studies have shown that "app overload" can be detrimental to productivity, focus, and morale — as a marketing manager, you can probably confirm the truth in this firsthand.
With Content Marketing Platform's software, you'll be able to close some of the apps for good. Our software includes the following tools so your work can be centralized in one convenient place:
Marketing calendar

Document editor

Messaging system

Workflow tracker
Features To Look For in Marketing Project Management Tools
Choosing new marketing project management software? Here are a few of the essential project management features that will help you stay on top of your team's marketing tasks with ease.
Real-Time Collaboration
Good marketing project management software should be cloud-based. Edits and updates to marketing tasks should instantly be available for everyone using the software across the department.
This type of real-time collaboration means instant information sharing — it removes the need to tell your team you've done something as they'll automatically know. It's kind of like choosing software that supports telepathy.
With Content Marketing Platform, our cloud-based design means you'll be able to collaborate on projects with your colleagues as if you were all in the same room.
Customizable
Most people don't want to be forced to change too much about how they work. Chances are, your marketing team already has some processes in place that function well.
Content Marketing Platform wants to make your job as simple as possible, so we offer highly customizable software that can meld to suit your unique methodology.
You'll be able to customize your own workflows and processes so you can continue working in a way that suits you.
Automation
Software should be smart enough to do some menial tasks for you.
Instead of messaging individual members of your marketing team about new marketing tasks or edits, the software should be able to automate this process.
Content Marketing Platform's software features automated notifications to help you spread information quickly and easily to relevant team members.
File Sharing
Choose a marketing platform that empowers you to share files seamlessly. File sharing makes remote teamwork possible directly in the app.
With Content Marketing Platform, you can share a wide range of file formats right on the platform.
Messaging
It's important to encourage team communication to help avoid confusion or mistakes.
As the marketing manager, you may need to discuss marketing tasks with your team members in more detail after assigning a brief or proofing a draft.
Content Marketing Platform's comment feature lets team members communicate directly within the platform, which makes editing and clarifying quick and easy.
Time Tracking
Monitoring how your team is working is a good way to ensure your team is efficient and refine your scheduling processes for the next project.
As TechTalk notes, time tracking can encourage a major boost in productivity.
Content Marketing Platform's campaign analytics make it possible for you and your team members to track how long is spent on each task.
For freelance members of your team who are paid hourly, this feature can be used as a reliable timesheets solution.
Legal Compliance
Dealing with customer data and personal information can put your company at legal risk. For your peace of mind, choose software that has robust, up-to-date legal compliance features.
Content Marketing Platform's platform offers brand and legal compliance reviews of projects, so you don't have to worry about possible infringement.
How To Use Content Marketing Platform's Marketing Project Management Software for Task Management
At Content Marketing Platform, we offer an intelligent, intuitive, and agile marketing project management solution designed to support marketing teams and help them run their projects seamlessly.
Here are a few tips on how various marketing departments can organize marketing tasks with Content Marketing Platform's software.
Planning a Campaign Timeframe
Regardless of which branch of digital marketing you work in — content marketing, social media marketing, product marketing, and so on — creating a schedule is a vital part of managing your time.
This timeframe should lay out due dates and publishing dates for the entire campaign.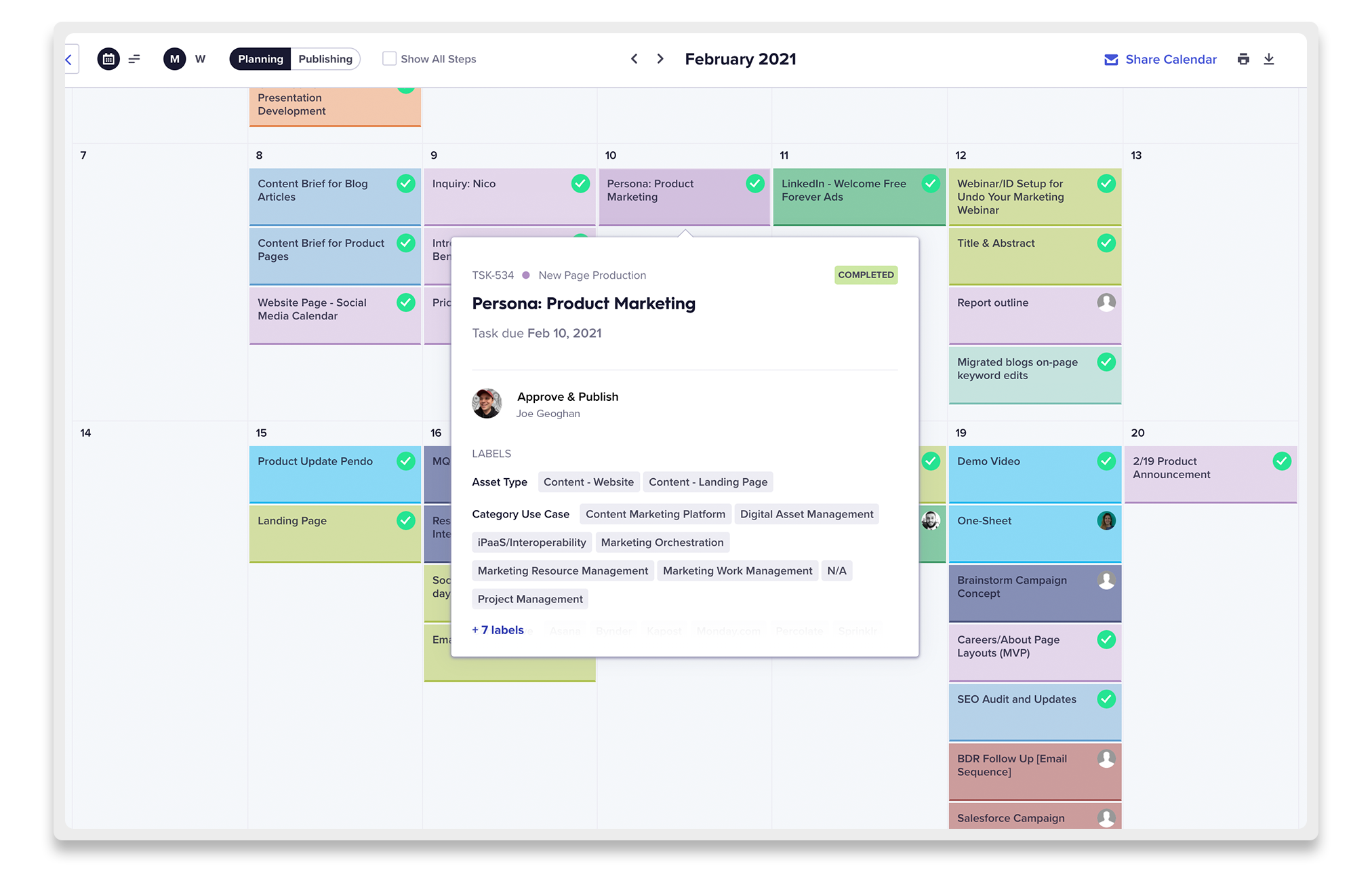 Content Marketing Platform's marketing calendar makes it possible for you to lay out an entire campaign's timeframe by task.
Using different filters, you can look at different aspects of your plan. With our task drill down feature, you'll be able to look at each task and its sub tasks on the calendar in more detail when needed.
Trust us — being able to visualize a complicated marketing plan like this will help declutter your marketing and your mind. You'll feel more on top of your work.
Breaking Down Marketing Tasks Into Traceable Workflows
Most marketing campaigns involve countless mini marketing tasks that must be completed before the campaign can fully come together.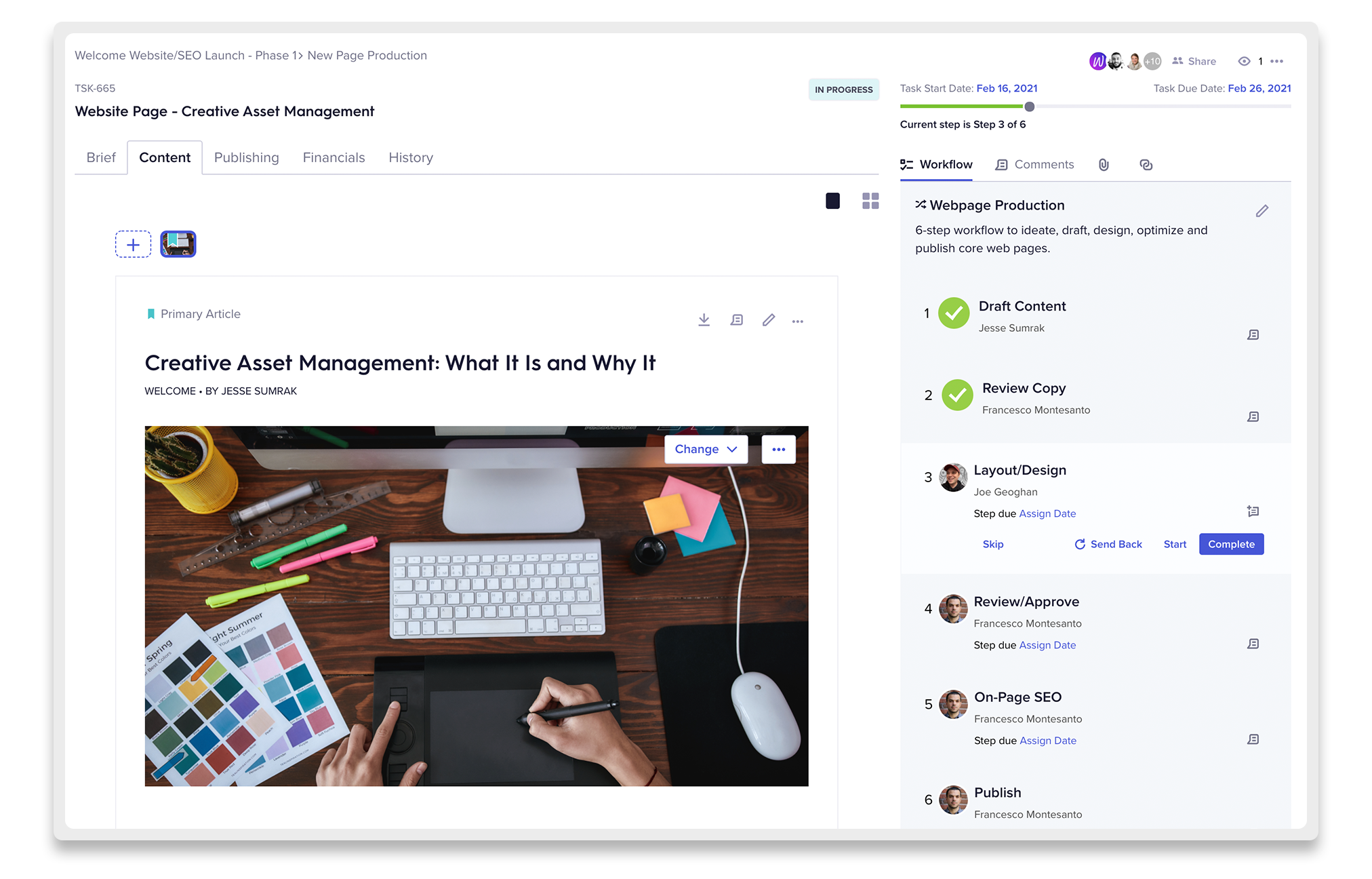 Using the workflows functionality with Content Marketing Platform's software is an excellent way to assign specific tasks to team members. You can track each task from start to finish and make sure it gets completed by its due date.
With Content Marketing Platform, you can either use our workflow templates or create your own.
The workflow design also includes a review and approval workflow that will help you stay on top of tasks as they are completed.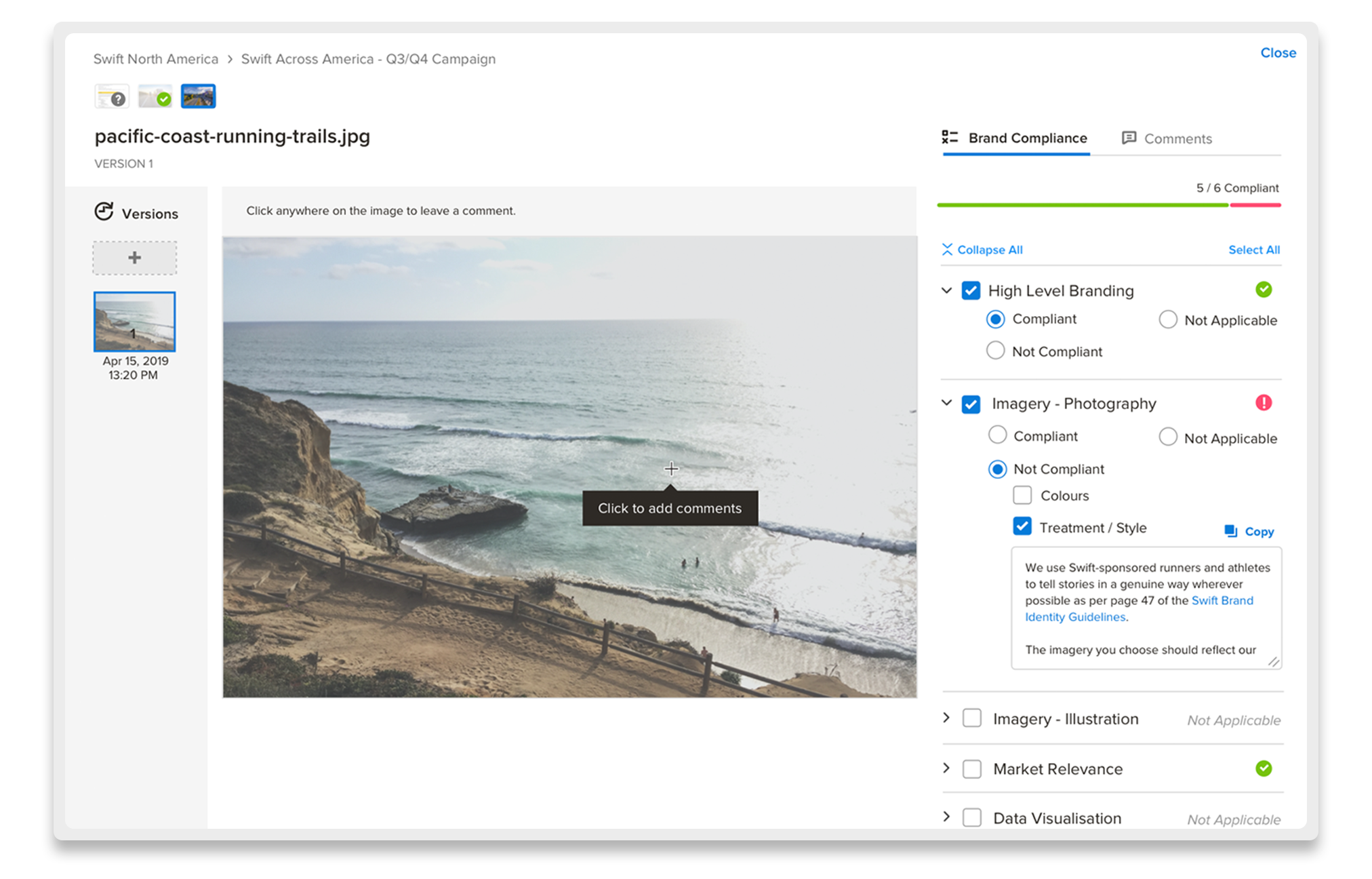 Monitoring Workload and Reassigning Tasks
A crucial part of task management is making sure your team members have the time and capacity to complete their assigned tasks.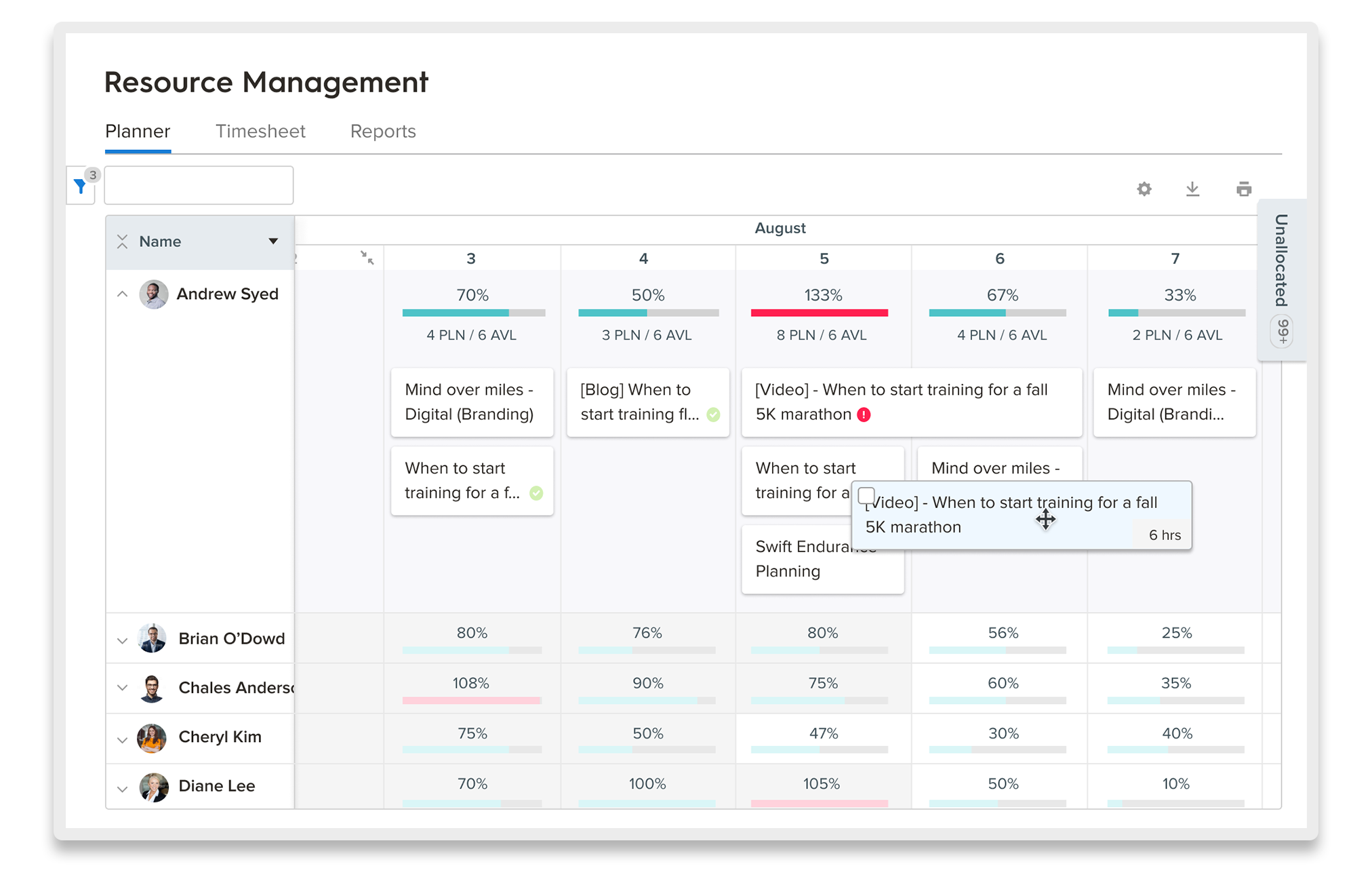 Content Marketing Platform makes it possible to keep track of time spent on each task. It's also easy to reassign tasks to new team members if your plans change.
Proofing and Editing Deliverables
As the manager of a team, you may wish to proof deliverables. Once your team members finish their tasks, you might also want to read or edit their work.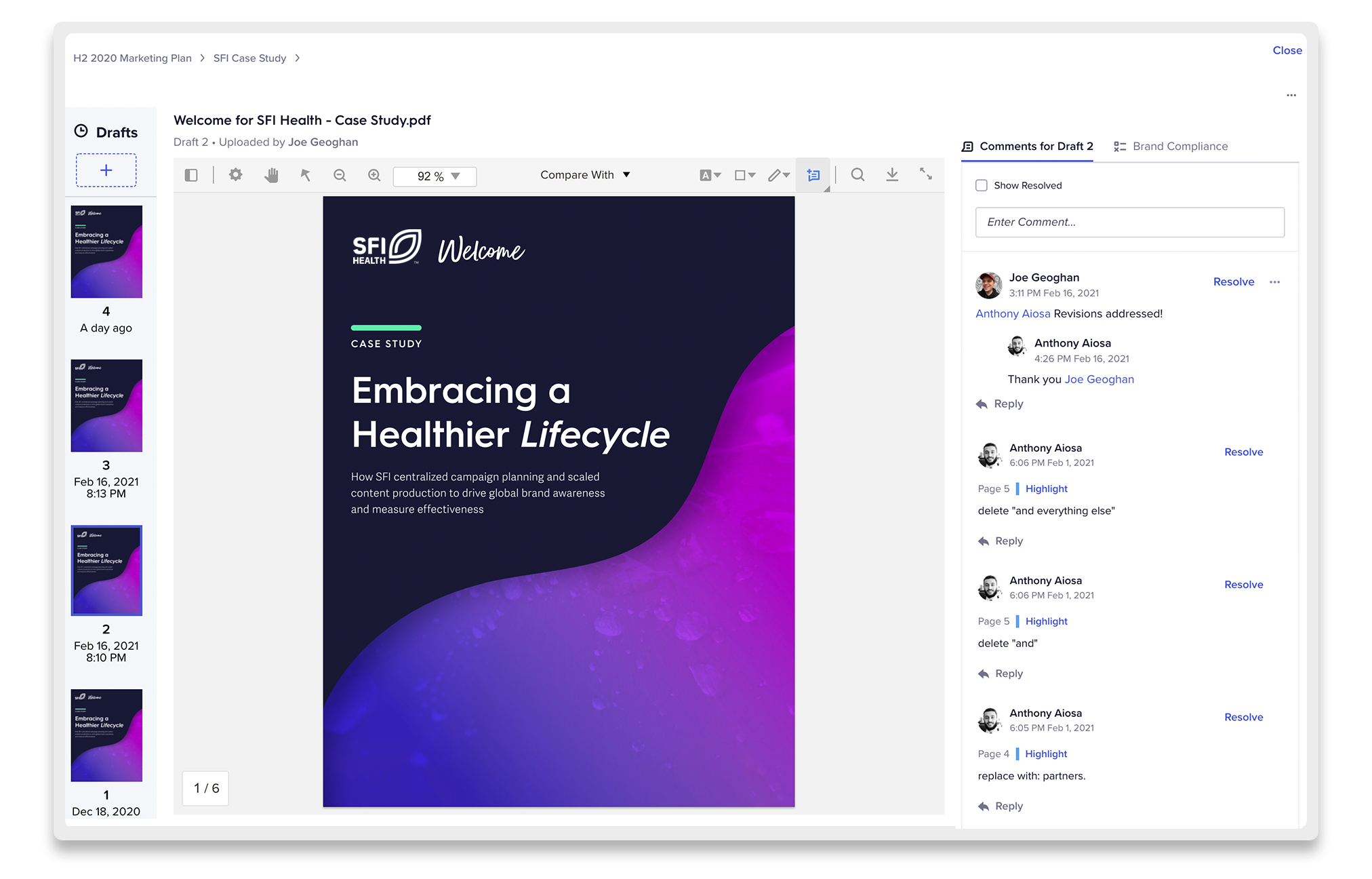 With Content Marketing Platform's multi-format content editor, you can collaborate with your team members on their tasks right within the platform.
Once a task is edited in the content editor, it can be officially marked as approved.
Tracking Marketing Metrics
To keep track of how your team is working as a whole, use Content Marketing Platform's project metrics to monitor your efficiency and project progress as a team.
You'll be able to track time spent on tasks, monitor due dates, and view other metrics. This will help you make informed decisions about how you manage your marketing tasks in future projects.
Final Thoughts: Manage Tasks With Marketing Project Management Software
Keeping track of your marketing departments' tasks means taking a proactive approach to organization and management.
There's no better way to manage all of your countless marketing tasks than by employing marketing project management software like Content Marketing Platform.
Content Marketing Platform provides an all-in-one platform where you can bring your creative teams together using our streamlined collaboration tools.
With Content Marketing Platform, you can speed up and simplify every stage of your campaign process by centralizing your marketing tasks in one convenient place.
Interested in finding out more about what Content Marketing Platform can offer your business? We offer a free package for small marketing teams or individual marketers.
You can also find out more about our other pricing options for larger marketing departments.