What is a content calendar?
Does your marketing team use a content calendar? Everything your company posts online is content – web pages, blogs, social media posts, ads, and more. A content calendar helps your team manage all content from its creation and scheduling to posting it and viewing results. In this article, you'll learn more about what a content calendar is, what it should include, and how to create one.
Key takeaways
A content calendar tracks all marketing content you and your company publish online

A content calendar organizes your content strategy, marketing activities, enhances team collaboration and long-term planning, and tracks the performance of your online content

While you can manage online content manually, a full-featured content calendar solution makes it easier and provides more functionality
What is a content calendar?
A content calendar – sometimes known as an editorial calendar or marketing calendar – is a tool for keeping track of when and where you publish content online. Think of a content calendar template as a combination of a traditional calendar, a scheduling app, and a project management program to help keep track of your content creation.
Marketers use content calendars to manage the publication of upcoming content. The content managed can include articles, blog posts, social media posts, events, changes to your website, and more.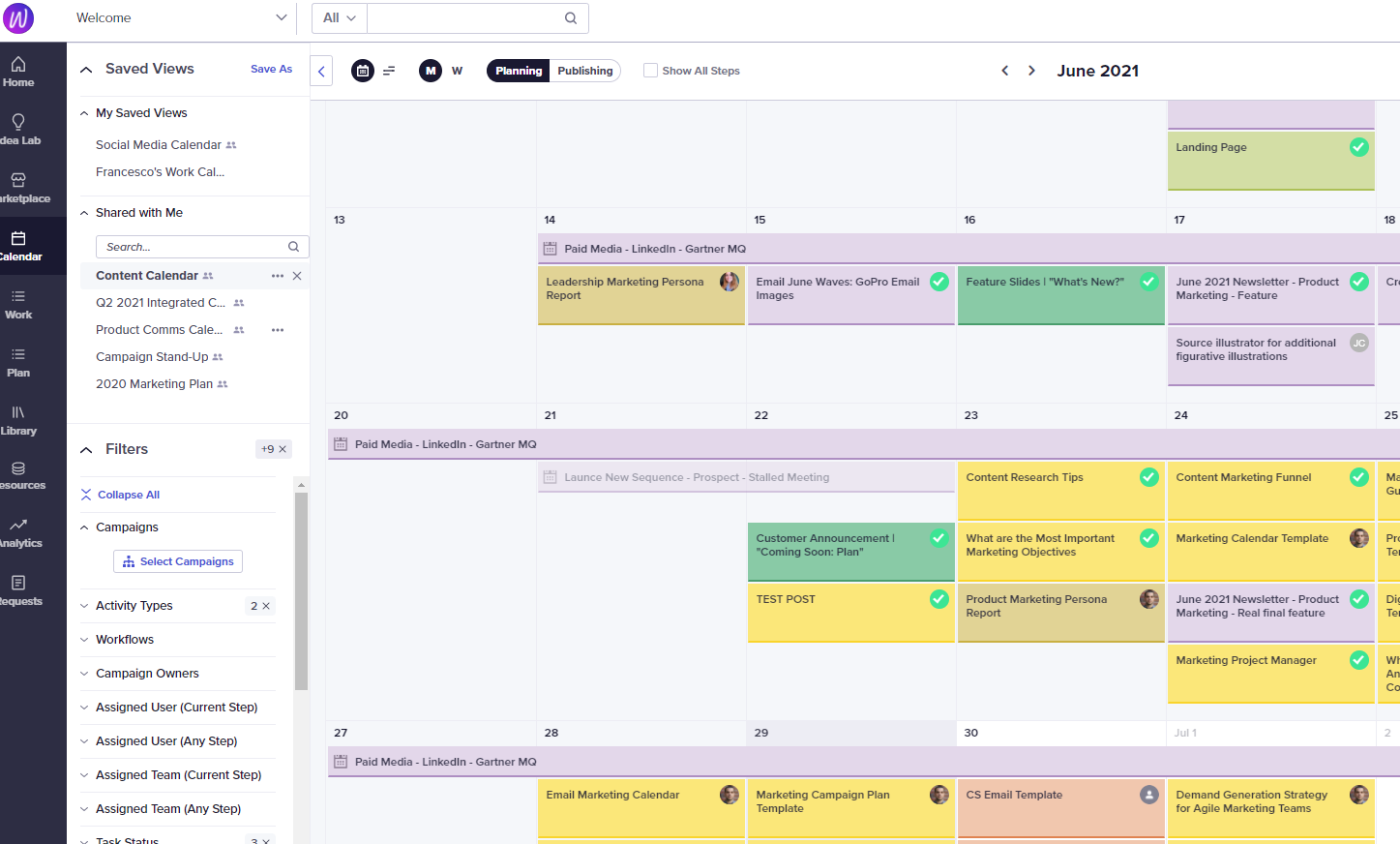 Each item you place on your content calendar should include the following information:
What you intend to post

When you intend to post it

Where you intend to post it
Depending on the size and complexity of your organization's marketing activities, a content calendar can range from events on a basic Google Calendar to detailed projects on a fully-featured content calendar platform.
Why using a content calendar is important
According to the Content Marketing Institute, 86% of B2C marketers and 91% of B2B marketers say that content marketing is a key strategy for their businesses. It's essential to plan and track your business' marketing content and an interactive content calendar does that and much more.
Using a content calendar to manage your marketing content ideas has numerous benefits. Here are some of the more notable ones.
Organizes all marketing activities
The more content you post online, the more difficult it is to keep track of it all. A content calendar helps to organize all your current and planned marketing activities – and ensure that everyone on your team is on the same page about everything.
Enhances collaboration
According to Databox, slightly more than half of all organizations have just one person managing their content calendars. Content calendars are a shared responsibility for just 44% of businesses, which is the preferred approach when you have multiple individuals collaborating on group projects.
A cloud-based content calendar enhances the collaboration between members of your team, especially when you're not all working from the same locations. All team members have access to the same schedule and resources, so they're never out of touch or out of sync. Everyone knows what everyone else is working on and what's coming up, which makes it easier to work together on content planning.
Ensures consistency
The more activities in which you engage the more difficult it is to see the big picture. A content calendar lays out all your marketing activities including past, present and future, so you can better see how each activity relates to the others. This feature allows you to plan a more consistent schedule of activities – and make sure that they all work together to build your brand.
Enables long-term planning
What do you have planned for next summer? What about next year's holiday season? With a full-featured content calendar, you can schedule your marketing activities months or even a year in advance, while still taking advantage of any short-term opportunities that develop.
Helps manage social media posts
According to Statista, 92% of companies use social media as part of their marketing mixes. With more than a half-dozen social media platforms to manage, using a content calendar is essential for keeping all your posts on track. The content calendar will help you manage where you're posting, what you're posting, and when you're posting – all from a single, easy-to-use interface. Some content calendars even let you plan and automate your social media posts in advance.
Tracks performance
How well are all of your online marketing activities performing? What are the most effective channels? What campaigns worked the best?
A full-featured content calendar will help you answer these and other essential questions about your marketing activities. Built-in reporting and analytics help you see not only what's going on but how everything is performing.
Makes sure nothing falls between the cracks
Finally, by tracking all your marketing activities on a content calendar, you make fewer mistakes. With everything displayed in front of you, and with much of the scheduling automated, nothing will be overlooked.
How to create and maintain a content calendar
While smaller companies can try to manage their content manually, using a traditional online calendar such as Google Calendar, the larger and more complex your marketing plan the more you need to use a dedicated content calendar tool, such as our CMP. Dedicated content calendars let you not only track individual marketing activities but also manage collaboration between individuals or departments, schedule activities in advance, and generate useful reports and analyses.
Whatever type of content calendar you choose, you need to engage in four fundamental tasks: organizing your content, detailing the work required, setting key dates, and determining your goals.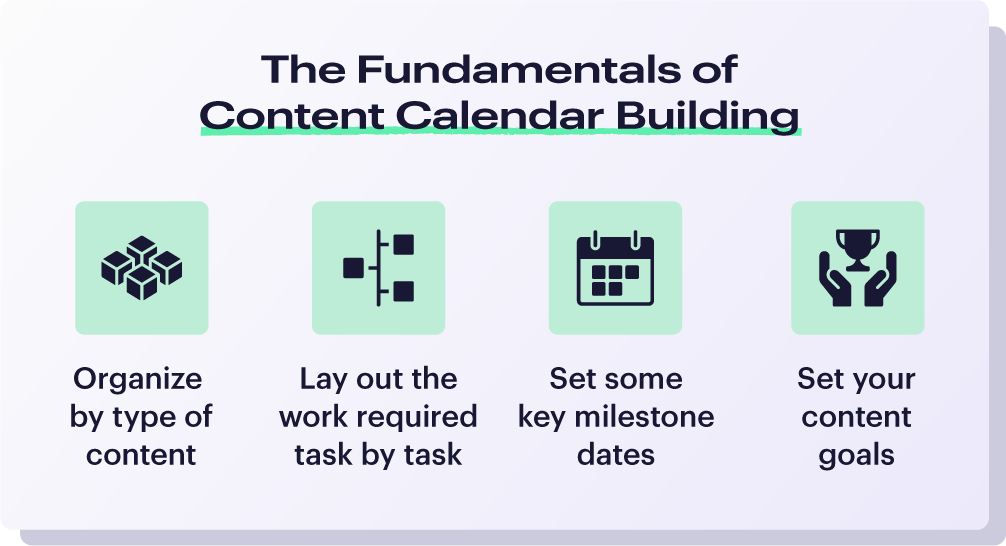 1. Organize by type of content
The first thing you need to do is take an inventory of every type of content your organization publishes. You can then organize individual activities by type of content – blog posts, social media posts, articles, videos, etc.
2. Lay out the work required task-by-task
Next, you need to detail the steps required to create each activity you've identified. It's not just about listing the posting date; you need to lay out everything involved up to that point, including keyword research, finding or generating images, writing copy, and so forth.
3. Set key milestone dates
It's important to set due dates for each step of each activity you have planned. These due dates should then be added to your content calendar. You should also note which individuals or departments are responsible for completing each step.
4. Set content goals
Finally, set specific goals for each piece of content you create. Determine what you want to achieve so you can measure performance at the end of the campaign.
Make Optimizely a part of your content marketing strategy
Optimizely CMP is a full-featured cloud-based marketing calendar platform, complete with workflow integration, social media management, and robust reporting. you need to manage your company's content and commerce.