4. März 2021
Choosing the best content analysis tool
Content analytics provide insights that drive and craft your marketing strategy. Choose the best content analysis tool for optimal growth.
---
When planning your content marketing strategy, it's crucial to understand how content analytics informs the entire process. But it can be challenging to know what constitutes the best content for your company.
It's simple to track the efficacy of your web copy, articles, and blog posts with content analytics.
Content analysis tools apply business intelligence practices to your digital content, then give content marketers actionable insights based on the data.
But how do you pick between all the analytics tools out there?
Here's the good news:
With Content Marketing Platform, you have access to all the various content analytics tools you need to assess the impact of your content.
You can measure various elements, including views, click-through rates, and other forms of engagement. These metrics help you know which optimization efforts actually achieve your business objectives.
Understanding their importance and learning how to properly use the metrics in Content Marketing Platform will help ensure you don't waste your marketing efforts.
Read on to learn more about content analytics tools, including:
Why you need content tracking
Content metrics to monitor
How to get the most out of your content analytics
Content Performance
You can monitor content performance with tracking. By measuring specific metrics and analyzing them, you can determine the content's effectiveness and whether it's achieving the goals you set.
Content Marketing Institute found that of the top content marketing performers:
67% measured the ROI of their content
83% tracked KPIs
Of the less successful marketers:
23% measured ROI
30% had KPIs
Instead of just publishing a new article and hoping it drives up traffic, your content analytics will give you real-time data that tells you if it's working or not.
Content creators might write a post or make a video they believe will appeal to the company's target audience, but the numbers will tell you the reality.
And this doesn't just work for new content. You can analyze older posts or the most popular content to glean the factors that appeal to your audience.
Using Content Marketing Platform's pageviews analytics feature, for example, you can explore how your views have flowed over time and what affected them. You can also compare those numbers to other periods to find trends and see your channel's overall effectiveness.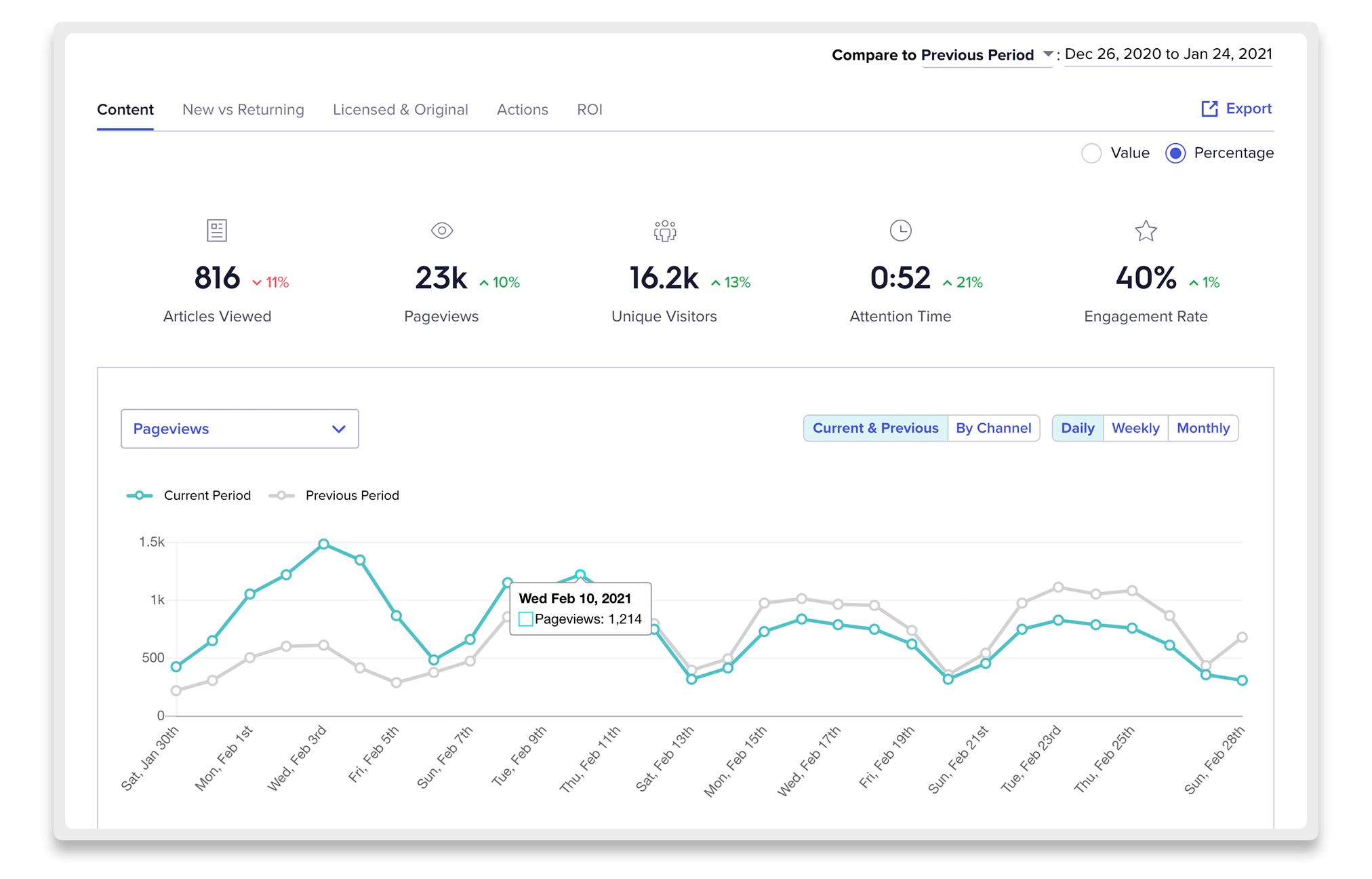 Maybe your readers love listicles or prefer specific content topics. Or perhaps, the posts with higher content quality have a lower bounce rate.
Overall, tracking posts with content analysis tools helps companies notice trends and craft future content strategies.
Using Content Marketing Platform's analytics, you can ensure you're saving time and money by putting your effort into where it counts for your goals and to appeal to your audience.
Plus, analytics help with more than just the specific content on your website. You can use that information in other parts of your marketing campaigns, social media, or even to develop your product or service.
Content Analytics Metrics To Track
Content Marketing Platform's analytics tool has a suite of features to help measure your posts during a defined time period, including:
Unique Visitors: The number of new website visitors
Pageviews: The amount of views received by specific pages
Attention Time: The average time a visitor has spent engaging with a webpage
Articles Viewed: The number of articles a visitor has seen
Engagement Rate: The percentage of total pageviews in which a user was involved for with the content for more than 30 seconds
Scroll depth: How much of the page a reader has seen
Social shares: The number of times a link was shared by users on social media
Content Marketing Platform also helps you measure your content's affect on ROI, with tools such as:
Pipeline and Revenue Influence: The sum of the amount of opportunities that were open or closed/won
Leads and Pipeline Generated: The number of visitors who convert into a lead or contact after visiting content, and the revenue that occurred after a lead engaged with content
Leads Reached: How many existing leads or contacts visited web content
Our software content analysis tool empowers you to go more in-depth with each metric with more advanced analytics or more specific measurements.
If you want to fully understand your website traffic, for example, Content Marketing Platform lets you look at traffic from various areas, such as:
Organic
Email
Direct
Social networks
Referral
If one area is attracting more clicks to your website, you can focus your attention there, or you can try to learn why that area is thriving and how to replicate that success in other ways.
Every company has to decide the best metrics to track for its goals or questions it wants to answer.
Your company might want to analyze its SEO engagement or how much lead generation happened during a set period. Not every analytic will matter, but some can make a significant difference to your content.
Content Marketing Platform's suite of tools gives you many options to track various goals, such as ROI. You can see how many leads you're generating or reaching, and if your revenue is seeing any effect from your efforts.
It can be frustrating when you don't know if a content or marketing strategy is working or not.
Data is power. With analytics, you can make informed decisions and have the peace of mind of knowing you aren't guessing at your content's effectiveness anymore.
How To Make the Most Out of Your Content Analytics
Content marketing analytics only get you so far unless you make sure to implement them in your company.
Here are some steps to take for success:
Understand the metrics
Set your goals
Adjust your strategy
Choose the right content analysis tool, like Content Marketing Platform
Learn What the Numbers Mean
Content analytics provide you with lots of data. So it's imperative to learn what that data means and how it defines your content.
Some measurements are known as vanity metrics and might not contribute to your bottom line. An article might have had a low number of page views, but it led to more sales than a post with higher page views, for example.
That's not to say those metrics aren't necessary, but take the time to understand the data.
You might be focused on getting more new viewers to your website, but return visitors are those who are building a relationship with your company.
On Content Marketing Platform, you can track your engagement rates in multiple ways all in one place and compare them with one another. This lets you gauge which metrics work better for you.
By seeing all the metrics in one place, you also get a big picture look at your analytics and content performance. And you can further customize the information you want to see that will better serve your tracking.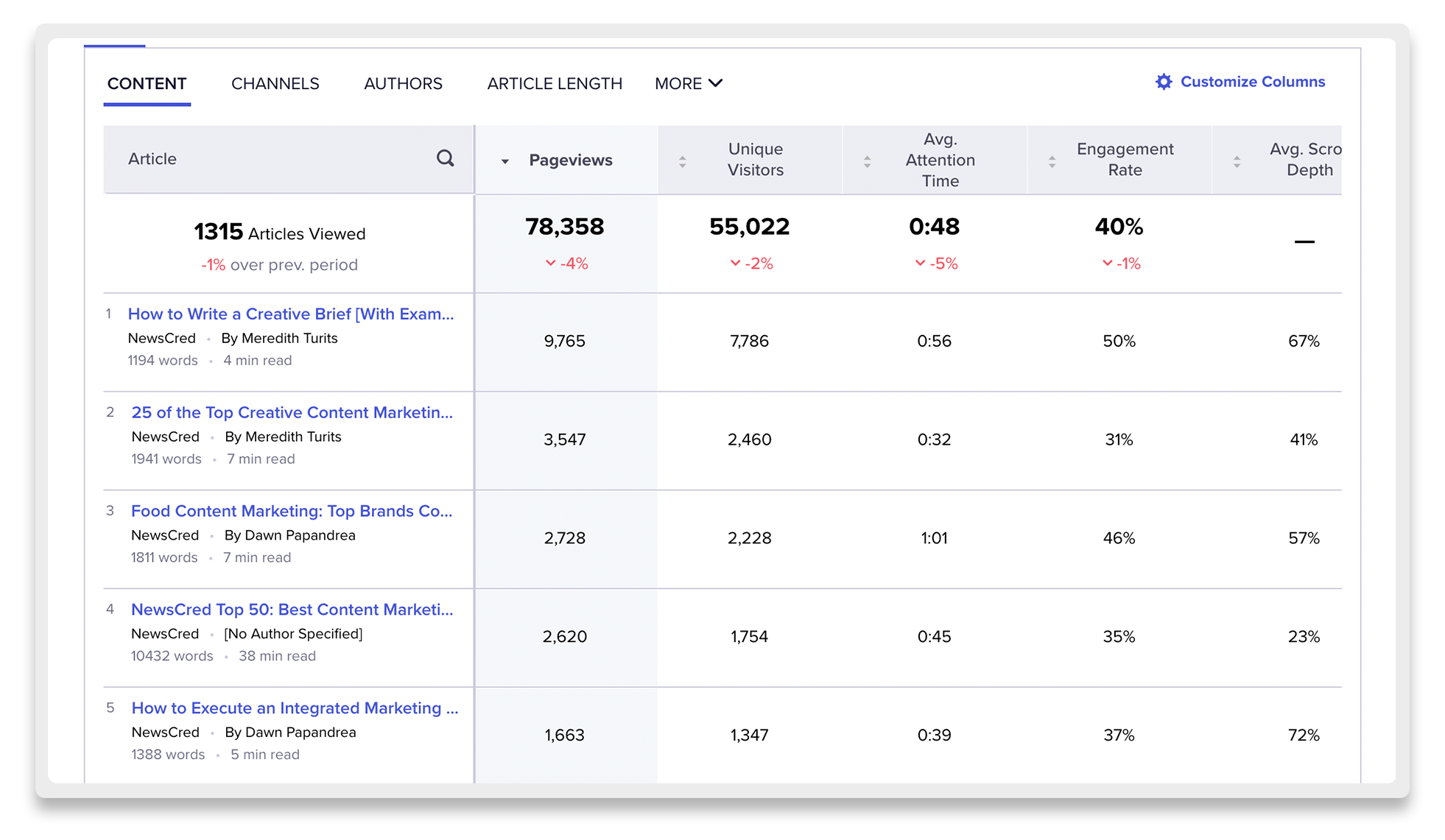 As you're learning, you can lean on Content Marketing Platform's tutorials and support to help get the most out of our content analysis tool. That way you can use the features confidently and understand what you're measuring so you can thoroughly analyze the numbers.
Set Goals for Your Content
Now that you understand how the analytics work, set goals and tailor them to your needs.
Analytics can help achieve various targets, including increasing your subscribers or revenue with content. Content Marketing Institute's 2020 benchmarks report found brand awareness and building trust as the top objectives.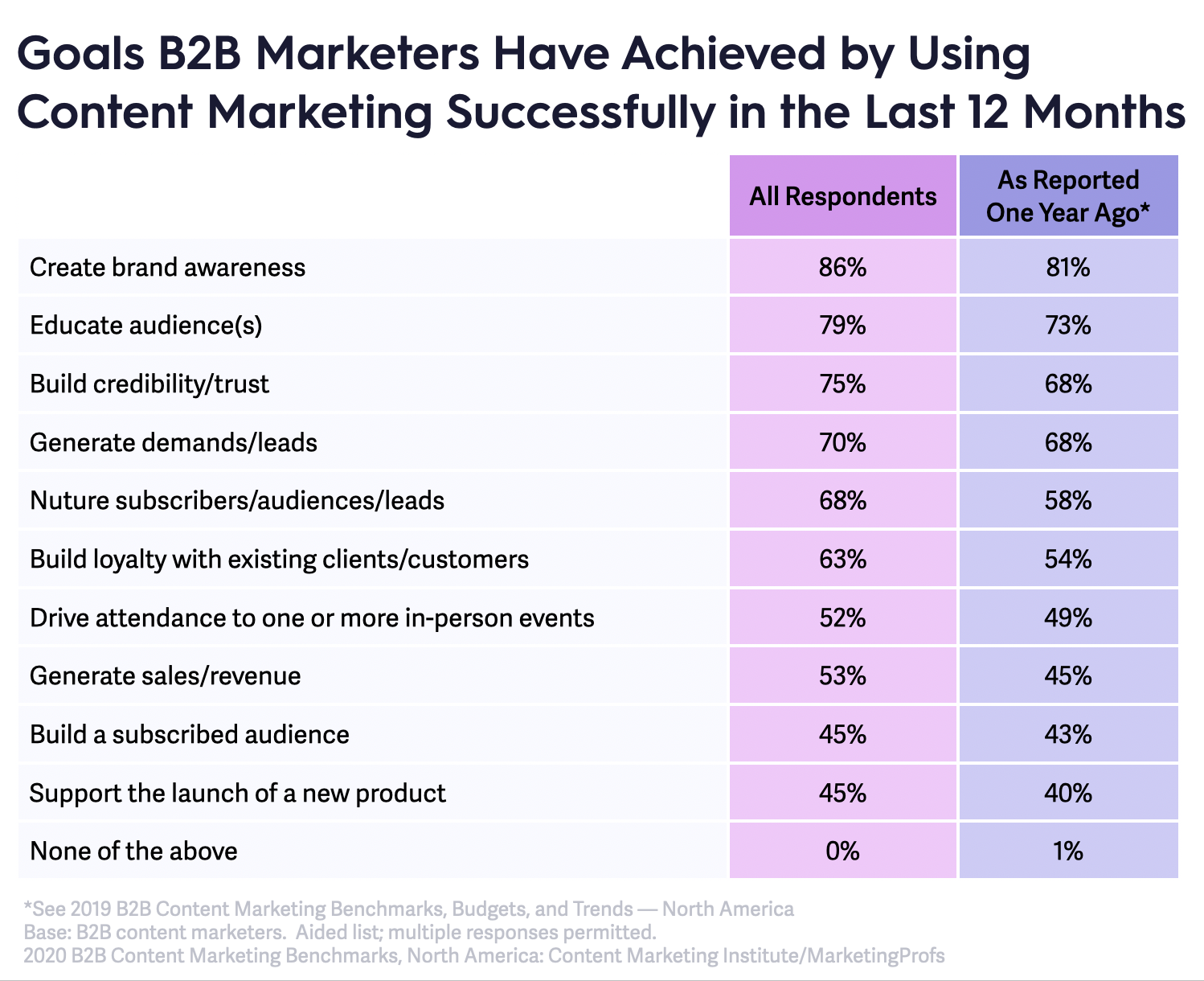 Set a time of a few weeks or months and monitor how your content is performing.
Adapt Your Strategies As Necessary
Analytics tell you how your content is doing. If the numbers are lower than you wanted, adjust your course.
Go back to your successful content and see if your content teams can analyze what went well. Or, if a post isn't hitting how you hoped, use your analytics to pinpoint where people left the page or if the organic traffic was too low.
Here's the good news:
Your analytics will not only help you find the problem but will help you find the solution too.
Choose the Right Content Analysis Tool
Marketing can be stressful, so make sure your tools are working for you.
You have many options when choosing an analytics platform, but choose what best suits your needs.
Qualities to look for in a content analytics program include:
Useful metrics
Actionable insights
ROI and KPI measurements
Other features that can help your business
You need a tool that helps you monitor and improve your content, like our content analytics software from Content Marketing Platform. A subscription also comes with many more helpful components, such as workflow processing, calendar solutions, and data asset management.
Final Thoughts: Choosing the Best Content Analysis Tool for Content Analytics
The best content in the world doesn't provide much value for a company if it's not hitting the right targets. Use content analytics to help you understand the data behind your content.
Track the progress of your posts with the right metrics that will help achieve your company's vision. And don't forget to choose an analytics software like Content Marketing Platform's that can keep up with your marketing goals.