Rich vs Reach
Determining the right mobile strategy for B2B ecommerce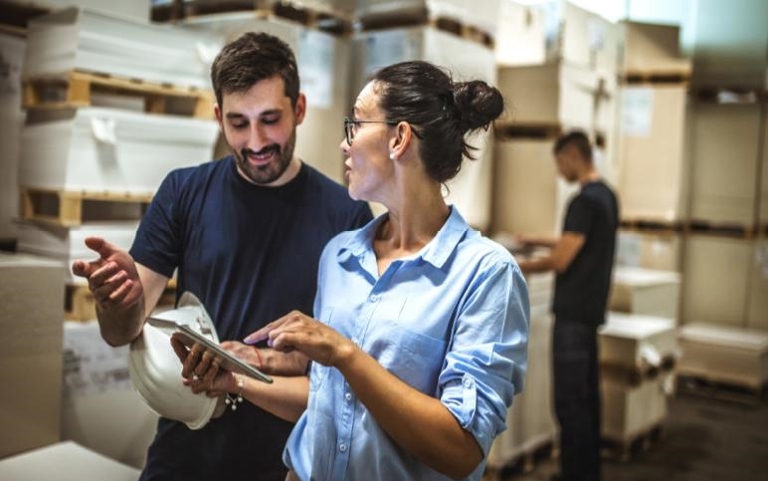 ---
Digital Economy
In the expanding digital economy, more B2B organizations now recognize not only the importance but the opportunities of owning a strong mobile presence. In addition, the growing number of millennials in the B2B workforce means that a mobile experience has become not only a differentiator but a requirement.
Most B2B mobile experiences involve responsive websites and/or native apps. Although responsivity is often considered synonymous with a mobile experience, more and more organizations are beginning to consider the benefits of developing a native mobile app. On one hand, responsivity offers a strong "reach" to a greater number of users, from to customer service representatives to the actual buyers. On the other, a native mobile app goes deeper in terms of functionality, offering a "rich" user experience.
Native apps are application programs developed specifically for the device on which they run. Because they operate at the "machine" level, they are able to take advantage of features provided by the device's operating system, as well as other software and components on the device itself. This means that mobile device features such as cameras, QR readers, motion sensors and other capabilities can be utilized by the app as well.
Deploying the right mobile commerce strategy requires a strong understanding of the complex nature of the B2B commerce environment. While B2C commerce is almost exclusively about shopping and browsing, the determination for success in B2B commerce is focused on driving efficiency, performance, and even job satisfaction. Determining the right balance between rich and reach must take in all these factors when developing a B2B mobile experience for every participant in the buying, selling, and support cycle.
Rich and Reach in the B2B Environment
Responsive websites form the "reach" part of the equation. Responsive sites provide information to broader audiences. Simply put, more users can engage with an organization via desktop or mobile device without incurring a sizeable investment. Most responsive sites provide the same experience no matter how the site is being viewed. This gives marketing and product teams the ability to push out content rapidly. Responsive sites update immediately, ensuring users access the most updated content 100% of the time.
For many B2B organizations, the B2B mobile commerce strategy begins and ends with reach. While it's certainly true that a responsive website provides broad reach as far as transactional capability, effective B2B mobile commerce extends far beyond the transaction.
In fact, most B2B buyers have unique needs in terms of product catalogs, custom contracts and pricing, and purchase approvals. The buyer's experience is rarely 100% self-service, as it is in retail, creating a need for CSR and sales support. But the B2B mobile commerce experience extends far beyond the buyer and seller, to the myriad of roles that provide support both pre- and postsale. For this cadre of workers – who might perform tasks ranging range from machine maintenance, to system updates, to complex statistical analysis – devices play a huge part. Native mobile apps can provide utility far beyond that of a responsive site by taking advantage of device-specific features like a camera, for instance.
Finally, most B2B commerce environments require heavy integration with backend enterprise systems.
Because so much of the B2B buying cycle is customized, most mobile B2B ecommerce systems based on responsivity alone struggle to meet the demands of the B2B buyer and seller. Instead, B2B mobile commerce requires an experience that not only supports but influences the customer's journey and that of every person supporting that journey. To deliver a rich, customer-centric mobile experience, organizations must consider the tangible benefits of the "rich" part of the equation: the native mobile app. In most cases, the cost of building a native app has been prohibitive. However, the emergence of a new breed of ecommerce solutions now provides configurable mobile software that is truly Build for B2B.
First, however, it's important to understand why native apps provide such a rich experience for the user.
The Role of Native Mobile Applications for B2B
Native mobile applications are programs created specifically for a device's operating system, like iOS or Android, packaged in an easily accessed container. Native apps are usually downloaded via the device's app store, and updated by the user.
Native mobile apps satisfy the millennial appetite for a high level of usability and easy of navigation in their mobile experience while providing users with a high level of personalization. This personalization allows B2B organizations to push out a deeper, richer user experience, from company branding and presentation to providing a user with a unique view based on their role at their organization.
In the complex world of B2B mobile commerce, personalization affects every aspect of the buyer's journey, from customized product catalogs and specific pricing contracts to a blend of self-service and direct support. A native mobile app combines the best responsive site capabilities with user-specific content and client-specific data. Not only is the app customized for that specific user's permissions and role, it contains the information unique to the B2B sales and supports agreements. Native apps that provide a richer, more personalized experience not only support but accelerate the B2B commerce experience.
B2B Personalization and a Richer Experience
In B2B, personalization occurs in three key areas: brand personalization, data personalization, and smart personalization.
1. Brand Personalization: Native apps let companies "white label" the user experience, adding the B2B seller's brand colors and images to the app, ensuring it stands out on the user's tablet or smartphone screen. The B2C mobile world has already proven the importance of brand familiarity and loyalty, as more retail organizations release fully-functional, highly-branded applications. The ability to present branded, customized information is a key part of providing users with a rich mobile experience in the B2B world as well.
2. Data Personalization: B2B buyers are often presented with product catalogs consisting of thousands of items, spanning multiple industries. With data personalization, organizations can present buyers with the data that is most relevant to their current needs and role within the company. While responsive sites may struggle with this level of complexity, native apps provide the rich functionality to streamline searches, capture order history, and deliver other features that reduce the amount of time a user needs to research, requisition, and reorder.
3. Smart Personalization: To deliver solid ROI and continued sales growth, B2B organizations must be able to evaluate historical data and buyer activity to influence the evolution of the buyer's journey. Because of this need, integration with back-end business systems like ERP or CRM solutions is critical. A strong native app can deliver data to those solutions for analysis and reporting, configure and suggest new pricing and promotion strategies, and build a bridge between self-service and fully-supported sales.
The Role of Devices in a Richer B2B Commerce Experience
Defining all the potential ways in which a native mobile app can support and increase efficiencies within a typical B2B commerce cycle is impossible. However, it's easy to provide examples of use based on common roles within B2B manufacturing and distribution industries:
Sales: A fingerprint scan provides a quick login for field salesperson to access content quickly, eliminating keystrokes and delivering key information to the client on a moment's notice.
Field Technicians: A QR code reader used by a field service technician identifies a product in a second or two, providing repair manuals or other job content to resolve a troublesome maintenance issue much more rapidly.
Customers: Integration with delivery service APIs gives a customer in the field waiting for a critical part to arrive real-time information on the status of their order.
Just a few scenarios such as this help portray the vast roles and responsibilities supported within the B2B commerce cycle. It goes far beyond buying and selling.
Responsive websites reach a large audience, providing prospective clients with the information they need to assure them they've found the right B2B partner. However, this is not enough within the complicated needs of the B2B buyer and seller, not to mention all of the other supporting roles. B2B organizations require a rich experience that delivers efficiency and functionality far beyond what mere responsivity can offer for every role within the commerce cycle – before, during, and after the sale. Configurability means that B2B organizations no longer have to dig deep into their pockets to gain a B2B experience that delivers the personalized, device-capable functionality required by a more complex commerce cycle.
A B2B workforce that has become accustomed to using native apps within their B2C buying experiences is raising the bar for B2B, creating pressure to offer the capabilities that only a flexible, fast native app can provide. Fortunately, configurable mobile commerce solutions now offer B2B organizations the chance to deliver rich mobile experiences within a reasonable timeframe, at a reasonable cost.