Video
Experimentation everywhere - A look at Experimenting through the entire tech stack
We've enabled over 9,000 leading brand product and development teams to build better products, faster with the power of Full Stack Experimentation.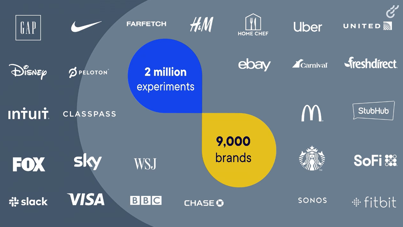 Unlock the demo video
Now that you've got a taste of what server-side experimentation is and how companies successfully are using it, it's time to take a closer look at how Full Stack Experimentation works in this demo video. We'll show you how product and development teams can do more from one place - use feature flags, roll out new code and updates securely, and run experiments across your tech stack..
Deliver at every step
Experiment across your entire stack including web, apps and OTT to create impactful customer experiences. Experiment on everything from content to search results and algorithms.
Iterate with confidence
Experiment within your product lifecycle by testing alongside feature launches. Confidently roll out new features by testing multiple versions with specific audiences.
Know what works
Real-time experiment results, powered by our industry-leading stats engine co-developed with Stanford, so your teams can get insights and make decisions at scale.