How to supercharge your online store with user generated content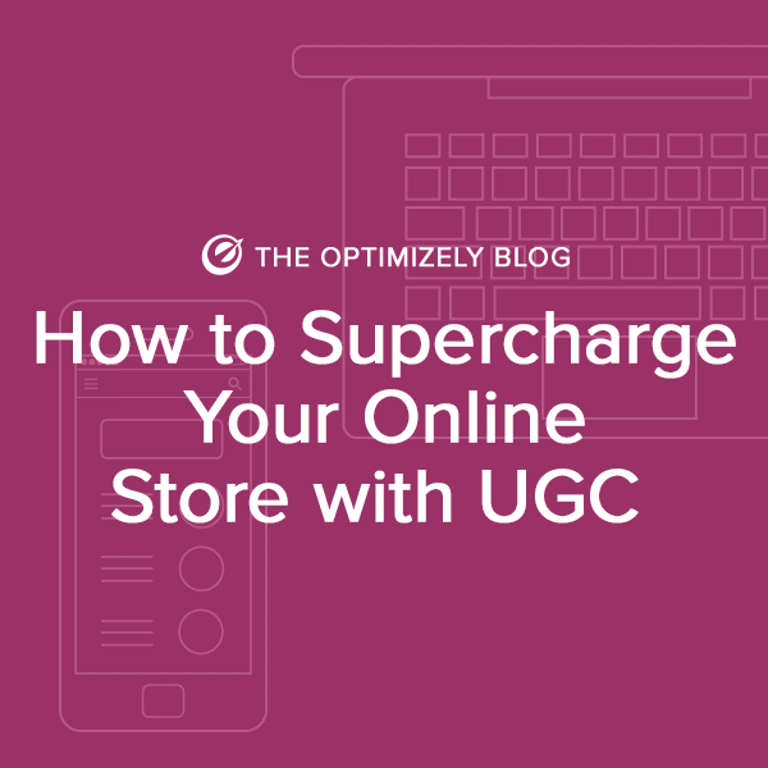 ---
Today, any business owner can take advantage of the wealth of direct customer communications that are available thanks to the opportunities that the online realm affords them.
Want to show how happy your customers are with your products? In the past, you had to explain that. Nowadays, you can illustrate this with images taken by the customer themself holding and enjoying your product.
In this article, you will learn why User Generated Content (UGC) should be part of your retail marketing strategy and how to start implementing it today.
Why User Generated Content Matters for Your Retail Strategy
The power of UGC lies on one key psychological trigger: social proof.
Social proof is a psychological phenomenon that occurs when someone assumes the actions of others reflect correct behavior for a given situation. In other words, we do what other people do because, err, other people are doing it.
If everybody says a new product is hip and cool, it must mean that it is. Whether that's true or not doesn't necessarily matter. Your brain will most likely believe it and it will hard for you to convince yourself otherwise.
This isn't just theory. According to a 2015 study made by Mintel, a global marketing firm, over 70% of Americans say they look at product reviews before making a purchase. Not only that, but a study made by CompUSA and iPerceptions found that nearly 63% of consumers had indicated they were more likely to purchase from a site if it had product ratings and reviews.
Taking advantage of this principle can help you improve your marketing messaging and, ultimately, will help you increase your sales and revenue.
Yelp is a wonderful example of social proof in action.
When you highlight other people using and enjoying your product, it makes your product more "persuasive" in the eyes of your prospective customers.
There are many ways to use this technique in your marketing messaging. Some examples include using testimonials and associated numbers (e.g. "5000 happy customers can't be wrong!"), which has worked well for many companies in the past.
UGC takes this idea of social proof to the next level. Instead of just stating what other people are saying about your products, you are showing the actual reviews your past customers have left on your product page.
Online video review site EXPO found that reviews were nearly 12 times more trusted than descriptions that came from manufacturers.
Besides this added credibility in your marketing message, user generated content has additional benefits:
How to Implement UGC in Your Marketing Strategy
Step #1: Decide the Type of UGC You Would Like to Implement
There are four main types of user generated content you can use in your store:
Comments

Reviews

Photos

Video
Each option has its respective pros and cons.
Comments
Comments are the most basic form of UGC. They don't involve a lot of work for any of the parties involved, neither you nor your customers. They represent a small step towards the right direction, but nothing more. If you want to see the best results for your UGC efforts, you should consider the more in-depth options which follow below.
Reviews
According to a Forrester research study, reviews "strongly affect the purchasing decisions of 70% of consumers".

Also, the previous study found that 48% of customers trust user generated content when making a decision, compared to only 18% of traditional ads.
This means adding reviews to your product pages can considerably help to increase your customer's trust in your brand and products.
Photography
Following up with the reviews, asking your customers for a picture of the product they just purchased, even if the image quality is low, can help prospects feel closer to the product.
For instance, Starbucks in 2014 invited their customers to decorate their cups with customized art and submit a photo of it to Twitter under the hashtag #WhiteCupContest.
According to Starbucks, they received almost 4,000 entries while generating an enormous amount of tweets, retweets, and likes. That's the power of UGC when done right.
Starbucks generated a significant number of shares thanks to their #WhiteCupContest.
Video
Video is probably the most difficult kind of UGC to solicit from your customers since it implies a high time and effort investment. Few people like filming themselves and talking in front of a camera, even if it is their phone's.
However, this kind of lo-fi publicity can be the most effective when showing off the benefits of your products. It's easy to get an actor to talk about your product. It's much harder to get an actual customer to do it. If a customer films herself talking about your products, it must mean they don't like, but love your products.
According to a study done in 2013 by Octoly, on average, user-generated videos about a brand were viewed 10 times more often than official brand videos on YouTube.
In 2013, Nextel, a Brazilian telecoms company, used UGC videos for a campaign called #1minutodecoragem (1 minute of courage). This video showed user-created clips of people bungee jumping, base jumping and diving head-first off cliffs to support their message "if you're unhappy with something, change it". The video was viewed 7 million times on YouTube alone.
Nextel's campaign #1minutodecoragem is a prime example of UGC video content.
Step #2: Experiment with User Generated Content
Choosing the right type of UGC for your store shouldn't be a matter of preference. You need to develop a model for testing the hypothesis of whether adding UGC will help you increase your sales and conversions or not.
To start, create a hypothesis. For example, let's say you want to increase your conversion rate, and you think implementing user generated content could help. A good hypothesis could look like this:
The conversion rate on the product pages is low. By adding a review section under the description we will persuade more people to buy, therefore increasing the conversion rate.
Then, you would need to design the test and implement the change. In the next step, I recommend a few tools that can help you implement UGC into your store. In the meantime, let's consider you manually implement UGC into your store.
As you design your test, you should try testing different types of UGC to see which one works best for your specific company. For example, if you sell cosmetics, you could test between customer reviews, photos, and videos. Instead of just testing one type of UGC, you could also test adding a mix of reviews and photos, or any other similar combination.
Once you finish with the test design, launch the test and wait until you hit significance with the results.
As expected, if the results help you increase your conversion rate as hypothesized, then you can implement the changes into your store.
Step #3: If the Test Is Successful, Add the UGC Into your Store
Once you decide what type of UGC you will use, you need to add it to your website. Depending on the type of UGC you have chosen based on your testing program, there are many ways you can implement UGC.
For the comments, you can use a tool like

Disqus

.

For the blog posts and mentions,

Mention

can help monitor your brand's keywords.
In most cases, the implementation isn't the hardest or most technically challenging part; rather, choosing the correct form of UGC is, which should be based on testing.
Step #4: Promote It
Unfortunately, it is not simply enough to enable the tools and then expect your users to generate content. You need to proactively promote the new UGC tools to your audience.
Start by promoting it on social media, send emails, and add cues on your website letting your customers know about the new options they have to communicate with you.
For a quick social-proof win, add the number of reviews your customers have given your products next or below the title of the product.
Bearbrand does this better than most by showing the stars and number of reviews given for their products. Also, if you scroll to the bottom of their website, you will see an Instagram feed with customer photos showing their beautiful beards (which is thanks to Bearbrand's products). That's a win-win for their company's brand.
Incentivize your customers to communicate with your company. If they upload photos or videos, you may offer them a small discount in exchange for their time and effort.
An extreme case of incentivized reviews is the one Australia used to attract young worker. In 2013, Tourism Australia launched the "Best Job in the World" campaign, in which the participants chose among a list of ideal jobs to do during their working holiday visa. The campaign resulted in significant publicity with more than 8,500 news articles worldwide generating over $44 million worth of media coverage. Most importantly, over 34,000 people from over 200 countries submitted videos to win this contest.
Finally, you need to ensure you are asking the right questions in order to generate the best, most relevant UGC for your brand.
If you sell water filters, it's not very likely a customer will want to take a selfie with it, although they may be willing to review it. If you sell makeup, your audience would be much more likely to share how they look, especially if you provide the right incentive (like a coupon).
Whatever the option you choose, always outline the benefits of communicating with you and not just the fact they can do it.
Step #5: Monitor and Analyze
The final step is ensuring you are getting a good response from your audience.
Interact with them, thank them for their participation, answer their questions and make sure they understand how the product works. The more value that you give to your customers, the more they will appreciate it.
For authenticity, you should ensure that you publishing and approving content that is both positive and negative. As long as the majority of the reviews aren't negative (which would mean your product isn't as good as you think it is), a few negative reviews will add a more "realistic" feel to your product, as not every customer is always going to be 100% delighted with your product and service.
Bad reviews, such as this one, represent a great opportunity for improvement and growth.
Since you now have a much more direct way of communicating with your customers, talk to them and see if you can identify the root cause of the problem. Maybe they received the product damaged, or they didn't understand the product, or how to use it.
You should always strive to learn from your UGC. It can help you discover new problems your customer have, new ways to delight them, and how you can do better to solve their problems.
Conclusion
Adding user generated content to your marketing strategy will take some time and effort to pay its dividends.
However, by following the steps laid out in this article to implement a UGC content strategy in your store, you will start to see the benefits. And your customers will thank you for having done so, as you will have improved their shopping experience.
Have you successfully added user generated content into your retail marketing strategy? Share your experience in the comments below!