September 22, 2016
10 lead generation ideas for your next tradeshow
Each year, Welcome will organize, sponsor, and attend approximately 60 events. The majority of these events are meant to work towards our lead generation goals and strategy. One of the biggest activations is our annual sponsorship of Content Marketing World, the largest content marketing conference in the country, organized by the Content Marketing Institute.
---
We recently returned from the conference, and our participation got me thinking about lead generation tactics, specifically for tradeshows. Personally, I believe that events should do more than generate leads – they can help accelerate the sales funnel, build brand awareness, develop customer relationships, and more.
But to focus exclusively on lead generation, I've mapped out a number of ideas that can help you achieve your tradeshow goals, based on Content Marketing Platform's strategy and learnings from Content Marketing World.
When strategizing and implementing each tactic, keep in mind:
What would attendees most desire at each point of contact?
What creative or surprising hook can you use to engage and draw them in?
What method will you have in place to capture lead information?
1. ESTABLISH YOUR PRESENCE WITH A PRE-EVENT LANDING PAGE
Prior to any event, it's important to establish your presence and the extent to which you'll be participating. The best assumption you can make is that no one knows you're planning to be there – it's up to you to tell them. I recommend starting your pre-event relationship building about a month and a half in advance. Any earlier than that, you'll run the risk of people not yet knowing their plans. Any later, and you may miss out on driving leads to your activations.
Prior to the conference, we built an event landing page that detailed Content Marketing Platform's sponsorship of Content Marketing World. Our page included information about our expo hall booth location, in-booth hospitality (more on this in a minute), when our CEO would be speaking – and a simple form to schedule a meeting with us during the conference.
We linked this page to our content hub, Content Marketing Platform Insights, and promoted the page in our nurture emails leading up to the conference.
Tip: There are a number of resources that can help you build a landing page. One of my favorite vendors, SplashThat, helps you design and build beautiful event pages using their software.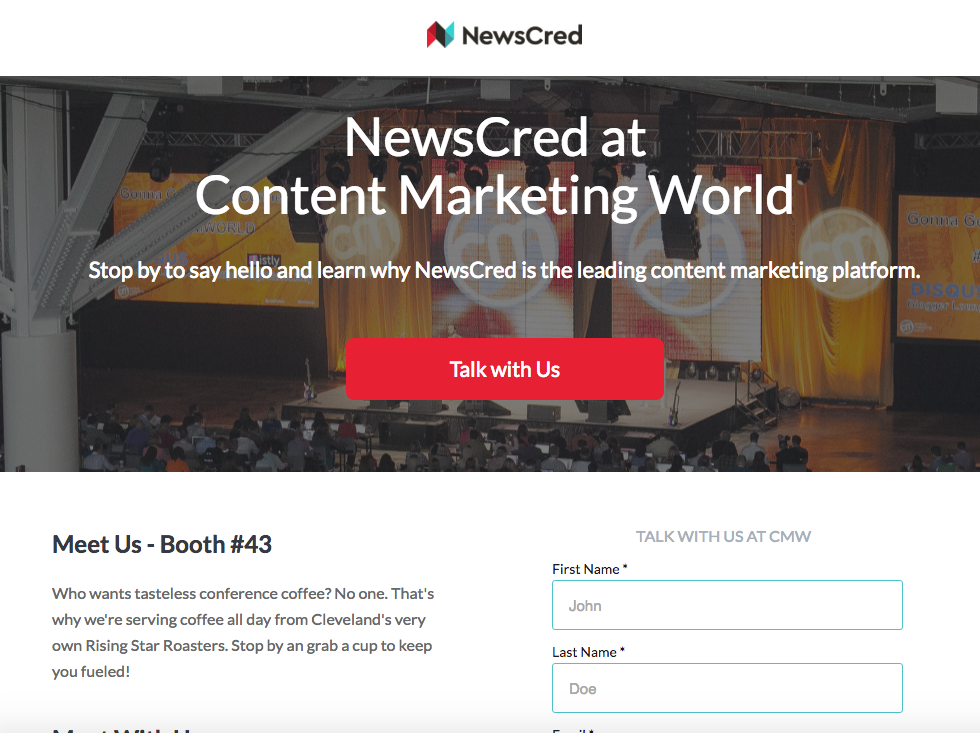 2. DEVELOP A PRE-EVENT PROMOTIONAL PLAN
In addition to building a pre-event landing page, create email and social media campaigns to build buzz leading up to the event. The more you communicate about your presence, the more likely attendees will remember and make a point to seek you out. Attendees should feel like they already know you before they get to the conference – and know you in a good way. Be conscious of how frequently you're reaching out, and make your communications interesting and valuable.
Our demand generation team mapped out a comprehensive email campaign to assess who was attending Content Marketing World, and then nurtured those leads. Nurturing emails announced updates about our participation, which kept Content Marketing Platform top-of-mind and helped drive traffic to our booth.
Our team also incorporated #ThinkContent University, our online content marketing training course, into the campaign. In order to have attendees raise their hands and say, "Yes, I'm attending the conference," we offered them free online access codes to #ThinkContent University. In order to claim these codes, attendees had to pre-register and then stop by our booth to claim them on a physical voucher.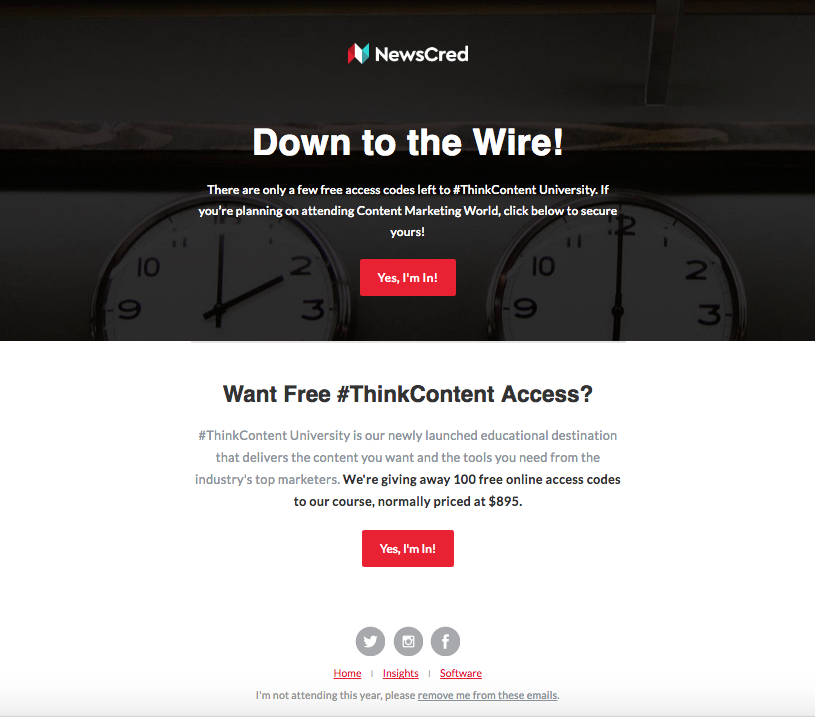 Our social media team also played a huge part in pre- and on-the-ground event promotions. Leading up to the conference, we ran a campaign calling attention to our presence at the conference. We also sent a Content Marketing Platform employee to the conference specifically to focus on our social media and content creation. We were all over Twitter and Instagram, and were able to share key takeaways from the conference in live time!
Throughout the event, we also had another social media team member answering questions that came to our account from attendees. Our social media manager also give our on-the-ground team a heads up when potential leads said they'd be stopping by the booth.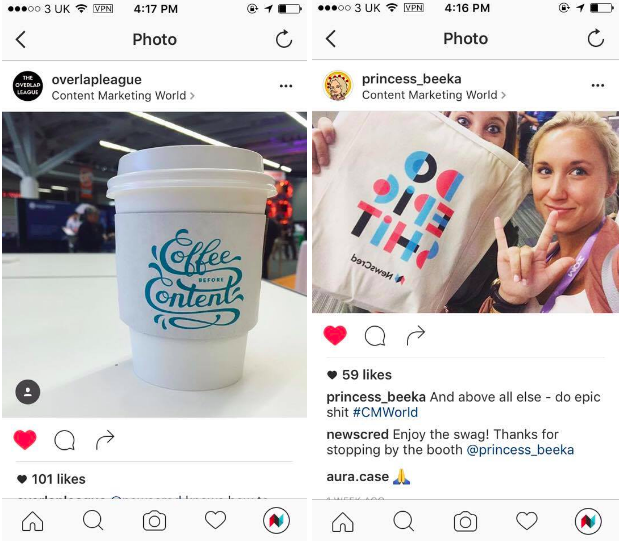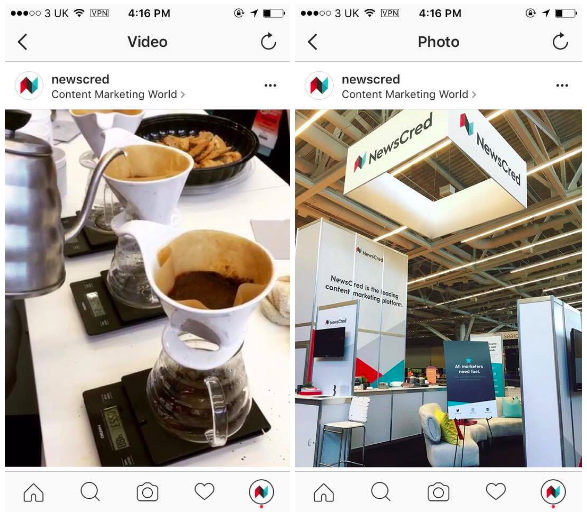 3. DESIGN A WELCOMING TRADESHOW BOOTH
How can booth design help generate leads? Well, the design itself won't do much. But the feeling your booth emanates can make all the difference in whether an attendee stops or keeps walking.
We knew we needed a sleek-looking booth that was inviting but functional – when your competition is an entire tradeshow floor, you need something eye-catching. Using our new branding, we created a space that stood out and could be seen from anywhere. Our booth included a space for sales demos for groups small and large, a coffee bar, and a lounge.
Our graphics were simple, clean, and included messaging that answered attendee's initial questions.
When conceptualizing your booth, try different layouts, consider your event goals, and finalize in-booth activations before signing off on the design.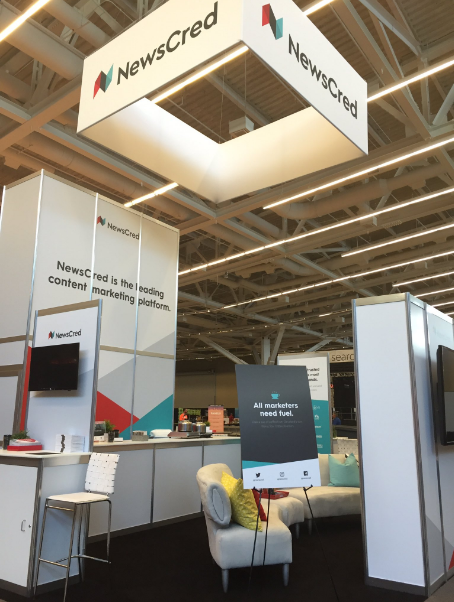 4. INVEST IN LEAD SCANNERS OR A DATA COLLECTION TOOL
Lead scanners are key and worth the investment. With a quick scan of an attendee's name badge, you're able to capture an attendee's full name, title, company, and contact details.
Some lead scanning devices allow for customization, and specific qualifiers can be added to the system. The qualifiers we used include a temperature rating, a list of follow-up actions to choose from, and a notes section.
Depending on the tradeshow, these pieces of technology can be expensive. If you're working on a budget, consider creating your own method of data collection. Google Forms could be a good resource, or if you're looking to invest in event software, there are solutions using those systems, as well. Since we had a limited number of scanning devices, we also brought iPads for attendees to enter their contact information via a Google Form.
During Con
tent Marketing World, we scanned leads who stopped by our booth for coffee (more about that in my next point) and those we had valuable conversations with during the event. These scans translated to how we prioritized our post-event follow-up. (i.e. We followed-up more diligently with hot prospects, and secondarily for leads who were not rated as highly.)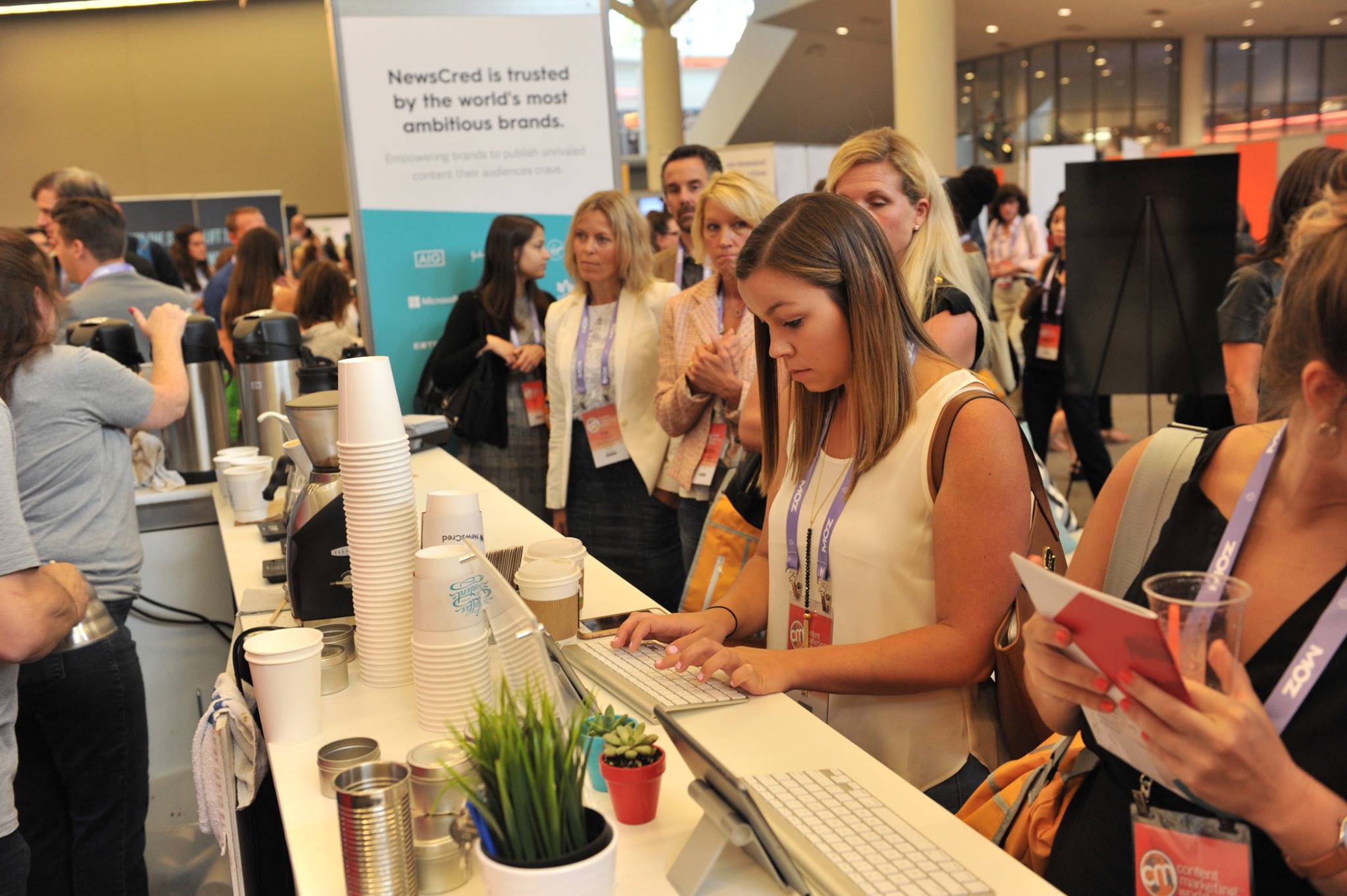 5. DRIVE TRAFFIC WITH IN-BOOTH ACTIVATIONS TAILORED TO YOUR AUDIENCE
Tradeshow floors can be massive, so you need a unique activation to hook attendees and drive traffic. When you're thinking about what this will be, consider the conference environment: Will attendees be milling around a tradeshow floor, in back-to-back working sessions, or maybe both? If you were an attendee, how would you feel during this particular conference?
After you ask these questions and evaluate the answers, brainstorm activations that complement the audience mindset. Ask around to see what ideas resonate. We assessed the entire conference, and after collecting information from the event organizers themselves, and searching the website for schedules and competing event information, we had a holistic picture of the conference.
We realized the conference agenda was packed. Attendees were going to be in back-to-back working and networking sessions, and participating in late night events. Putting ourselves in the attendee's shoes, we thought about what we would want: Coffee. Not boring, mass-produced conference coffee, but delicious coffee. We hired a local company to serve cups of joe in our booth and the attendees swarmed! In fact, we had a line wanting to swap their bland conference coffee for ours, so we traded – name badge scans for cups of coffee.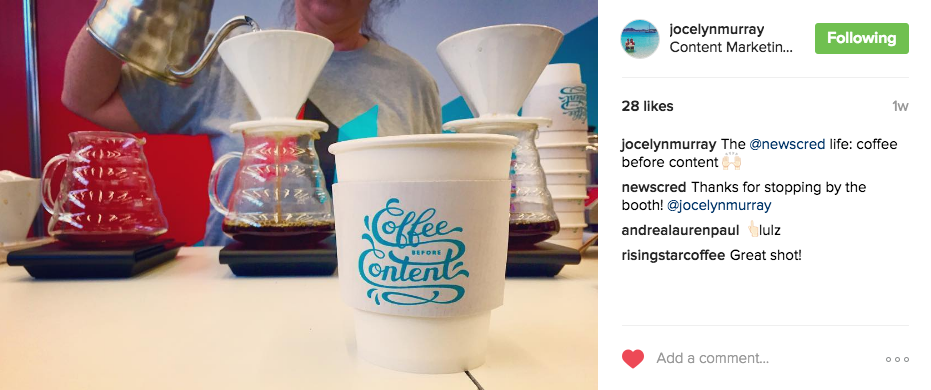 We also figured that during the happy hours in the expo hall, people would want to unwind and snack on food not included in the boxed lunch. So we offered a happy hour spread that couldn't be ignored, serving up cocktails and beer behind our in-booth bar (that doubled as our coffee bar during the day).
And lastly, we knew most attendees were planning to have a big night out the first night of the conference, so the next morning we served hangover breakfast sandwiches.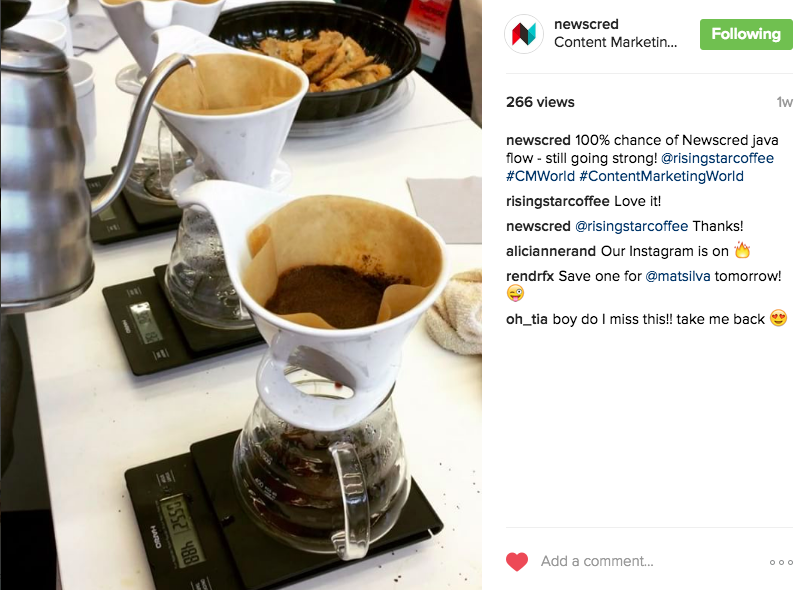 6. GIVE OUT IRRESISTIBLE SWAG
Still thinking about the attendee experience, we knew that conference-goers would be picking up a lot of swag and informational brochures from other vendors. So we brought our awesome tote bags. Our bags aren't your average bag – in fact, they are a bit risky for any company. But the messaging resonated with the audience and our bags went viral!
We went through 300 tote bags in lightning speed on day one. I had to overnight 400 additional bags for day two, all of which were gone by 11am. It was awesome to see our bags in high demand and sported by many attendees – which drove more people to our booth.
And don't forget about special swag for customers! We love seeing our clients, especially at large industry conferences. We offered a special giveaway just for customers who stopped by our booth – portable power chargers. Outlets were hard to come by, so this swag item kept our customers connected and moving.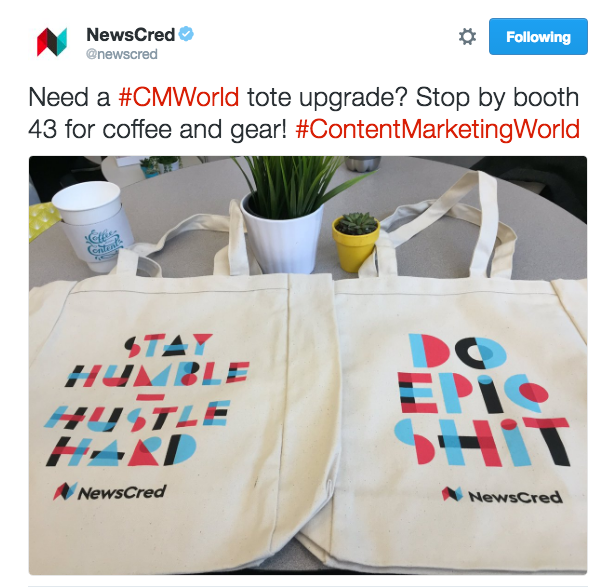 7. PICK THE BEST TEAMMATES TO HAVE ON THE GROUND
Content Marketing World is a two-day sprint, so it's important to make the most of everyone's time while keeping the team fresh. We sent a large team this year, and everyone played an integral part in making our presence a success. Not only did we send sales people, we sent experts from our strategy, editorial, and pre-sales team. Our sales team was able to leverage these experts when potential clients requested in-depth details about their areas of expertise, or when our booth became flooded with attendees wanting to know more about Content Marketing Platform.
We generated a booth-manning schedule for our team. This allowed for a balanced schedule of selling and education. During "down" time our team was encouraged to attend the sessions and learn from industry experts at the conference.
Regardless of budget, I recommend sending your best team to the event. Having a team you can count on is extremely important, especially when you're pulling long days.
8. UTILIZE HOTEL DROPS
Personally, I've never executed this type of lead generation activity, but I've seen it done well by others. Sometimes, this type of activation requires a sponsorship, but you could use a number of different resources to make this happen on your own.
In order to do this correctly, I again suggest you think about your attendees' conference experience. What swag item could you provide that your attendee would want dropped in their hotel room? Dropping something in a hotel room crosses the line of personal, so definitely give this activation extra thought.
Most importantly, don't forget a call-to-action and information on how the recipient can get in touch. Since there is a lot going on at conferences, a follow-up email to the recipient can be a great reminder to act on the call-to-action before the conference ends.
I remember a hotel drop, nicely executed by Attend, at last year's Content Marketing World. Attend was able to locate all of the event planners at the conference, and provided a hangover kit (similar to the photo below). The room drop was really relevant because the night of the drop, was a rather fun one and I remember hurting the next morning, swearing I wouldn't drink again.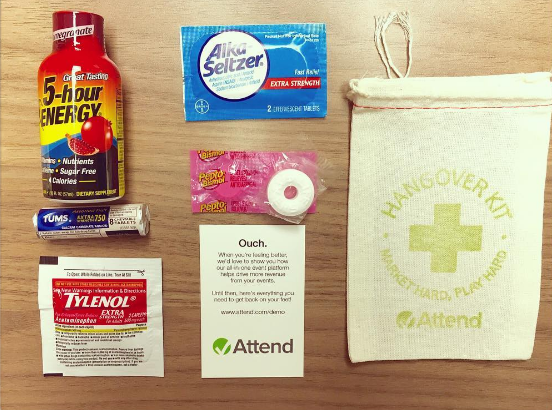 9. LEVERAGE CHAIR DROPS INSTEAD OF BAG DROPS
How often do you receive a conference registration bag and toss majority of the promotional materials inside away? We're all guilty of it – leaving materials in the hotel room before jumping on the flight home.
From our personal experience, we find that chair drop promotions tend to be better than bag drops. A chair drop serves as a forced reminder instead of a reminder an attendee needs to actively search for in a bag.
Calls-to-action are again very important, as well as copy and design. Our chair drop during Content Marketing World took place the first day of the conference during the morning keynotes. The design was eye-catching and cleverly relevant to the audience in the room. It also helped that our CEO took the stage to introduce once of the keynote speakers and was able to plug the same call-to-action on the chair drop – which was to stop by our booth for coffee.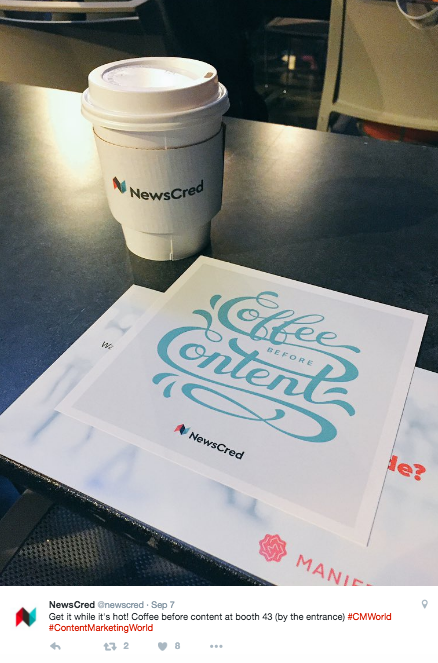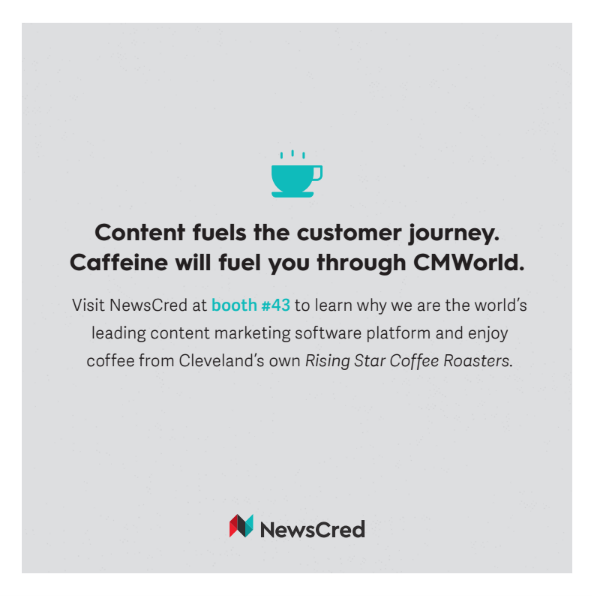 10. PLAN AN EVENT AROUND THE EVENT
I'm a firm believer in planning hosted events around large conferences – Content Marketing World was no exception. We hosted a VIP dinner the night of arrival for most conference goers because we didn't want our event to conflict with other activities or competitor parties.
We selected a popular Cleveland restaurant with
in walking distance from the downtown hotels and conference venue. Additionally, we provided transportation after our dinner to the only event that slightly conflicted, the Content Marketing World Opening Reception.
Since this dinner was a VIP event, we hand-selected each attendee, but you could use these events a lead generation tool.
I hope some of these ideas help with your tradeshow strategy, or at least give you a place to start. At the end of the day, the best ideas are the ones that will resonate with the conference audience and inspire valuable leads to engage with you and your brand.