May 11, 2022
Content marketing platform (CMP) vs. content management system (CMS): What's the difference?
Here's all you need to know about the differences between a CMP and a CMS and how to choose the right one based on your content marketing needs.
---
There's no shortage of new tools and technologies in the content marketing space, so it's no surprise that 19% of marketers have challenges finding the right content marketing technologies. That's according to Semrush State of Content Marketing 2022 Global Report.
To support your marketing efforts, you'll likely need a content marketing platform or content management system—or even both! But what's the difference between these two technologies? We're here to give you a straightforward answer.
In this article, we explain the differences and similarities between content marketing platforms and content management systems and which is best for your marketing activities.
First, let's look at the definitions.
What's a Content Marketing Platform (CMP)?
A content marketing platform (CMP) is an all-in-one tool that provides all the tools or features marketers need to plan, execute and measure the success of content marketing campaigns.
Creating marketing content is a multi-step process involving planning, budgeting, content creation, publishing, and measuring ROI. And often, marketers have to use different tools for each of these stages.
A content marketing platform (CMP) solves that problem by providing a single software solution where you can perform all these marketing activities in one place. This saves time and cost, streamlines collaboration, and makes it easier to measure the impact of your campaigns.
Most CMPs have the following features:
Content/editorial calendars

Content editing/creation tools

Project management features

Digital asset management features

SEO features

Social media marketing

Analytics and reporting
One good example of a CMP is Welcome. With Welcome, you can:
Create a content calendar

Write content using an in-built text editor

Define your editorial workflow and collaborate with team members

Conduct keyword research and optimize content for search engines

Manage brand and digital assets

Syndicate content to your social media platforms

Monitor important performance metrics
Who should use a content marketing platform?
If you're looking for a tool that helps you streamline your entire content marketing process, from planning to execution, then you should consider a CMP.
CMPs work best for teams that want to create and distribute content at scale. If you don't use a CMP, then the alternative is to build a stack of tools that cater to different stages of your marketing process.
Why a CMP is important
Here are the four main reasons to use a CMP:
It helps you centralize your marketing efforts in one place.

It saves time.

It saves cost because you don't have to pay for a bunch of different tools.

It simplifies collaboration.
What's a content management system (CMS)?
A content management system (CMS) is a software tool that allows users to create, modify, and manage website content without writing code.
Without a web content management system, you need to have enough technical programming knowledge to be able to make changes to a website. But with a CMS, you can create blog posts, sales pages, and web pages via an intuitive interface.
Most content management systems will have:
A content editor

Basic asset management features — that is, a way to store and use digital files like images and documents

Content scheduling capabilities

Basic analytics
For example, WordPress, the most popular CMS in the world, comes with an in-built text editor and post scheduling features.

You can also extend the functionality of some content management systems through the use of third-party tools and applications. WordPress, for example, has over 55,000 plugins that extend the functionality of the core tool.
Who should use a CMS?
A CMS is often considered a basic marketing tool. Anyone who publishes content regularly on their website will most certainly either need a CMS or already use one.
Why a CMS is important:
Here are the three main reasons to use a CMS:
It makes it easy for you to publish website content without having to write code.

It allows you to create, schedule, and publish content quickly.

It gives you complete control over your website content.
The difference between CMP vs CMS
From the discussion above, it's easy to see that a CMP and a CMS differ significantly, even though they have some overlap. The main differences between them lie in the focus and features.
Focus
A CMP is a more specific marketing tool. It is designed to help marketers through the entire content marketing process, from content planning to creation to marketing.
In contrast, a CMS is a more general tool that can be used in different contexts. It focuses mostly on website content creation and publishing and may be used for purposes other than marketing, such as simply sharing and updating information about an organization or person.
Features
While most CMPs have content creation capabilities, they may not have the capability to produce specific types of content, such as visual sales pages — those can be produced with a CMS. Most CMPs, however, allow users to publish blog posts and regular articles to their desired content management system.
CMSes are perfectly suited for creating and publishing a variety of website content, from simple blog posts to dynamic landing pages. However, most CMSes do not contain marketing features by default, but some of these features can be added if you need them.
For example, in WordPress, you can add an editorial calendar, SEO features, and analytics monitoring through the use of third-party plugins. However, additional tools may not work as smoothly as they would in a CMP, which has all the necessary tools included out of the box.
Below is a summary of the differences between content marketing platforms and content management systems.
| | |
| --- | --- |
| Content Marketing Platforms | Content Management Systems |
| Focused on the entire marketing process, from start to finish. | Focused on content creation and publishing. |
| Includes all marketing tools you need out of the box. | Additional marketing features need to be added using third-party tools. |
| Useful from the very beginning of the content marketing process for idea generation, content calendar planning, keyword research, and more. | Useful at the tail end of the content marketing process for publishing and managing content. |
| CMPs are more project management tools than design tools | CMSes are more content creation/design tools than project management tools |
CMP vs CMS: Which should you use?
The simple answer is that most businesses need both. This is because each tool performs specific functions that the other may not perform as well.
Plus, both tools are usually complementary and can work together. For example, Welcome supports several CMSes by default and allows you to publish directly to your desired CMS, alongside any formatting, tags, or categories you set.
However, if you have to choose a single solution for your business, then here are a few things to consider:
The volume of content you produce monthly

– A CMP works best for teams that want to produce and distribute

large volumes of content at scale

. For small teams that only produce a minimal amount of content for a handful of digital channels, such as their website and social media channels, a CMS may be a better choice.

The size of your content marketing team

– The larger the size of your team, the more likely it is you'll need a CMP. This is because a CMP makes it easier to

manage large content teams

, especially if you work with freelancers and content marketing agencies.

The level of ROI attribution required

– CMPs provide detailed insight into content marketing analytics, whereas most CMSs provide more general website analytics. For example, Welcome can attribute revenue to specific pieces of content through its

performance measurement solution

. This is important because

82% of marketing leaders

struggle with ROI attribution — if that's true for you, then a CMP is the way to go.
Examples of content marketing platforms
If you're looking for the best content marketing platforms, we've compiled a list of the top five platforms you should consider.
1. Welcome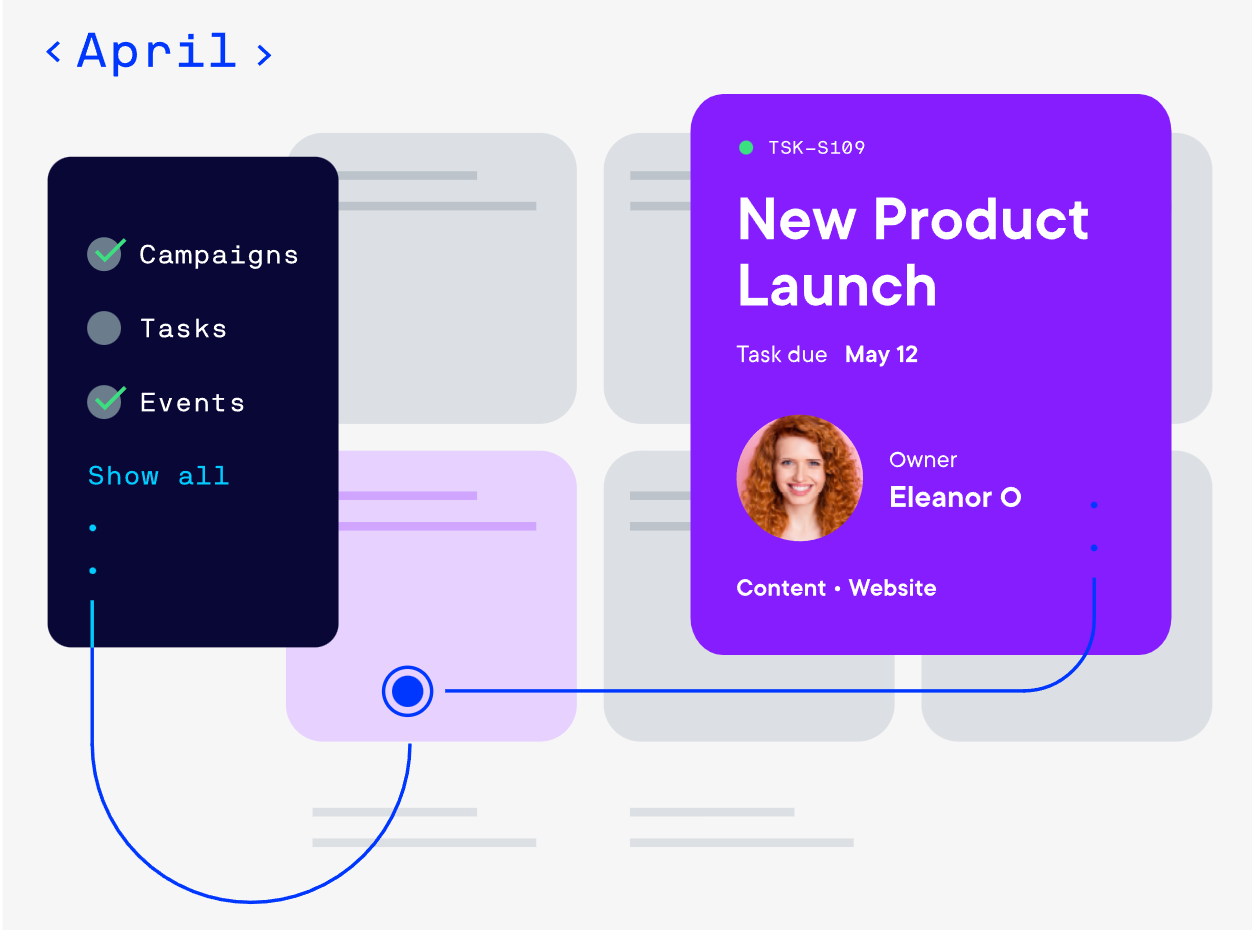 Welcome, an Optimizely company, is a powerful CMP that allows marketing teams to work, plan, execute, and monitor marketing campaigns from a single workspace. It offers important tools and features such as:
Calendars

Content editors

Tasks and workflows

Asset management

Performance analytics
With Welcome, it's also super easy to work with your existing CMS. You can push content directly to your preferred CMS in a variety of formats, including articles, videos, and interactive graphics. Welcome natively integrates with WordPress, Adobe Experience Manager, Drupal, and Sitecore.
2. StoryChief
StoryChief is an editorial software that helps content marketing teams create, manage, and publish multi-channel content. The tool integrates content from various platforms and distributes it across multiple channels.
3. CoSchedule
CoSchedule is a marketing calendar-based tool that can be used to plan, create, and schedule all your content marketing projects. The drag-and-drop calendar makes it easy to visualize your planned editorial pieces and collaborate on projects.
4. Contently
Contently enables users to manage and optimize their organization's content process. It includes tools that are dedicated to content strategy, planning, creation, optimization, and performance evaluation. Contently also offers a network of freelance content creators.
5. ClearVoice
Source: ClearVoice
ClearVoice is a content marketing platform and talent network. Businesses can outsource their content needs to their network of freelancers, and the content creation process is then managed by the ClearVoice team.
Examples of content management systems
Now we'll share four of the best-known content marketing systems.
1. Optimizely
Optimizely CMS provides powerful web content management capabilities, available through an intuitive user interface, allowing both experienced and occasional users to work efficiently with content.
WordPress is the leading content management system in the world, with a whopping 64% of the CMS market share. WordPress is a robust tool that can be used to manage websites of nearly every scale, from simple to complex. WordPress has extensive documentation and, because of its popularity, is supported by most CMPs.
Drupal is an open-source content management system that can be used to build any type of website, from personal blogs to complex government websites. Drupal currently powers 1.9% of all the websites with a known CMS.
Joomla is another open-source CMS that powers 2.5% of all websites with a known CMS. Joomla offers multilingual support out of the box and can be adapted for complex website projects.
Conclusion
And that's a wrap! Now you know the difference between a content marketing platform and a content management system, and you can make the best choice for your business.
To see everything in action, sign up for complimentary access with Optimizely.