November 30
What is the ideal content marketing team structure?
Content marketing is one of the most powerful tools you can use to draw attention to your brand, and a content marketing team can do so many things for you. Content marketing can help you establish authority. It can help you distinguish yourself from your competitors.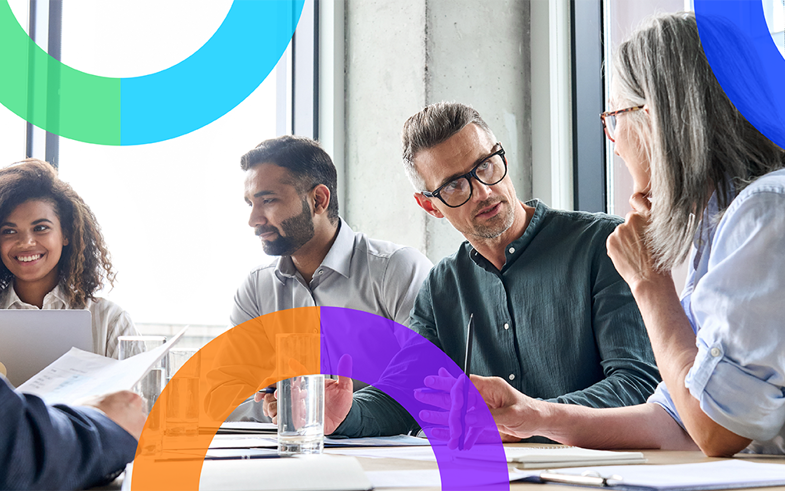 ---
Content marketing is one of the most powerful tools you can use to draw attention to your brand, and a content marketing team can do so many things for you.
Content marketing can help you establish authority.
It can help you distinguish yourself from your competitors.
It can even help you educate your audience, increasing the value they get from interacting with you.
Of course, the only way it can do these things is if you can do it right. Content marketing isn't easy to execute effectively.
If you want to engage in content marketing that works, you'll need a dedicated content marketing team in place with well-defined team roles.
This team will strategically help you develop different types of content depending on your business needs.
Building the right content marketing team means understanding how to organize your team. Let's take a closer look at the ideal content marketing team structure, and how those roles should fit together.
What Is a Content Marketing Team?
Content marketing is the practice of developing content meant to persuade, inform, and promote your product, service, or brand.
That content can include blog posts, social media posts, or other types of digital marketing content. It all depends on your goals and industry.
In essence, your content marketing team should be made up of specialists with various job titles meant to help you develop content that creates awareness of what your organization is trying to build.
Whether you work at an old-school brick-and-mortar shop or a startup, there's value to be had in using a content marketing team. You just need to make sure you build it the right way.
What Is the Ideal Content Marketing Team Structure?
Each person on your content marketing team (or, in the case of larger teams, each department), will have a specific role and skill. Those roles may vary depending on what you need, but some are common to just about any content marketing team, including:
Content manager
Content strategist
SEO specialist
Content marketing writer
Graphic designer
Social media manager
Videographer
Every one of these people has a unique skill set. Some may have more experience than others.
Some may be full-time employees while others could be freelancers or outsourced services.
Whatever the makeup of your team, they'll have to collaborate, aligning all of their work toward your team's common mission.
Here's what each one of these roles will be responsible for on your content marketing team.
Content Manager
The content manager is the leader of your team. They'll direct workflow, track project progress, and lead any interactions with the client.
Your content manager will operate team meetings, setting the agenda for discussion and fielding questions for the team as appropriate.
They will also be responsible for reviewing the work of the other members of the content marketing team, overseeing content creation.
This team member should have a project management background of some kind, understanding how to hit deadlines and keep your project on track.
Working with the content creators, your manager will ensure that your team's work is aligned with the overarching vision your organization or client wants to move in.
From time to time, they may even generate content ideas, since they will possess the know-how to get the most out of your team's content marketing efforts.
Content Strategist
Creating content is great, but to avoid wasted resources, you'll also want to be sure it's created with a specific goal in mind. To do that, you'll need a content marketing strategy – this is where your content strategist comes in.
The strategist on your content marketing team is responsible for developing the following:
Content ideas that match up with what you're trying to accomplish.
Planning the types of content you'll need to publish to be successful.
Including all of this information in a marketing campaign strategy that the entire team can use as a sort of playbook.
Your content strategist should work closely with the content manager and the client to shape the direction of their campaigns, even creating metrics to evaluate success. They should also work with the other content creators to ensure the content they're creating matches up with the campaign goals.
SEO Specialist
One of the biggest advantages of content marketing is that the content developed often helps attract customers looking for your specific solution online.
A search engine optimization (SEO) specialist understands the ins and outs of internet algorithms. For example, they will know which keywords to use in a blog post and how to draw Google's attention to your content.
By performing keyword research, your SEO specialist can help get more eyes on your organization's content by including these words in your content. These keywords help grow your audience and general public awareness of your brand or campaign.
Content Marketing Writer
Basically, a content writer will develop your blog and other web content.
While they should have a solid grasp on technical writing skills – proper spelling, AP Style Guide, grammar, etc. – they should develop content that compels your target audience to take action.
Content writers should be effective storytellers, crafting words that persuade your reader to take a specific step.
Furthermore, the content writer will work closely with the strategist and other specialists to make their copy as effective a promotional tool as possible.
Graphic Designer
Often, your content will need eye-catching images to capture interest or keep the reader from getting bored. Or maybe you need an artistic eye to create logos and branding for your website.
Enter your graphic designer.
On a content marketing team, the graphic designer takes all the components of your brand – your messaging, goals, and overall mission – and uses those to pick out striking visuals that line up with them.
Their job is to visually improve your content so that it stands out amongst competitors, without being distracting. They typically have experience using graphic design software, developing infographics, or editing photography.
Graphic designers are a critical part of any content marketing team, although it is sometimes a part-time or consultant role. After all, it's rare to see any marketing materials that don't feature some sort of visual.
Social Media Manager
Developing social media content also requires planning, forethought, and a specific skillset. Your team's social media manager should know how to craft effective content for platforms like LinkedIn, Twitter, Facebook, or Instagram.
The specific platforms you use will vary depending on the type of social media goals you have. Make sure you select a social media manager with experience using the platforms you need.
Social media managers often work hand-in-hand with strategists to create a social media sub-strategy. In particular, this often includes creating an editorial calendar that plots out social media posts throughout a campaign.
Social media often serves as the bedrock of a digital marketing campaign. As it continues to grow in popularity, a social media manager well-versed in content creation will only become more important for your content marketing team.
Videographer
Video is one of the most popular content formats online today. While written content can be powerful, video is a great way to entertain and educate your audience.
A videographer who understands the finer points of video production is invaluable to your content marketing efforts. You can have your copywriter develop a script, but the videographer can:
Create a storyboard to plan every frame of your video.
Shoot the video itself, suggesting the best angles and locations for optimal results.
Edit the video, trimming it so that it flows tightly.
Suggest ways to post the video to either your website or social media channels to maximize engagement.
There are many elements of your video that other members of your team can assist with, from script to still assets to strategy. But a videographer understands how to perform the technical feats required of a polished, quality final product, an essential piece of your content marketing strategy.
The Size and Scope of Your Content Marketing Team
So how big should your content marketing team be?
Only you can answer that question. In other words, the answer depends on the budget, resources, and scale of your campaign.
Some teams ask one person to fill multiple roles. Others feature teams within teams, dedicating multiple staff members to one function.
The importance of your team's size pales in comparison to the skills of everyone involved. A small group of dedicated, skilled team members beats a large staff without talent every time.
The most important factors to consider in building a content marketing team are communication and cohesion – and that all starts with your content marketing platform.
Why Your Marketing Team Needs These Roles – and Why They Need to Work Together
All of the roles described above are critical to your success. Without them, you'll have a hard time getting the most out of your content marketing efforts.
While all of these roles are important as individual contributors, they also need the ability to communicate with each other as well. Working in silos is never good, as it leads to ineffective content marketing.
Whether your entire team is in-house or comprised of freelancers, working from the same platform will keep all of their efforts standardized and consistent.
Give them a marketing platform that sets them up for success. Give them access to Welcome.
Welcome's software offers solutions for every marketing challenge you can think of. Our suite of content marketing services makes planning and execution easy.
For more on how Welcome can help your content marketing team thrive, reach out for a demo today.