Digital Innovation in Pharma: 3 ways to deliver success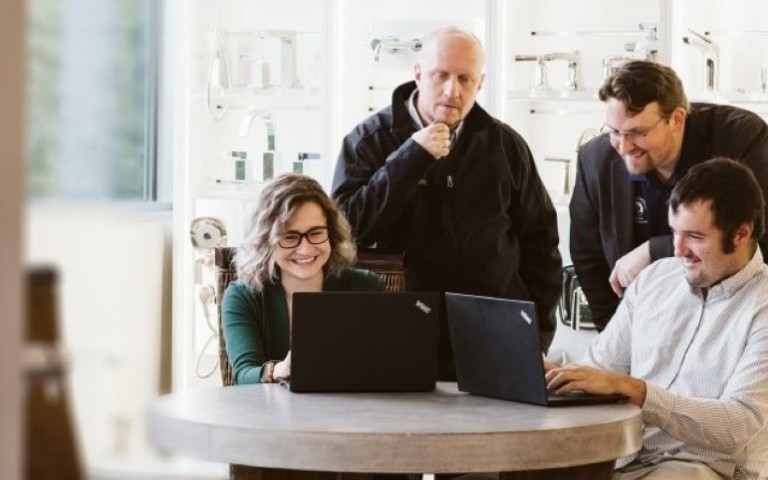 ---
The digital wave can be felt and seen across various industries, and the pharmaceutical industry is no exception. With more and more of people's lives becoming increasingly dependent on digital activity, it's no surprise that consumers expect pharmaceutical companies to get with the program. According to Pharmaceutical Technology, COVID-19 has accelerated the pharma industry's digital transformation by five years. While digital transformation can be daunting, here are three ways for pharma to embrace digital transformation and deliver success.
1. Incorporate new technologies (without starting from scratch)
One of the biggest hurdles matured and established organizations are hesitant to embrace new technology is because they worry about starting from scratch. It makes perfect sense because they have invested their time and resources to establish their processes and technology therefore, the thought of scrapping everything and start again is unappealing. But it doesn't have to be that way.
Legacy processes and platforms aren't necessarily broken, and they actually can be put to greater use. Instead of building outside the current technology system, organizations can connect new technology within their existing systems. In some cases, when organizations want to move to another technology, they can extract certain parts of their current digital system and combine it with the new one. By integrating old systems into new ones, organizations can progress their digital adoption faster and gain better outcomes as the systems in place are familiar.
Organizations can deliver more impactful work through a unified digital ecosystem by using the right up to date technology. Legacy technologies are often disconnected, thus creating silos between one digital function to another. This can significantly affect efficiency and productivity amongst the team. By thinking of the digital ecosystem as a single unit connected to various functions, organizations can empower the team to become more productive in their work.
2. Use data for greater online experience
Consumers are exposed to various digital experiences daily, and their expectations rise as they interact with businesses that offer better online experiences through personalization. Proactive pharma companies will take heed of this trend because the appetite for personalization is growing amongst the consumers.
Personalization is no longer limited to addressing customers by their names in emails. It has evolved to a greater and sophisticated phase where every interaction with brands online feels curated and personalized. And this isn't just a fad, as 80% of companies saw an uplift after implementing personalization. Especially in the age of omnichannel marketing, these personalized experiences shouldn't be limited to the website alone therefore, it's essential to ensure a consistently great digital experience across the different platforms.
Another critical factor in enabling a great and consistent digital experience is data management. Since personalization requires data input, having organized and systematic data management in place is essential. When data is organized around and integrated within the systems and technology, it makes fetching and analyzing data much more manageable. According to McKinsey, organizations tend to avoid using data when it's detached from the existing workflow.
3. Think about the team
Ultimately, behind all the data and technology, it will be people who are running the programs that will be making sure everything is in place. So even if an organization has the best insights and the latest technology, it'll only deter the team from using the tools at maximum capacity if they're too complicated to use. For instance, an outdated legacy platform may not support the team's daily workflow with content management where every edit requires IT support. Using a digital experience platform empowers the team to work faster and deliver more impactful work. So even if a business exists in multi-markets, a scalable and easy-to-use DXP such as Optimizely's DXP, can significantly benefit a company.
Digital transformation is a mammoth ongoing task, and it's always good to cover all the bases before committing to new a technology from an old one. For digital transformation to progress smoothly and quickly, it's best to get the right people with the right expertise involved earlier on. For example, a technology architect can advise the business on the systems already in place that can be extracted and integrated into the new technology. A person with a legal background is also helpful to inspect whether the new technology is certified and has gone through rigorous standards and regulations to ensure that the company's data is safe. Rather than having to pivot in the middle of the development phase, it's just less headache when everything is sorted upfront.
Technology adoption is all about planning and choosing the right tools. While it may seem complex at first, the rewards are immense as the world becomes increasingly digital. Regardless of industries, consumers have a rising expectation of what their digital experience should look like therefore companies should meet their expectations by embracing technology.
To learn how digital transformation can help the pharmaceutical industry connect with consumers online, watch our webinar titled Digital Innovation in Pharma.