5 tips to improve your CMS workflow
Content management systems (CMS) have simplified website operations, enabling employees to do their best work. Let's look at ways to optimize your CMS workflow.
---
"There's a way to do it better—find it." Thomas Edison spoke these words to motivate his team of researchers and inventors to continue to innovate.
We employ them to enhance digital transformation and CMS workflows.
A recent survey cites employee enablement as the top factor for improving customer experiences. Let's look at ways to optimize the CMS workflow to keep employees engaged and customers satisfied.
Key takeaways:
It's vital to understand your web content strategy before using a CMS.
Participants in a CMS workflow typically include the stakeholder, a project manager, writers, graphic designers, editors, approvers, marketing team members and an IT administrator.
You can set up mechanisms to automatically move projects along, such as role-based routing and reminder notifications.
Suggestions for establishing business-level standards and guidelines include file-naming conventions, editorial style and SEO checklists.
Ways to optimize your CMS workflow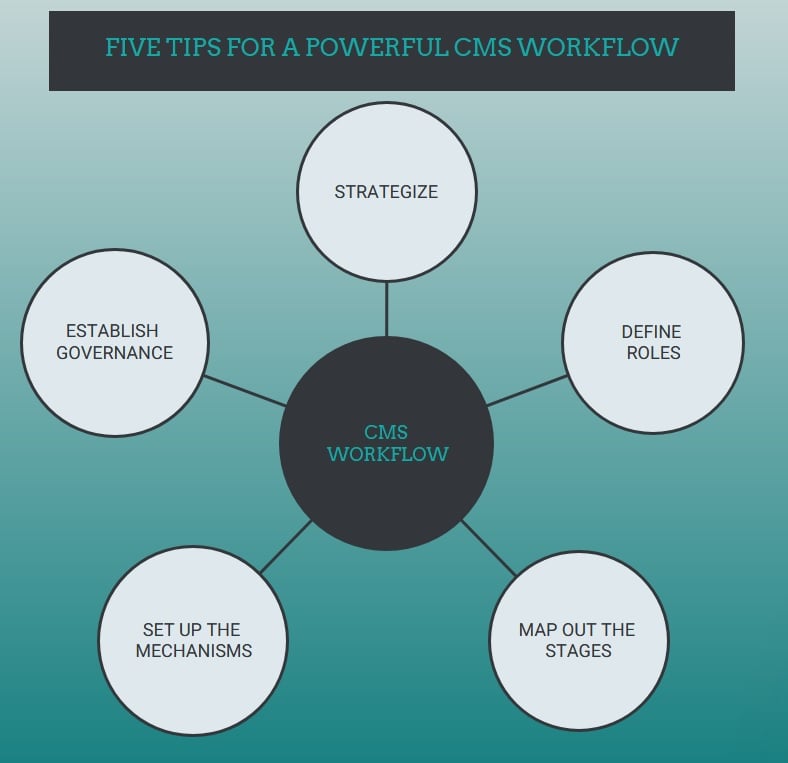 1. Strategize
Always start with a plan.
Understand your content strategy lifecycle by answering the following questions:
What are your business goals?

Who's your target audience?

What is the overall theme for your content?

Which digital platforms will you use to display the content (e.g., website, app, video channel)?

Which types of content will you create (e.g., blog, video, podcast)?

How will you market your content (e.g., social media, TV ads, etc.)?

What are your metrics for success?

How will you maintain the content?
2. Define roles
Select team members involved in the content creation process, approval workflow and management stages. While not a definitive list, participants in a CMS workflow would typically include:
Stakeholder - your requestor, decision maker or content owner.

Project manager - responsible for assigning content tasks, clarifying questions concerning assignments or workflow procedures, reviewing content and reviewing past content.
For example, is it possible to revise a previous article? Can you repurpose, say, a blog into a video? Are you verifying that the project isn't repeating past content?
Writers to create content - depending on the business, writers could be full-time employees or guest writers with expertise in a particular field.

Graphic designers - can supplement the work of writers with infographics, photographs, videos and animations.

UX (user experience) designers - test and enhance the content for the end-user.

Editors - provide quality assurance, ensuring no misspellings, grammatically correct sentences and engaging content.

Approvers - mark the content ready for publication. Approvers can hold a unique role or reside within the function of either a project manager or editor.

Marketing team - promotes your content.

IT administrators - can assist with any technical implementations and issues.
Once you clearly define these roles, you can assign groups and permissions in your CMS. Then, it becomes easy to add or remove individuals from particular functions.
3. Map out your stages
Identify each stage of your project. A natural order of events could be:
request details

writing

editing

UX testing

publication

promotion
However, you create the steps based on the thorough knowledge of your business process.
4. Set up your mechanisms
A benefit of a CMS workflow is that you no longer wonder what stage you're at in content creation or who currently is working on what. You can put these guidelines in place to automatically move the project along:
Utilize CMS workflow templates and calendars to lay out the stages of the project.

Set custom statuses to convey the stages of the project accurately (e.g., Assigned, In Progress, Pending Review, Approved).

Provide a forum for group communication and status changes. Users should receive a notification when there is an update to the task or when an individual adds a comment.

Assign role-based routing to move projects to the next stage automatically.

Have a reassign feature to quickly pass work, if needed, to someone with better availability or expertise.

Create reminder notifications for each step of the project.
For example, if a task goes unassigned for more than one day, an email or text message can alert writers to accept the assignment. Another notification can remind an editor to proofread the content. After publishing the content, the marketing team can be notified to promote it.
Your CMS workflow should track changes within a project.
For example, it should create a timestamp for when a writer completes their assignment and an editor finishes their review.
These mechanisms should reduce the need to track tasks and actions manually. They should also foster open communication and promote efficiency.
5. Establish governance
While the technical methods for creating a CMS workflow are essential, establishing business-level guidelines and criteria is invaluable.
Think of this as an approval process for the CMS or content workflow. It ensures that before publishing content, there's a definitive content approval process that won't disrupt the editorial workflow.
Suggestions for standardization include:
file-naming conventions

editorial style

tone guidelines

proofing checklists

SEO checklists
Continually audit your CMS workflow process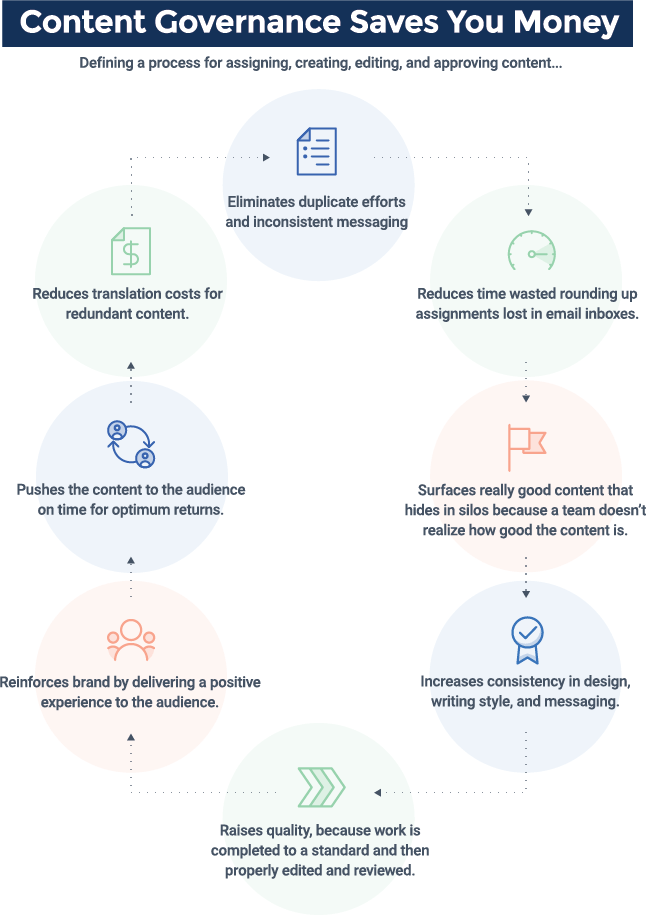 Streamline your CMS workflow with Optimizely
An effective content management system workflow should assist you and your content production team to stay organized, meet your deadlines and efficiently produce high-quality, engaging pieces of content that educates your customers and strengthens your brand.
Our platform has a flexible admin interface that enables writers, content providers and editors to develop appealing user experiences. Businesses can manage their content from a central location with a seamless publishing workflow. Make content available using a headless API, headless CMS or Optimizely's global Content Delivery Network (CDN).
Ready to begin optimizing your CMS workflow? Contact us today!