July 8, 2021
How to Create a Marketing Communications Plan Template
We can all agree on one thing: connecting with your target audience and other key stakeholders requires tact, care, and afterthought (almost like an extreme sport).  This is particularly true in times of crisis. Without an effective communications plan and a proactive crisis communications team, your company could end up with…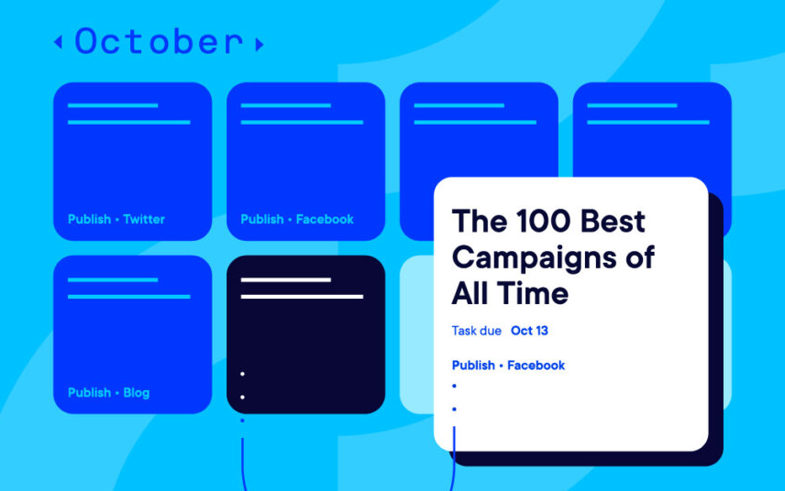 ---
We can all agree on one thing: connecting with your target audience and other key stakeholders requires tact, care, and afterthought (almost like an extreme sport).
This is particularly true in times of crisis. Without an effective communications plan and a proactive crisis communications team, your company could end up with a tattered reputation. Or worse still, go out of business.
Don't believe us? Ask Uber, Pepsi, FIFA, or Chipotle – these brands infamously failed to respond to significant crises, and as a result, incurred huge losses. Not to mention the massive customer exodus that ensued.
You don't want your business to suffer the same fate, do you?
Beyond effective crisis management, a marketing communications plan template helps marketers improve their brand messaging. It's a tried-and-true roadmap that shows you how to craft the right messages for the right people (and isn't that awesome?).
In this blog post, you'll learn:
What a communications plan is.
How to build a communications plan template that cuts it.
How Welcome can solve all your strategic communication puzzles.
Marketing Communications Plan in a Nutshell (and Its Importance)
A communications plan is as much about presenting consistent, day-to-day business messaging as it is about preparing to tackle the unknown.
Let's assume you already have a communications strategy in place for each key audience your business is involved with (think: your prospects, customers, suppliers, investors, sponsors, etc.). What are the limits of that strategy?
How effectively does it handle both internal communication and external communication?
How well does it support measurable communication goals?
Do you have a well-defined process for emergency response?
Do you have a clear roadmap for handling negative feedback and customer complaints?
In what sequence do you communicate with key stakeholders?
Which communication channels do you typically use when connecting with your target audience?
These are tricky questions, and they often lie beyond the scope and functionality of a typical communications strategy. Instead, many companies muddle through their comms response when unexpected events occur, potentially leaving a lot up to chance.
But the stakes are often too high. A good communications plan ensures that you don't botch your response when it matters most. More specifically, it helps you deliver key messages to key audiences to achieve the underlying business objectives and drive a positive brand experience.
A Plan for Crisis And So Much More
It's easy to confuse a communications plan with a crisis communications strategy. So let's establish a working definition of the former:
A communications plan is simply a strategy that allows you to deliver information to appropriate stakeholders. The strategy will flesh out the messages you need to communicate, to whom you're targeting those messages, and on which channels.
In as much as an effective comms plan shields your brand when disaster strikes, it also serves as a springboard when launching new products, pitching new initiatives, and broadcasting an existing (or new) marketing plan. Think of it as the final piece in your marketing strategy jigsaw!
Now that you've learned a thing or two about the importance of a marketing communications plan, let's look at how you can build an effective one.
Building an End-to-End Communications Plan Template: What Does it Take?
A marketing communications plan template doesn't have to be complicated, but it will help to construct a tailored marketing communications plan for anything your business might do or encounter. Here are eight steps you can follow to create one that truly cuts it:
1. Perform an Analysis of Your Current Communications Material
Before setting out to create a communications plan, you first need to decide where it fits into your business objectives.
So, it's crucial you complete an audit of the current state of communications within your company. This will help you pick out any bottlenecks or gaps.
For instance, let's assume you're creating a new communications plan for an upcoming marketing campaign. To build a cutting-edge communications strategy, you'll first need to conduct an audit to identify gaps in your existing marketing campaign.
Once you're done with the audit, you might realize that there's a major gap in the existing marketing campaign — one that you can't afford to sweep under the rug any longer. You'll want to ensure that gap is adequately covered in your new communications plan.
To conduct an audit, follow these five actionable steps:
Determine scope: Which content do you want to target? Will you peruse all the formats in your content marketing stack?
Collect and synthesize your past communications: Gather all digital content from the past year or so and take a closer look at them.
Don't forget to collect team members' and key stakeholders' insights as well: One-on-one interviews, group discussions, or surveys? Choose the method that resonates best with all parties.
Bring external audiences in the loop: Review all your social media channels to determine what the community thinks and knows about you (this step is incredibly important, so don't brush it aside).
Do a SWOT Analysis: Pull all collected data into a SWOT (strengths, weaknesses, opportunities, and threats) analysis of your communications efforts. This allows you to pinpoint which communications practices and methods work well and which don't.
2. Carve Out SMART Communication Goals Based on Results from the Audit
Next up, you'll want to set a few goals based on data from the audit. In other words, what exactly is it that you want to achieve with this communications plan?
Do you, perhaps, want to drive positive social media feedback within a specific timeframe? Or do you simply want to articulate an ongoing project to make sure it's on time, within budget, and aligned with customers' expectations?
Whatever they are, make sure your deliverables are SMART — Specific, Measurable, Achievable, Relevant, and Time-Bound.
If goal-setting is proving to be an uphill task, consider leveraging Welcome's marketing project management software. You can make the most of built-in shared workspaces to drive collaboration across the board, ensuring that every team is aligned with the laid-out communications goals. Talk about killing two birds with one stone!
3. Drill Down on Your Target Audience
The next step is to identify and understand your target audience. Which stakeholders are you trying to reach?
If, for example, the communications plan is for customers, you need to establish their personas. What makes them tick? What is it that keeps them awake at night?
If you're targeting investors, you might want to create an up-to-date KPI document that communicates the marketing plan, your ability to put it into action, and the financial results achieved through its execution.
Alternatively, a press release highlighting your goals is a good idea if you want to write for the media.
The key here is to know your audience on a deeper level. Then you can craft a communications plan template that hits 'em right in the feels.
4. Flesh Out the Contents Of Your Plan
Now to the part you've been waiting for with bated breath (OK, maybe we're exaggerating a little): outlining and writing your marketing communications plan.
Your outline should ideally be in the form of a chart or table. Carefully highlight the key messages you need to put out there, to whom you're targeting those messages, and on which communication channels.
Once you have the outline all figured out, go ahead and structure your communications plan template this way (feel free to copy and paste these sections on your own table of contents):
Plan Purpose and Approach
Include a high-level description of the plan, why it exists, and a general idea of how you will implement the plan on your project. Think of it as the executive summary.
Communication goals and objectives: Define what you want to achieve through strategic communication.
Communication roles: Get all the relevant team members involved. Clearly define all roles and their corresponding communications responsibilities.
Key Challenges: During one of your team meetings, you'll want to create a list of challenges you're facing and those you can foresee. These could be anything from lazy marketers to a demeaning project manager or even a commoditized market.
Situation, Customer, and Competitor Analyses: Start by pinpointing key industry metrics. Follow it up with an overview of the decision-making process your prospects and clients use to buy a product or hire a service like yours. Wind it up with a thorough analysis of your competitors' market positions.
Dos and Don'ts: This is pretty much self-explanatory.
Escalation Roadmap: Include the "greater response team," and more importantly, "the first line of defense" that'd work to combat crises.
Maintaining an Effective Response Plan: Focus on the 'how' here. When fleshing out the details of your communications plan, you need to partner with every stakeholder in your decision-making hierarchy to improve accuracy. While at it, make the most of Welcome's marketing planning software to centralize strategy planning across all teams and align each team member on communications objectives, target audience, key messaging content, and marketing plan.
5. Choose Your Channels (With Precision)
Next, you need to select the communication channels you're going to share your message on. As a marketer, you know there is a huge variety in communications channels, so we'll just cover some common ones:
Podcasts
Podcasts are the most underrated communication channels right now. A whopping 32% of marketers have a desire to learn how to use podcasting, and 23% have plans to increase podcasting. Need we say more?
When utilized correctly, podcasts build trust, cement your brand, and elevate your status to an industry expert.
Email marketing
Nearly nine out of every ten marketers use email marketing to distribute content organically. What's more, the expected ROI is $42 for every $1 you spend on email marketing.
Crazy stats, right?
Tells you the sheer power this communication channel holds.
And in case you didn't know, outreach and newsletters are two of the most common types of email today.
Press releases
Writing a clear, concise press release goes a long way in re-establishing a positive brand image. The credibility that this channel boasts is simply unmatched.
A press release also helps clarify internal conflicts. When your team members are biting each other heads off and you need to call a truce in public, this should be your go-to channel.
Social media
Ah, social media. How long have marketers been using social media to reach out to their target audiences? 50 years? 100 years? 200 years?
Just kidding.
Seriously though, social media packs a punch when it comes to communicating to a key audience.
73% of marketers believe that social media marketing has been "very effective" or "somewhat effective" for their business. You definitely want to jump on this bandwagon!
With that said, you need to choose your social networks based on where your target audience is most active. Facebook leads the way for most active men and women (duh!) and Instagram is a close second, but the age demographics are wildly different.
Want to stay on top of these channels without breaking a sweat? Welcome's marketing project management software has got you covered. Leverage built-in campaign analytics to compare the performance of various social media projects, identify high-performing campaigns and channels, and maximize your invested resources — all at the tap of a finger.
6. Aligning Messages with Channels and Audiences
You have an idea of what a high-level messaging plan looks like. You understand which audiences are most easily reached and via which channels. Now what?
Time to bring these three aspects together in a messaging matrix!
At its core, a messaging matrix pits all key stakeholders against the underlying business objectives, messaging content, communication channel(s), and the timeframe (in that order).
Think of it as a simple chart that summarizes and systemizes your communications plan template so your messaging can better align with your core value proposition, no matter what.
But the job is only halfway done.
Once you've figured out your plan, go ahead and pitch it to the relevant stakeholders. If it's an internal communications strategy, then give each team member the heads up, informing them what'll change when the new plan is rolled out. You can utilize training sessions if needed.
If it's an external communications plan, you need to bring on board a much bigger bench. The hard work obviously lies in convincing investors that this is indeed the communications plan to revamp your marketing campaigns or complement your project plan (fingers crossed!).
As always, you can leverage Welcome's market planning software as a single source of truth to align your team on every detail of your plan. Stakeholders will have the necessary context, collaborations, and insights needed to execute the new marketing communications plan template to perfection!
Two more steps to go… don't snooze just yet (wink wink!).
7. Execute Your Communications Strategy with a Marketing Calendar
It's now time to plan your messaging and campaigns on your calendar.
This will deliver company-wide visibility into what your team members are doing, make it easier to enforce deadlines, and help other key stakeholders understand what needs to be done and when.
Welcome's marketing calendar software was made for this exact purpose. Use it to see, share, and stay sharp. Even more impressive is that it keeps your content, campaigns, and communications plan on track.
8. Measure the Results of Your Plan
John Foster Dulles once famously said: "The measure of success is not whether you have a tough problem to deal with, but whether it is the same problem you had last year."
Even if you didn't ace your communications plan the first time, don't throw in the towel just yet. The key here is to keep improving.
Measure the outcomes of the plan after presenting it to the stakeholders, determine what went wrong, and work towards improving those areas next time.
Live by the words of Foster Dulles. Swear by them. Do whatever it takes to take your plan from level C to elite. You can do this!
Need to Jump-Start Your Communications Plan? Incorporate Welcome Into Your Marketing Stack
Marketing communications planning is more or less an art. An art that has proven to be a constant headache for most marketers — the Achilles heel in their otherwise strong marketing strategies.
Not anymore.
If you've been a victim of poor communications planning, Welcome is here to save your blushes — for good.
Our communications planning toolkit is as robust as it is agile. You can maximize visibility into your workflows, increase control, and accelerate the execution of your communications planning template. All this in a single yet powerful do-it-all platform. Truth be told, modern marketing doesn't get any better than this!
Ready to give it a try? Get started with a free Welcome account today!