November 29
Marketing operations plan template
There's no doubt that marketing plays a crucial role for businesses. In fact, regardless of size, all businesses have some form of marketing strategy in motion. Marketing is a key player because it ultimately helps businesses sell their products or services. In order to increase revenue, marketing must be an essential channel.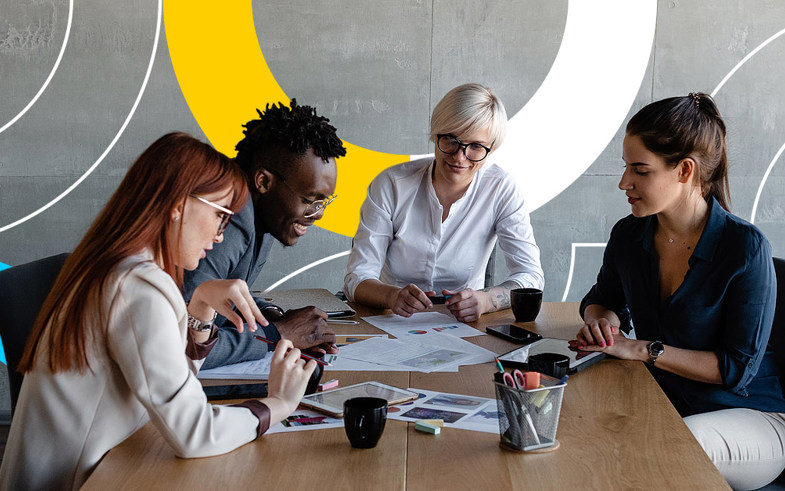 ---
There's no doubt that marketing plays a crucial role for businesses. In fact, regardless of size, all businesses have some form of marketing strategy in motion.
Marketing is a key player because it ultimately helps businesses sell their products or services. In order to increase revenue, marketing must be an essential channel that is consistently implemented to reach that end goal.
For this reason, most businesses designate a marketing team that focuses on strategic planning to amplify marketing efforts. These teams are also responsible for carrying out marketing campaigns with the goal of increasing business visibility and attracting the right customers.
If you have a marketing team, you're certainly off to a good start. But does your business have a marketing operations plan in place?
If you're confused, don't worry. Marketing operations is a relatively new, yet highly beneficial function of a marketing organization.
Most companies employ their marketing teams to develop, implement, and follow the metrics of marketing campaigns. But who's actually overseeing everyone involved in the marketing process?
A marketing operations team serves as overseers of the entire marketing process. Ultimately, these marketing leaders ensure that strategic planning and processes go smoothly.
Regardless of whether you have a large or small marketing team, every business benefits from having marketing operations to strengthen the flow of their digital marketing efforts.
It's important to note that traditional marketing skills such as strategic and creative thinking are still necessary for your marketing operations team members. But, businesses also need to implement other vital components such as technical and analytical skills to create a stronger force.
If you're still uncertain of what marketing operations is and why you need it for your organization, read on.
What is Marketing Operations?
Marketing operations, or marketing ops, is the function of overseeing an organization's marketing program, campaign planning, and annual strategic planning activities. Essentially, it takes a comprehensive look at every function performed by your marketing department.
When it comes to marketing operations, businesses are never just talking about one specific marketing campaign or project. While this may still feel vague, marketing operations can really be broken down into 3 foundational elements:
People
Process
Technology/Data
1. People
Ultimately, the word "marketer" often gets thrown around but its description tells you little about the individual. In marketing operations, team members are decided based on skills and goals — essentially, who is the right person for the job.
Employing team members isn't about finding a jack-of-all-trades. Rather, it's about finding someone who specializes in a particular area and can effectively further the marketing mission.
Let's take a look at some of the people you need on your marketing ops team.
Strategists
A strategist plays a key role in marketing operations management. They are essentially your leader who creates marketing strategies that support business goals.
These individuals need to be able to collect, organize, and interpret data. Your strategist will also tie each marketing activity to revenue as a way to determine its success.
A strategist has a strong understanding of all aspects of marketing operations and ultimately understands the role that every marketing activity plays in the marketing operations strategy.
Project Managers
Your project manager will handle various elements of the marketing campaign. These individuals focus on things like content mapping, determining deadlines, and managing resources related to projects.
In addition to this, project managers need to have optimal organizational skills, communicate effectively, and always be flexible. Not only that, but it's essential that project managers act as quality control for creative campaigns.
This means that managers will need to be aligned with strategists in terms of the intended effects of each campaign.
Content Creators
The next people needed in your marketing operations team are your content creators.
The exact roles your content creators take on will depend on what kind of content your business produces. This team may be made up of writers, designers, animators, videographers, illustrators, and so on.
SEO and Digital Marketing Specialists
SEO specialists ensure continuous web performance using a variety of tools such as Google Analytics and user experience heatmaps.
Digital marketing specialists provide supplemental research to aid creative teams in ensuring that all content is optimized to achieve set marketing goals.
These are just a few key people included in your marketing operations team. You may have a bigger or smaller team depending on your business structure and needs.
2. Process
The process isn't about how to perform effective marketing, rather it determines who will be in charge of doing what. Deciding which team members will perform specific marketing operations roles will lead to more effective results and a better ROI.
Let's take a look at an overview of the role each team member plays.
Strategist
Collaborates with the business management team to align marketing goals and business objectives
Gathers data and creates performance reports for management
Collaborates with marketing specialists to develop buyer personas
Tracks ROI of current marketing efforts
Project Managers
Oversee the execution of marketing campaigns
Monitor spending
Track deliverables and update stakeholders on project statuses
Content Creators
Create engaging marketing copy for landing pages, blog posts, case studies, and other marketing material
Create graphics and custom illustrations to support any written copy
Design visual marketing elements such as banner ads and calls to action
Storyboard and create animations
Build new webpages
SEO and Digital Marketing Specialists
Perform keyword research to optimize marketing efforts
Conduct website and UX audits
Manage email marketing campaigns
Aid in persona development
Create data-driven briefs to support content creation
3. Technology/Data
The technology your business implements has the potential to improve the efficiency of your workflow and scale up your marketing operations. But above all, technology functions as a way to enable your key people in the marketing operations to gather vital data and enhance processes.
There are various technologies that will help you improve your marketing operations team. We'll talk a little later about how you can find and implement the best technologies for your team.
Marketing Operations Plan Template
If you want to increase your marketing ROI, then developing a marketing operations plan template is key. The good news is, we've created a ready-to-use template that will serve as a roadmap for you as you begin to develop your marketing ops plan.
With that said, your marketing ops team must have an extensive and diverse skill set as they will be dealing with a variety of things pertaining to the marketing process.
When done effectively, all of these roles will work cohesively to improve marketing performance, drive qualified leads, and improve the customer experience.
Step 1: Identify Your Purpose with Marketing Operations
First and foremost, it's important that businesses identify their purpose in marketing operations. Without clearly defining this portion of your plan, you won't be able to measure success effectively.
This means that it's time to take a hard look at the gaps your business needs to fill and to question how marketing operations can help.
For instance, do you need to solve the needs of your customers? What about your stakeholders?
Once you understand your purpose, use it as your foundation to help shape your marketing operations plan moving forward. If you're stuck on understanding the purpose, you can simply begin by creating a positioning statement.
A positioning statement will essentially provide a clear description of how your marketing ops team will function to satisfy a particular need. It may say something like, "Marketing operations will work cohesively to improve marketing activities, increase ROI, and create workflows that improve efficiency and directly impact the bottom line".
Step 2: Determine What Resources You Will Need
The next step in your marketing ops plan is to determine all of the resources you'll need. These will be instrumental in every aspect of your marketing process. In fact, resources are necessary for effective planning, workflows, campaign measurement, and collaboration.
If you've done a good job with your positioning statement, you should have a good understanding of what you'll require to meet the needs of your marketing operations team.
It's important to note that this step may take a little longer as there are many key players involved. Here are a few resources to think about that will get you going.
Analytics and Reporting
Reporting tools
Data visualization software
Guidelines
Tech Stack Management
Compliance
Outlines and templates
A review and approval platform
Project Management
Communication tools
Templates and outlines
Step 3: Outline the KPIs for Your Marketing Ops
Most companies have many types of metrics, but KPIs are considered key to the success of the company.
For some businesses, the difference between KPIs and metrics can feel a bit vague. Here's a closer look at how these two important marketing terms differ.
KPIs are essentially the key targets businesses should track to make the most impact on their strategic business outcomes. These key targets support the business strategy and help your teams focus on what's most important.
In contrast, metrics measure the success of everyday business activities, which support your KPIs. Metrics support your outcome, but they are not the most critical measure.
Now that you understand this distinction, it's time to outline the KPIs for your business. Organize a list of the most important targets that you've determined for your company.
You will need to track these key targets consistently and ensure that you consider a wide range. This will help you to visualize a clear picture of the performance of your marketing ops team in various areas.
Here are a few marketing KPIs you can rely on to measure the efficiency of your marketing operations.
Marketing ROI
Cost per lead
Revenue per employee
Marketing output
Step 4: Implement Necessary Software and Tools
Are you still keeping up? Good.
If you've made it to this step, most of your planning and groundwork should be in place. Now, it's time to begin implementing all of the necessary software and tools needed to aid in the marketing process.
This step can be pretty straightforward for some businesses and relatively lengthy and complex for others. This will ultimately depend on the size of your tech stack.
But wait, what's a tech stack? We're glad you asked.
A marketing tech stack is a group of technologies that marketers use to conduct and improve their marketing activities. In general, marketing technology is used to make processes more seamless and measure the impact of all your marketing efforts, along with driving more efficient spending.
Your marketing tech stack has the potential to make or break your company. This is probably why 60% of marketing leaders indicated in 2020 that they were anticipating to increase their martech spend in the next 12 months (Welcome & Sirkin Research, 2020).
As such, businesses must spend a considerable amount of time deciding which technologies make the most sense for their marketing operations.
The tools and technologies implemented will be unique to your business needs. But just in case you need some help brainstorming, we're going to share some tools and technologies that can't hurt to have in your tech stack.
Grammarly
Mailchimp
Google Adwords
Google Analytics
Step 5: Routinely Assess Marketing Ops Performance
The last vital step in the marketing operations process is to perform regular assessments. During this step, your marketing ops should be up and running, which means it's time to start evaluating its effectiveness.
Without checking back in on your marketing operations process, you run the risk of your marketing activities falling apart. This doesn't just minimize your marketing efforts — your business will have a hard time reaching its target goals, and won't see an impactful ROI.
So how can businesses properly assess the success of their marketing operations? The answer is by using your KPIs.
Your KPIs should function as a gauge for businesses to understand just how well their marketing operations plan is working. If your marketing operations plan is helping you meet your KPI goals, you're on the right track.
If not, you will need to reevaluate some aspects of your plan.
Keep in mind that you shouldn't just do one initial assessment of your marketing ops performance. It will be important to schedule regular review sessions where you can monitor your marketing operations, make changes as needed, drive further value, and watch your business grow over the years.
Are you looking for an all-in-one martech solution to unify people, tech, and data? Give Welcome a try. Get started with a free Welcome account today!