May 19, 2021
What is a Gantt Chart?
Use Gantt charts to streamline any marketing project. Plan your next successful marketing campaign today for free.
---
If you're a project manager, you understand how critical your marketing department is to your success. Your team must launch influential branded campaigns to persuade your customers to buy your products.
Your team's job involves careful research, planning, and employees working in concert. For instance, it might require creating well-timed social media campaigns, thoughtful product designs, and engaging blog posts.
All these steps work together to boost your business website traffic and increase potential leads. But marketing isn't always as simple as it sounds; marshaling your human capital and other resources takes strategy and finesse.
Gantt charts are an artful way for your team to map every step of the planning process from start to finish. In this article, you'll learn how Gantt charts can take your marketing plan to the next level.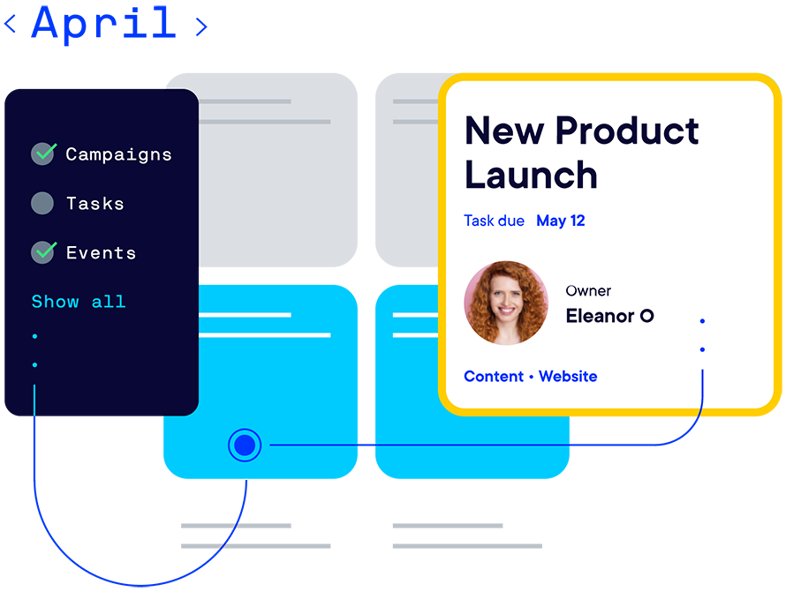 What is a Gantt Chart?
Gantt charts are visual bar charts that marketing teams can use to map their goals.
This project management tool provides an elegant, organized way to display your team's daily activities and assigned tasks. These charts help your workers stay focused and on schedule when you're completing a critical project with strict deadlines.
Although these charts have gained popularity in modern times, they aren't new at all. Polish engineer Karol Adamiecki designed the earliest version of the Gantt chart in the mid-1890s as a tool to ensure the team at his steelworks company ran smoothly.
However, these charts didn't gain a wider following until 15 years later when an American engineer, Henry Gantt, developed his own version of a chart similar to Adamiecki's. The popularity of Gantt's chart exploded and his name became forever associated with it.
Today, business managers and marketing teams use Gantt charts to track the progress of projects, ensuring they stay on schedule. Modern Gantt charts show additional data about every phase of an advertising campaign, and also how tasks interconnect and depend on different employees.
The Structure of a Gantt Chart
The Gantt chart has a specific structure that makes managing projects easy and visual. It follows this format:
Horizontal Axis — This area represents time. It should cover the entire lifespan of the project and can be broken into increments of days, weeks, or months.
Vertical Axis —These represent the different tasks that your team needs to complete for the project.
Horizontal Bars — These represent the time span of each task. For example, if you are building a landing page, the first task would be to conduct competitor research or sketch a design.
Who Can Use a Gantt Chart?
Anyone can use Gantt Charts to visualize their resources, workflow, projects, and due dates. These charts are effective for the following people in your marketing department or company:
CEOs and CTOs
General Managers
Marketing and Operations Managers
Project Managers
Scheduling Managers
Team Leaders
Social Media Managers
What Should You Include in a Gantt Chart?
Gantt charts offer marketing departments a stable way to track and manage the progress of your project, making them perfect for marketing project management.
They can also help you build a marketing campaign roadmap to execute your marketing plan or track your timelines and deliverables. They use bars (or vertical lines) as visual representations of different tasks.
Critically, each chart should include your resources, task dependencies, and milestones:
Resources — Your project managers should have an idea of the resources required to complete an overview of tasks represented in your Gantt chart. A chart will help to streamline your resources and distribution to complete your tasks on time.
Milestones — Your marketing team will establish targets at the beginning of any project. Including them in your Gantt chart will help you identify steps to complete your project successfully.
Tasks — Every marketing department has large, complex projects that include a set of smaller, separate tasks. Gantt Charts allow you to visualize simpler tasks that must be completed in order to finish larger projects.
Dependencies — Your tasks may be related to one another. For instance, a social media manager may not be able to share a post on their channel unless your writer meets their milestone by a specified date or deadline. You should flag all dependencies in your Gantt chart.
Marketing teams use Gantt charts and Gantt chart templates to plan any sized projects. They can also help you track team workload, deadlines, and timelines in a chart form.
Using a Gantt Chart to Boost Your Marketing Project Management
Now that you know how Gantt charts work and how they can be used to effectively manage any marketing project, let's look at how to build one.
On the chart's left side, enter a task and the start date of your project. The left side will include an activities list, and the timeline will have a time scale (you choose the increments).
Each bar on your chart represents a different activity. The position and length of this bar indicate the project's start date, end date, and duration.
Once your chart is built, it should include the following:
Your project's start date
The tasks your team is currently working on and tasks they'll need to complete the project
The start and finish dates of each project and task
The length of time it will take to complete each task
How your tasks group together, link, and overlap
Your project timeline and deadline
Gantt charts can provide your marketing department with other real-time information to help manage your project plan. They include:
Sub-tasks each team member is responsible for
Tasks that are dependent on one another
The progress your team has made on each task
Most people use Excel to design their Gantt diagrams. You can also use tools like a project management platform, which the industry refers to as Gantt chart software, to create your charts.
When used correctly, your Gantt chart will help you manage projects of all sizes. You can use them to predict upcoming risks regarding your deadlines and milestones and also display the percentages of performed tasks.
Using a Gantt chart, you'll understand the timeline of your marketing campaign and the next steps you should take to ensure it's successful. It will also help you remember critical tasks, deadlines, and your crew's assignments.
The Advantages Gantt Charts Provide to Marketing Departments
In this section, we'll take a look at some advantages that Gantt charts lend to the marketing project management process.
When marketing departments promote an event or business, most marketers run several campaigns at once to promote them successfully. These campaigns include:
Content marketing
Digital and online marketing campaigns
Door-to-door marketing
Email marketing
Event marketing
Offline marketing
Outbound and inbound marketing
Mobile marketing
Social media marketing
According to a PwC study, 97 percent of organizations believe project management is essential to their organization's performance and company's success. Most marketers believe that project management is key to helping them complete a project successfully.
According to Hive, almost 77 percent of the highest-performing projects use project management software. Electronic Gantt charts help marketers track their progress to ensure they're meeting their objectives. Even if you adjust your project's priorities or goals, these charts will help your team stay on task.
When used properly, Gantt charts can help your organization:
Spot incomplete tasks
Identify tasks that are near completion
Predict risks and assign resources to address these challenges
Enable you to reassign human resources to handle problems and bottlenecks
Chart your progress against time s you can reach your goals on schedule
Manage Your Human Resources with Gantt Charts
Do you know how many team members you can spare for an inbound marketing campaign? Which writers can you assign to each project?
Can your designer create the right templates for your campaign? Does your IT department have time to create a landing page for your clients to visit?
These concerns are probably familiar if you're a team leader. Gantt charts can solve these issues by helping marketing teams to martial human capital and other resources to complete each project.
Tasks that are taking too long may benefit from a few extra bodies or perhaps some work needs to be farmed out to contractors. These charts help you track how your project progresses, and how each team uses its resources so that you can identify unused resources and allocate them to other tasks or projects.
Generate Tasks and Track Dependencies with Gantt Charts
If you run a marketing department, you understand how your marketing plan will help you complete your campaign goal. Your Gantt chart will help your marketing team to organize and streamline critical tasks and projects by creating a visual marketing plan.
They can help you identify your available resources and the assignments your team must finish for each job. For instance, you can assign the following tasks to a content management strategist, social media manager, and graphic designer, laid out in a Gantt chart for clear communication and collaboration:
Create branded blog posts for your website.
Generate branded blog posts for your website.
Provide digital flyers, pictures, and other assets for social media posts.
Identify backlinks to your main website.
Build a landing page for your latest campaign.
Write product descriptions
Once you've identified necessary tasks, you can assign start dates and deadlines. Additionally, you can track the progress that each employee has made to finish these tasks all on your Gantt chart.
Communicate Better with your Team Members
A Gantt chart offers an effective way to communicate effectively with your team. These charts help your staff understand the milestones you've set. It will allow every team member to identify unfinished tasks and how far they must go to complete assignments.
Gantt charts engage the entire staff throughout the process of your project. They can create a sense of teamwork as everyone works on individual tasks to a common goal.
They show how much progress teammates have made on their tasks and what they need to complete to finish their project.
It eliminates confusion about deadlines. It will allow your workers to know when projects start and finish, and when dependent tasks are ready to move on to the next stage. Your employees will also know how long each task should last.
Generate Accurate Marketing Reports Using Gantt Charts
Your charts can also help your teams generate accurate and timely reports. You won't have to remember what's been assigned to whom or whether tasks have been completed because your Gantt chart displays and organizes that information for you.
When your team can easily access project goals, it helps them to communicate better with other team members about your marketing department's milestones. It prevents confusion with upcoming deadlines, dependencies, and the time allotted for each task.
Communicate Better with Your Stakeholders
Gantt charts allow your team to provide a clear presentation to your clients about the steps you took to complete their project. The visual format makes this marketing tool easy to understand the different facets of the campaign and the resources it required.
Your client, C-Suite, or stakeholders will see the process from start to finish, which team members worked on their project, and what other tools or campaigns you used to meet their goals.
Software Platforms for Gantt Chart Creation
One of the best tools you can use to create a Gantt chart for your department is a premium software platform. Welcome's Marketing Project Management Software can streamline your team's Gantt Chart creation. Your marketing department can track tasks using tools such as:
Shared Campaign Briefs
Project Workspaces
Collaborative Content Editors
We also want to ensure that you have the tools that your team needs to collaborate and ensure your branded message succeeds. Your team can conduct:
Agency Collaborations
Content Templates
Brand and Legal Compliance Reviews
Welcome has earned 4.6 stars out of five by marketing professionals. In addition to our premium tools, there are additional platforms you can use:
Google Charts — If you need to share and collaborate with your colleagues, you can create your chart in Google Documents and save it to your drive. Google also offers the option of "Stacked chart" options in their chart editors.
Microsoft Project — Microsoft has the option of using a stacked bar feature. It's a great option to create an easy Gantt Chart. If you need to make constant updates to your Gantt Chart, consider using PowerPoint or Excel.
Use Gantt Charts to Organize Your Marketing Projects
Still unsure of how or when to use Gantt charts? Your marketing team can use them to track and complete a variety of projects. These include:
Project Planning and Designs
Marketing teams use product designs to address the early phases of a project. They include campaign and product features, success criteria, and major deliverables.
Your project designers can use a Gantt chart to help plan your campaign launches. Each plan should achieve your company's desired goals. Additionally, they can brainstorm and share prototypes of posters, pamphlets, and other assets.
Product Launches
Marketing teams use product launches to help promote a new product and bring it to market. These include planning ads, packaging, and the design of your products.
Your marketing team can use Gantt charts to manage your product launch. They will include budget tracking, project schedule, research, roles, and risks. Your team can even examine the dependencies of each product and give projects to specific people or teams.
Editorial Calendar
Publishers, bloggers, and businesses use editorial calendars to control the content across their media platforms. You can use your content due dates and publication dates as your milestones.
Additionally, your marketing department can use different subgroups to track different phases of your content creation, tasks, and charts.
Event Planning
Marketers use this strategy to create programs that communicate the message that your client wants to project. Gantt charts allow your team to track the planning for upcoming events from start to finish.
It also allows your employees to identify which jobs they need to finish before, during, and after an event or event campaign.
Social Media Campaigns
You can use a Gantt chart to organize which post you'll share on each of your different channels. This strategy also can help you map out concurrent campaigns and resources you'll need for each.
You can track the engagement you've generated for previously published posts. Additionally, your team can use your Gantt chart's information to learn which times of day and post had the highest interaction.
Gantt charts are a tried and true tool used across all sorts of industries, especially in marketing. Find out how Welcome's marketing orchestration platform can streamline your workflow from a single dashboard. Sign up for a free account to get started today.