EPG Health adopts a digital-publishing mindset
Capturing the attention of time-poor health professions with critical, in-depth medical coverage is an uphill battle EPG Health are winning.
Building a fully immersive digital ecosystem in an infant digital marketplace
''It's about increasing a healthcare professional's awareness and understanding of a certain disease or treatment approach…to do that effectively in an information saturated, crowded marketplace, we need to make content discoverable, and easy to consume in a timely fashion'', comments Ian Daley, Chief Digital Officer, EPG Health, on the service he and his team provide.
EPG Health is a leading global publisher of medical information, delivering a trusted learning environment for healthcare professionals. Providing convenient access to critical industry content needed to support better treatment decisions and patient outcomes, they reach of over a million healthcare professionals globally.
The organisation supports two customer groups: the healthcare professionals that use their website to access clinical information, and the pharmaceutical companies that fund educational content on the platform.
The brunt of the information on the website revolves around raising awareness about diseases, treatment pathways, and other related drugs. Their aim is to increase each individual healthcare professional's awareness and understanding of a certain disease within their given specialty – for example, stroke prevention.
Creating an indulgent content strategy for a time-poor audience
Ian mentions, the key to successfully promoting their content through Episerver is about delivering relevance. By driving the right audience to the most important educational material, and measuring their engagement, EPG Health are able to confidently provide insight to clients regarding how well their key messages have landed amongst their target audience, and the likelihood of resultant behaviour change.
Content consumers cover a range of healthcare professionals all of whom can register with their chosen speciality as well as identify areas of interest, so they are kept abreast of industry news. Visitors include:
Specialists
General Medicine Professionals
GPs
Nurses
Students
Ian comments, ''given we know, through our extensive market research, that Healthcare Professionals are generally 'time-poor', and there is an ocean of content to swim-through, we need to do the hard-work for them, by quickly presenting them with updates in their areas of interest….for example, if a Cardiologist is on Medthority[an EPG Health website], the platform will intuitively promote content 'suggestions within their Specialty area', or 'your peers are looking at' style recommendations".
Ian goes on to mention that, given the competition for time in a Healthcare Professional's busy day, he and his team are constantly analysing what really matters to foster engagement, which means adopting a 'digital publishing mindset', within a typically traditional academic space.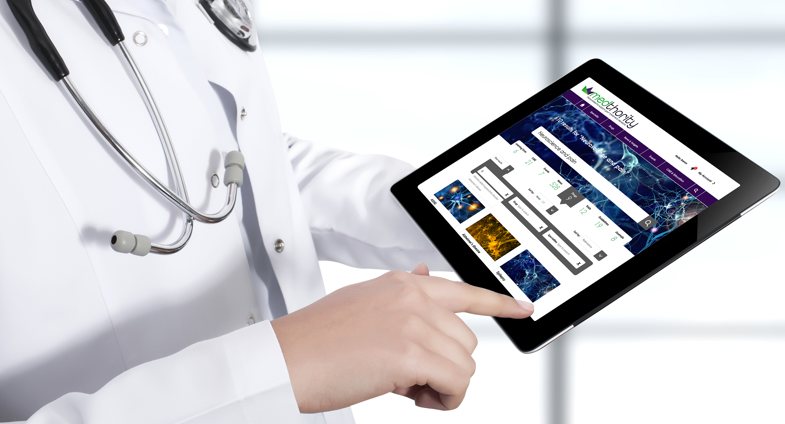 Influencing and changing a health care professional's way of working
EPG Health launched and are continuing to iterate on the Episerver Customer-Centric Digital Experience Platform utilizing; Optimizely Content Cloud with Search & Navigation, Marketing Automation and Content Recommendations. Using registered profiles through Optimizely Visitor Intelligence helps learn what visitors are doing on the site and provides clever suggestions of relevant content based upon their profile and/or their behavior. Ian describes EPG Health's digital approach as ''effectively taking the Amazon model for product merchandise recommendations and applying it to content for doctors''.
Optimilzey Content Recommendations helps signpost related content and has meant a larger proportion visitors are travelling on rich content journeys, making their way into key messages. This has resulted in a visitor bounce of less than 2%.
Optimizely Content Cloud, built on Microsoft Azure is fully scalable. Due to the COVID-19 pandemic, the majority of Pharma industry congresses have been replaced with online educational messaging, with Medthority perfectly placed to handle the additional interest traffic. Visitors have generated 3x as many site page views compared with the same period in 2019.
''We majored on the importance of customer centric design, & building meaningful user journeys''
Prior to selecting Optimizely as a technology partner and ultimately leveraging the in-house Expert Services team, EPG Health went to the market and asked their pharma partners why they placed business with them. This audit provided first-hand customer insight. But they did not stop there. EPG Health also polled their Healthcare Professional audience to understand what part of their working day they fulfiled. As a result, they got a really good sense of what the market needed, or was currently missing.
They found that ultimately, it came down to the fact that pharma found it hard to get their messaging out there, and then didn't know how to track the efficacy of it, or the ROI. Healthcare professionals said, ''We're really busy, and simply need to access the material that's important to us, in a easy to digest format".
Personalized journey's that place EPG Health ahead of the curve
The ability to deliver personalised updates, sending people on tailored content journeys, including sequencing of key messages, are all intrinsically linked to generating good engagement. Michelle Kelly, Marketing Director at EPG Health, mentions that notoriously, the pharma sector is behind the curve when it comes to digital, and often struggle to keep pace. ''This was an opportunity for us to really stand out'', she states.
Dimensions of engagement
Optimizely Marketing Automation enables Healthcare Professionals to stay informed based on both their stated registered profile, and their onsite consumption behaviour. The ability to easily generate Specialty area round-ups, relevant Newsletters, and promote new educational destinations; is key to developing a habitual, membership economy amongst our users.
And on Optimizely itself, EPG Health comment, ''we selected Optimizely based on their forward thinking roadmap, and stand-out focus on personalisation features leveraging AI. We've only just started to scratch the surface on what can be achieved using these powerful recommendation services, and intelligent search features, to deliver a quality interaction''.