What is a digital experience platform?
A digital experience platform (DXP) is a software platform that manages digital experience across a broad range of digital touchpoints. Some of the functionality found in a DXP include content management, ecommerce, personalization, and experimentation.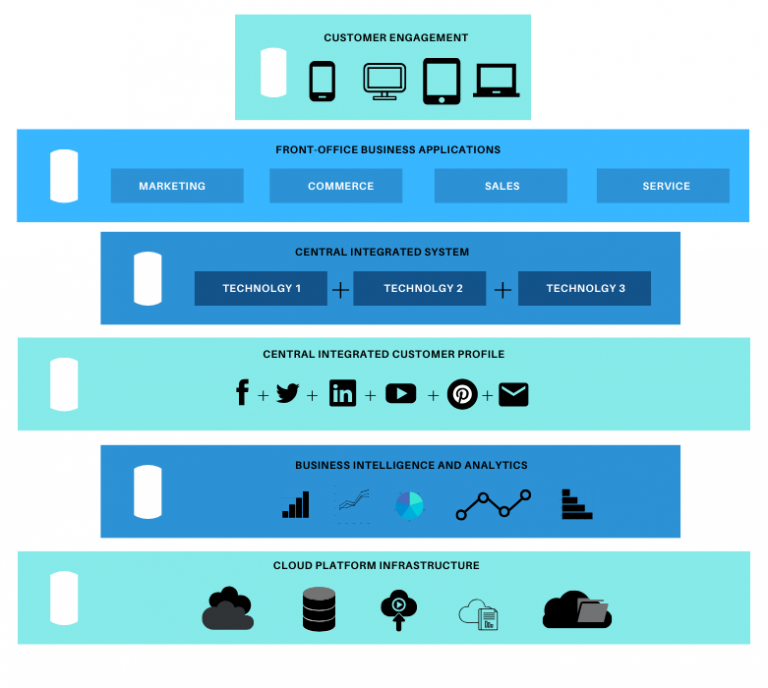 Digital experience platform definition
Gartner defines a DXP as an "integrated set of core technologies that support the composition, management, delivery and optimization of contextualized digital experiences."
Forrester further defines digital experience platforms as software that provides the foundation for flexible, agnostic core services to maximize scale, quality and insights across channels and systems while delivering context-specific tooling for practitioners to build, manage and optimize digital journeys on "owned" channels and orchestrate third-party experiences.
Digital experience platforms are an evolution of traditional web content management systems to better map to the entire digital customer lifecycle, from content creation to deployment to measurement and iteration. DXPs handle much of the data management and user experience so that digital marketers can focus on customer needs and engagement.
In short, DXPs provide a centralized way to help build, manage and optimize digital journeys. In an increasingly digital world, it's important to have a central experience management platform to manage the digital customer experiences across all digital touchpoints. DXPs provide marketers with a powerful technology stack for helping to create the best digital experiences for their customers.
Digital experience platform components
The field of DXPs is still nascent, but there are a number of features that are common to most DXPs:
Content management - Content is at the core of digital experiences, so most DXPs have some content management system (CMS) capabilities. A DXP helps serve as a central repository for an organization's content, and that content can be presented across omnichannel touchpoints, whether that's on the website, blog, mobile app, social media post or event IOT device.
Asset management - A related functionality to content management is digital asset management. As with content (which is typically in text form), DXPs serve as the central repository for digital assets such as images, videos, and audio files which can then be used in different contexts. DXPs utilize cloud infrastructure to provide scalability to match the needs of the user.
Commerce - Commerce is at the heart of business, and DXPs enable companies to easily transact on the web by providing ecommerce functionality. Digital experience platforms handle all the backend work needed to setup a digital storefront, accept payments, and track orders.
Customer relationship management - Closely related to commerce is customer relationship management (CRM) capabilities. A DXP will keep track of customer data in order to build longterm customer relationships as well as create a personalized experience for every customer.
Insights, analytics & intelligence - It is is not sufficient for a DXP to simply host content, modern DXPs also provide analytics and insight into user behavior workflows. Through technologies such as big data analysis and content intelligence, digital experience platforms can provide real-time insights into user behavior and make pro-active recommendations for optimizing the experience.
Personalization & automation - Another related capability of DXPs is personalization. Because the DXP is the central store of user data, DXPs have the capability to analyze behavioral data and first party data to create personalized experiences for each user. Many of these personalized experiences can be automated, helping marketers scale their experiences.
Experimentation - The most advanced digital experience platforms incorporate digital experimentation functionality which allows users to seamlessly run A/B tests on their content and experiences in order optimize experiences and reduce the risk of new changes, using statistical analysis to make data driven decisions.
APIs and integrations - Of course, no single software platform can do it all-- at least not yet. The top DXPs provide flexible APIs and an open architecture so that they can easily be integrated with best-of-breed solutions for different pieces of the DXP technology stack in order to build out the most complete digital experience platform that suits their needs.
What to consider when choosing a DXP
1. Map your requirements to your goals
It's easy to get caught up in all the bells and whistles and the flashiest new features. But your company's requirements are unique. Ensure that the features and functionality you have on your wish-list haven't landed on the list because they are the hottest new trend or buzzword. Instead, set realistic goals and understand how certain technology requirements will help you achieve those.
It's helpful to separate your requirements out in phases as well. What capabilities are immediately needed, and what are nice-to-have down the line?
2. Validate with the experts
There are organizations that take it upon themselves to analyze leading technology vendors, so you don't have to. Analysts like Gartner and Forrester, for example, consistently release rankings that include top players in digital experience, commerce, CMS and other areas. All of which you should consider while doing your research.
If you have a seat with any of the analysts, you can ask them how Optimizely might suit your needs:
Gartner Magic Quadrant for Digital Experience Platforms 2020 – Optimizely named a Leader with advanced capabilities for content management, personalization and analytics.
Forrester Total Economic Impact™ of Optimizely 2020 – Forrester concludes that Optimizely can provide customers a 299% return on investment over three years with a break-even point of less than six months.
3. Ask for plenty of references
It's obvious that you'll want to see examples of success. But you can get extremely granular when you ask for references and case studies. Go beyond a simple example of success and ask your chosen vendors for a look-a-like case study. Ask them to show you a company that has seen success in your industry, with your use case, or serving a similar kind of customer. Your chosen technology provider should be able to speak your language and share cases that are relevant to you.
4. Evaluate vendor ecosystems
It is absolutely essential to keep vendors' partner ecosystems and integration capabilities top of mind when evaluating options. The reality is that software needs to be able to speak to other software – it should not operate in silos.
As you approach your technology decision, be sure to understand the community, documentation and integration partners that exist around a particular software. Optimizely, for example, has a robust app marketplace offering integrations, applications and pre-built connectors.
5. Don't compromise
In personal relationships, you should never compromise. The same is true for choosing a technology vendor. When you start feeling like you will have to compromise in areas of speed, quality, cost or support, consider going in a different direction. For example, instead of choosing between speed and quality, choose a vendor that gives you the best of both worlds.
How is a DXP different from a WEM
Over the years, the role of content in the digital experience has changed, so it makes sense that the content systems have evolved to meet changing needs. We've gone from CMS to WEM and now, to DXP.
You can't deliver a seamless and relevant experience across touchpoints without embedding an understanding of the customer into the heart of the DXP. That reorientation is the big shift from WEM to DXP.
It's worth mentioning that some headless CMS vendors will tout that they support multi-channel delivery, just as a DXP does. However, headless content management systems have no understanding of the customer and are therefore unable to provide a contextually-relevant experience the way a DXP can.
The transition from CMS to DXP represents significant changes in channels (from one channel to multi-channel) and content management (from content-centric to customer-centric).
Digital experience platform examples
Examples of digital experience platforms (according to Gartner's Magic Quadrant) include:
Optimizely CMS
Acquia
Sitecore
Salesforce
Bloomreach
Oracle
SAP
Liferay
OpenText
Adobe Experience Manager
Do I need a digital experience platform?
When you focus on digital experience, you win. This is especially true in uncertain times. Take the last recession, for example. McKinsey & Company and Forrester conducted research about companies that focused on digital experiences from 2007-2009. They found that those who invested in customer experiences outperformed the laggards by three times.
Optimizely examined cloud consumption between March and May 2019 compared to the same timeframe in 2020. Customers using our cloud infrastructure, who have been with Optimizely for more than one year, have seen the positive impact from investing in digital. From 2019 to 2020, average engagement was up by 70% and average conversions were up by 43%.
It's clear that focusing on customer experience is a winning strategy in times of uncertainty. Investing in digital is absolutely crucial. It's not even a question anymore. How and where you invest, though, is definitely up for discussion. Not every company necessarily needs a DXP. For some, building a simple ecommerce store or a catalog site is enough of a feat.
Remember, you don't have to invest in everything right away. For example, if you're entirely new to the digital experience space, start with what's easy and fast to implement – like a homepage, product pages, search and perhaps even a checkout experience. You can build on features as you go.
But if you want a way to connect the entire digital journey, personalize experiences and ultimately leverage digital as the main arm of your business, you may be ready for a DXP.