What is a marketing technology stack?
A marketing technology stack is a grouping of technologies that marketers leverage to conduct and improve their marketing activities. Often, the focus of marketing technologies (aka "martech") is to make difficult processes easier, and to measure the impact of marketing activities and drive more efficient spending.
Why marketers care about their marketing technology stack
The marketing technology landscape is rapidly evolving, with hundreds of different software technologies crowding an ever-increasing number of categories. In a recent survey of CMOs, 27% were concerned with staying ahead and taking advantage of these digital technology trends (Source: Korn Ferry).
With so many choices, it's essential for marketers to have a clear understanding of which technologies are most fundamental to their business goals and to understand how technology can help them positively affect their business.
Components of a marketing technology stack
The type of business you have will also impact which technologies you might find important, and how they should be organized. A key difference is whether your business sells its products or services to consumers (B2C) or to businesses (B2B). B2C and B2B marketers will use different channels and techniques to acquire customers, and will have varying technology needs as a result.
When assembling a marketing technology stack, it's important to know which technologies are foundational, and should be put in place first. Both B2C and B2B marketers should consider these technologies essential:
Content management system (CMS) — technology that powers a website, blog, or other relevant web properties where marketers want to engage their customers.
Advertising technology — this space is vast, but advertising is a key customer acquisition technique for marketers. Most will use a combination of SEM (search engine marketing), display ads, retargeting, and ad tracking or attribution software.
Email — a key customer communications channel that all marketers need in their toolkit. Sometimes, email is a capability that comes built into a marketing automation or inbound marketing platform.
Insights and analysis — at a broad level, marketers need to be able to access their data to measure digital marketing activity. Most marketers will have website analytics and their own business analytics tracked in either homegrown or third-party tools. In more advanced cases, a data warehouse can pull together data from a wide array of systems to make it more accessible or use content intelligence to provide insights on content performance.
Experiential marketing - experiential marketing, also known as event marketing, is an important aspect of marketing for many companies. With the growing popularity of virtual events, conferences and webinars, it's important to have the right experiential marketing tools to manage these events.
Experience optimization — this includes A/B testing and personalization software, or programs that allow marketers to take action on their analytics to make their marketing campaigns more efficient. There are many other channels that might require different levels of investment, depending on whether your marketing strategy is more aligned with B2C or B2B, and your business strategy.
Social media — technology to monitor social activity and make social engagement easier can help maximize the impact of this marketing channel. Social networks such as LinkedIn and Facebook are also a key part of the ads landscape, and many have paid advertising options available.
Digital asset management (DAM) — Similar to a content management system, in that it stores content, but typically focused on keeping track of and authoring static assets like images, documents and video.
Customer relationship management (CRM) — typically an area of focus for B2B marketers, a CRM can track marketing attribution when supporting a direct salesforce. The CRM will track all customer relationships and can provide insights on how marketing campaigns influence sales pipeline and customer growth.
Search engine optimization (SEO) — SEO is often a key strategy for driving organic traffic to your website by ranking higher in search engines such as Google, and often pairs well with content marketing strategy. There are many tools available to help with keyword research and other SEO-related initiatives.
It's also important to know which skill sets and team members you'll need to have in place to ensure that your marketing team gets maximum benefit from the technologies you have in place.
Here are a few categories to consider when thinking about how your marketing technology will complement your team:
Customer acquisition - online marketing, partner marketing, event marketing, website optimization
Brand & communications - social media, public relations, sponsorships, broadcast advertising
Product marketing - product marketing, analyst relations, content marketing
Marketing operations - campaign performance, data analysis and insight in particular, marketing operations (or marketing ops) is a key role that will help enable the rest of the marketing team to make smart decisions with your marketing data. Many marketing experts advise that this is a key role to have in place when growing the team.
Marketing technology landscape infographic
The martech startup landscape has exploded over the past few years, and there are now thousands of vendors offering technology solutions and SaaS products for marketer issues.
One popular visualization is the Marketing Technology Landscape infographic created by Scott Brinker. The infographic started in 2011 with just under 150 companies, and had expanded to over 10,000 companies in the latest iteration.
You can click here to see the full version of the infographic below: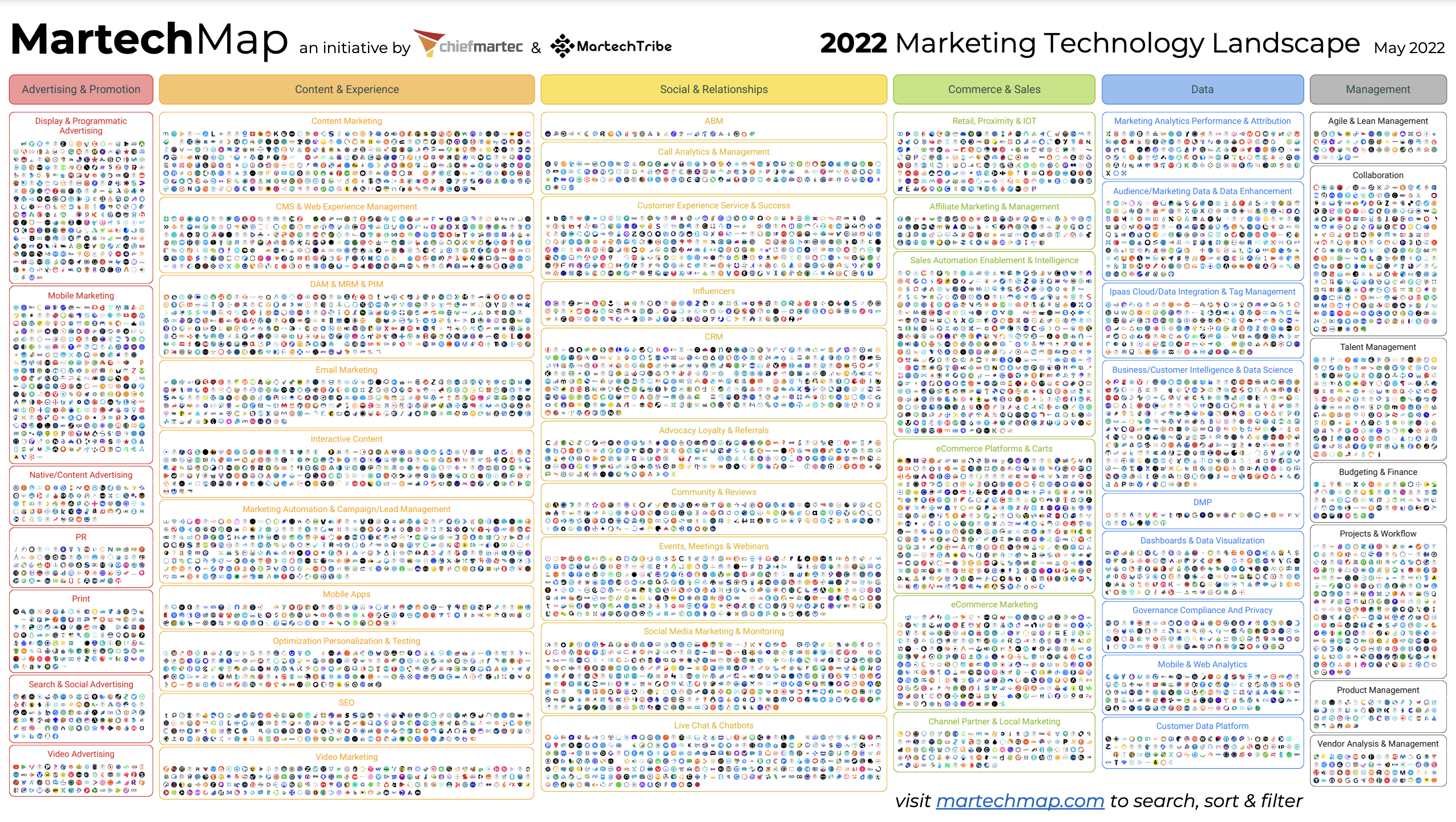 Add our Digital Experience Platform to your marketing technology stack
If you're building out your marketing stack and want to ensure that your team can take action on your marketing data, make experience optimization software a key part of your strategy. Taking action on customer insights and data with A/B testing and personalization is a key tactic for ensuring that your marketing campaigns are performing efficiently, that your team has the data they need to experiment and make decisions quickly and that your marketing budget is generating ROI.
Optimizely is the world's number one experience optimization platform, and integrates seamlessly with other marketing technologies you may already be using, from WordPress to Salesforce. Test it out today! Get started