COMMERCE ROADMAP
Buying experiences, made modern
Unveiling the Q4 roadmap for Configured and Customized Commerce. Get the first look at how we're helping businesses create better buying experiences.
Composable Commerce Modules
Debuting at Opticon San Diego, Optimizely is releasing a set of multi-tenant SaaS composable modules for commerce. Compatible with both Configured and Customized Commerce platforms, composable modules help businesses small and large accelerate essential e-commerce functions while improving maintenance and manual overhead.
Featured modules to release in Q4 '23:
CSR Portal

CSR Portal support for Configured Commerce to resolve customer service cases with centralized customer information like order history and account details
Respond to emails and call, add a new promotion code, change products, cancel orders and more
Separate login for success reps to improve usability and reduce potential confusion

Payments

Access to more than 200+ payment gateways for seamless regional, national, and international payments support
Two-factor authentication and 3DS support, a requirement in the EU
Future considerations: Enhanced rules routing to increase payment conversion through different gateways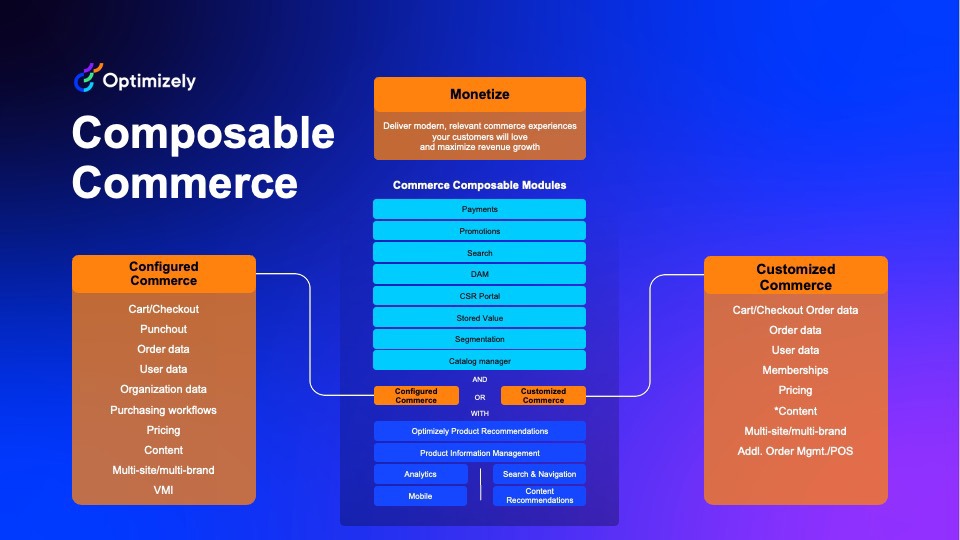 Configured Commerce Improvements
Lists Management: Organize Lists
To enhance List Management capabilities for Configured Commerce, we are making possible to add tags to list, "Favorite" lists, and hide and unhide lists to improve organization. Here's what you'll see:
Featured capabilities: 
Adding Tags to Lists: Add tags to associate lists with specific business functions like creating a list for seasonal products, common orders, and more.
Favorite Lists: Favorite lists to keep them at the top of your list queue and improve usability
Hiding and Unhiding Lists: Hide and unhide lists based on importance, creating a more seamless list interface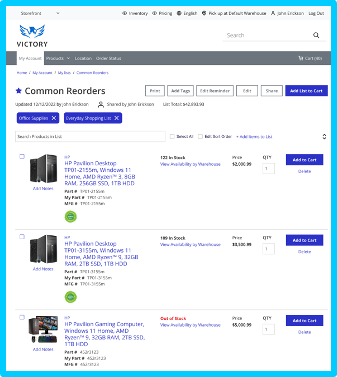 Mission Control Beta
Mission Control allows commerce customers to manage their own environment without assitance from Optimizely. By doing this, you save time-to-market for website updates and ease ongoing maintenance.  
Featured capabilities:
Self-service environment management to improve time-to-market for website updates
Ability to deploy code, execute database backups and website restarts without interacting with Optimizely technical support
Additionally, sync user files and database from production to sandbox 
Customized Commerce Improvements
BOGO Promotions
We are building a template for Buy-One-Get-One (BOGO) promotions to ease usage of unique promotion campaigns within Customized Commerce. By using promotions like BOGO, you help increase customer purchase frequency and retention.
Recycle Bin for Catalog Items
To improve the content and commerce experience, we are creating a recycle bin for catalog items so that they can easily be recovered if deleted.
Understanding the Optimizely Commerce Product Roadmap


At Optimizely, we value clarity and transparency into what we're building and why. To do this, we publicly share a majority of our Commerce product roadmap. In the roadmap, we have categorized our work into three groups: Committed, Planned, and Considered. These definitions represent levels of assurance around what products we will deliver quarterly. 
Committed items are features that we are devoted to delivering within the quarter. Planned items are features we're targeting to deliver in the quarter, but are less likely than Committed items. Considered items are features we have acknowledged and are considering but may not be worked on or delivered in the quarter. 
This roadmap is dynamic, therefore, it is intended for informational purposes only. The roadmap is not binding and should not be relied upon in making any purchasing or development decisions. We reserve the right to revise this roadmap at any time without notice.
Committed

MODULE
CSR Portal
MODULE
Payments
CONFIG
List Management: Organize Lists
CONFIG

Auto-Translate UX (AC/Spire)

​

CONFIG
SDK Release
CONFIG

VMI Enhance Re-Order on Web

CONFIG
Add Role to User Export
CUSTOM
BOGO Promotions
CUSTOM
Recycle Bin for Catalog Items
Planned

MODULE
DAM Lite
MODULE
Search
CONFIG
Lists: Improved Filters/Search for Lists
CONFIG
Lists: Discontinued Item Handling
CONFIG
Stay Logged In (Configurations)
CONFIG
Site Map Customization
CONFIG
Language Select by User
CONFIG
Improve UX for Destructive Action
CONFIG
Additional Payments (One Page Checkout)
CUSTOM
Packlist Management
Considered

MODULE
Promotions
CONFIG
Lists: Auto-Generate via Yes/No Field
CONFIG
Printable Barcodes (Lists and VMI)
CONFIG
Customer Part Number Improvements
CONFIG
Auto-Translate Website Content
CONFIG
UI for AC, Spire, and Style Guide
CONFIG
"Show My Orders Only" Filter (CAB Request)
CONFIG
Restriction Improvements for Guests
CUSTOM
Splitting Shipments
Learn more about Optimizely's roadmap
Join us on World, the global Optimizely community site hosting forums, blogs and documentation for the Optimizely platform. Engage with the worldwide Optimizely community and learn about product updates to stay up to date on how to unlock your potential.
Disclosure and Safe Harbor. [2022-8]. This product roadmap is intended to outline our general product direction. It is intended for information purposes only. It may not be incorporated into any contract. It is not a commitment to deliver any material, code, or functionality, and should not be relied upon in making purchasing decisions. Customers who purchase our products should make their purchase decisions based upon features and functions that are currently available. Any unreleased services, features, functionality, or enhancements referenced in any document, roadmap, blog, website, press release, or public statement that are not currently available are subject to change at our discretion and may not be delivered as planned or at all.  The development, release, and timing of any features or functionality remains at the sole discretion of Episerver Inc. (dba Optimizely).