CMP ROADMAP
Plan easily. Create collaboratively. Publish seamlessly. 
Introducing: the Q4 roadmap for Optimizely Content Marketing Platform (CMP). We're hard at work bringing enhancements to the CMP that will help teams to better plan and create exceptional content and campaigns.  
Here's a sneak peek at what's to come through the end of 2023!
Editor's Note: If you missed Opticon '23 in San Diego, you can still access all of the Content Marketing Platform sessions (and more!) by registering for Opticon Online
Omnichannel Authoring & Delivery
Create content once and use it for landing pages, emails, newsletters, and social posts, and preview and publish across various channels – without leaving the CMP.
The new Editor experience will feature inline commenting and content recommendations, channel-specific previews, proofing and progressive editing. *Reach out to your account rep for more information.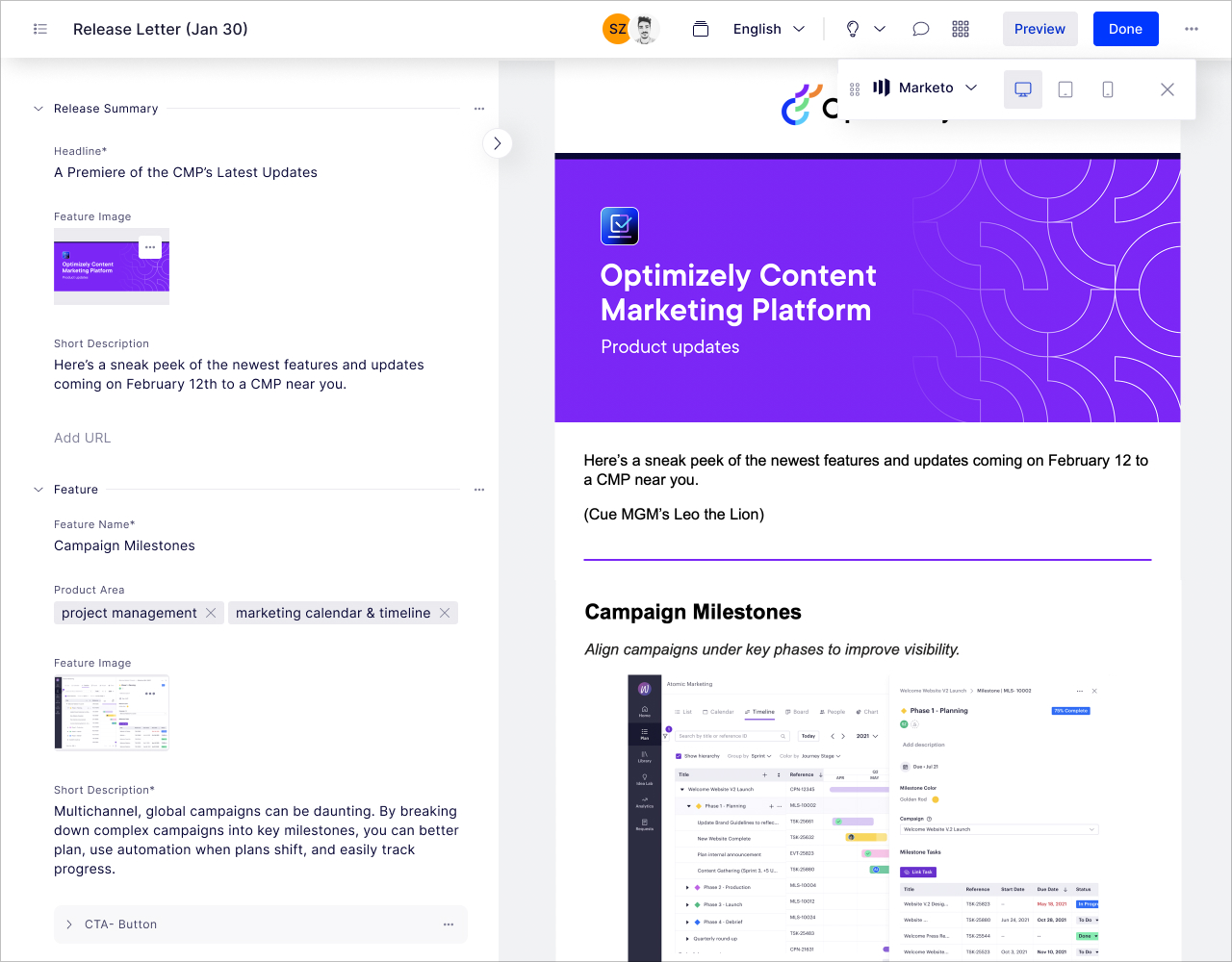 Brand Templates
Brand Templates empowers even the least design-savvy marketers to customize assets in minutes, while ensuring everything is on brand.
 
When creating templates, designers can lock specific elements so only certain components can be edited by other users. This helps to ensure consistent branding and compliance, and gives time back to designers to develop new materials rather than reworking existing assets.
In our December release, Brand Templates will be able to be accessed from the Task in the Add Content dropdown. Users will also be able to create a template from scratch in the Task (Admins, Creator roles, and any custom role with a "Manage Template" permission).

On Hold Tasks
Instead of bumping out the due date or archiving work when priorities change, users will be able to change Task statuses to On Hold, then pick the work back up when time allows.
Asset Fields
Users will have greater control when organizing DAM (Library) assets, with the ability to customize and create their own Asset Fields.
Improved DAM integrations with custom Asset Fields will allow marketing teams, third parties, partners, agencies and other users of the DAM to better organize huge volumes of assets with complex criteria — especially via integrations/API.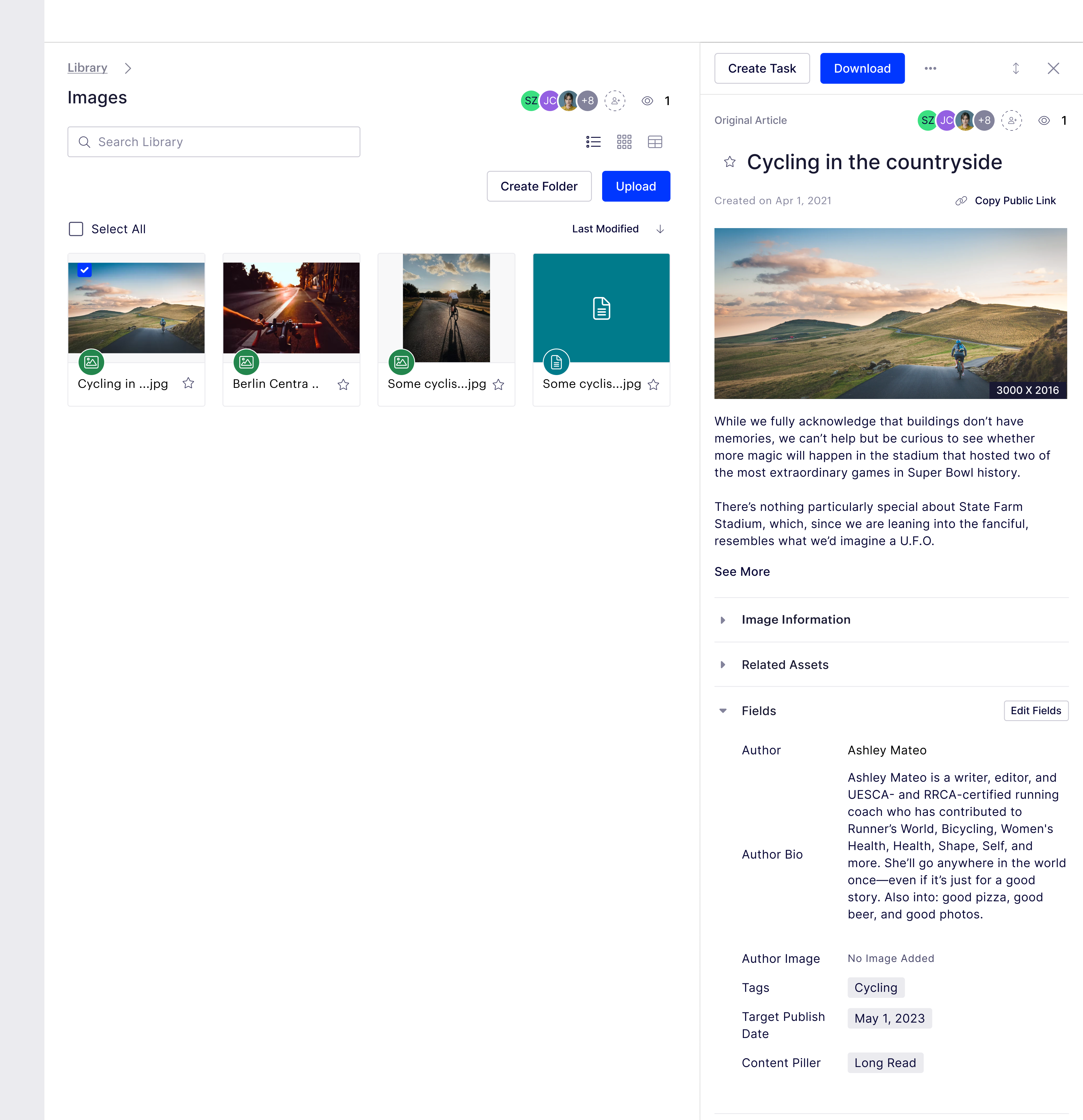 Saved View Permissions
Grant edit or view access to saved views in the Plan module. Users can see and use all views shared with them from the Saved Views dropdown at the top of the Plan module.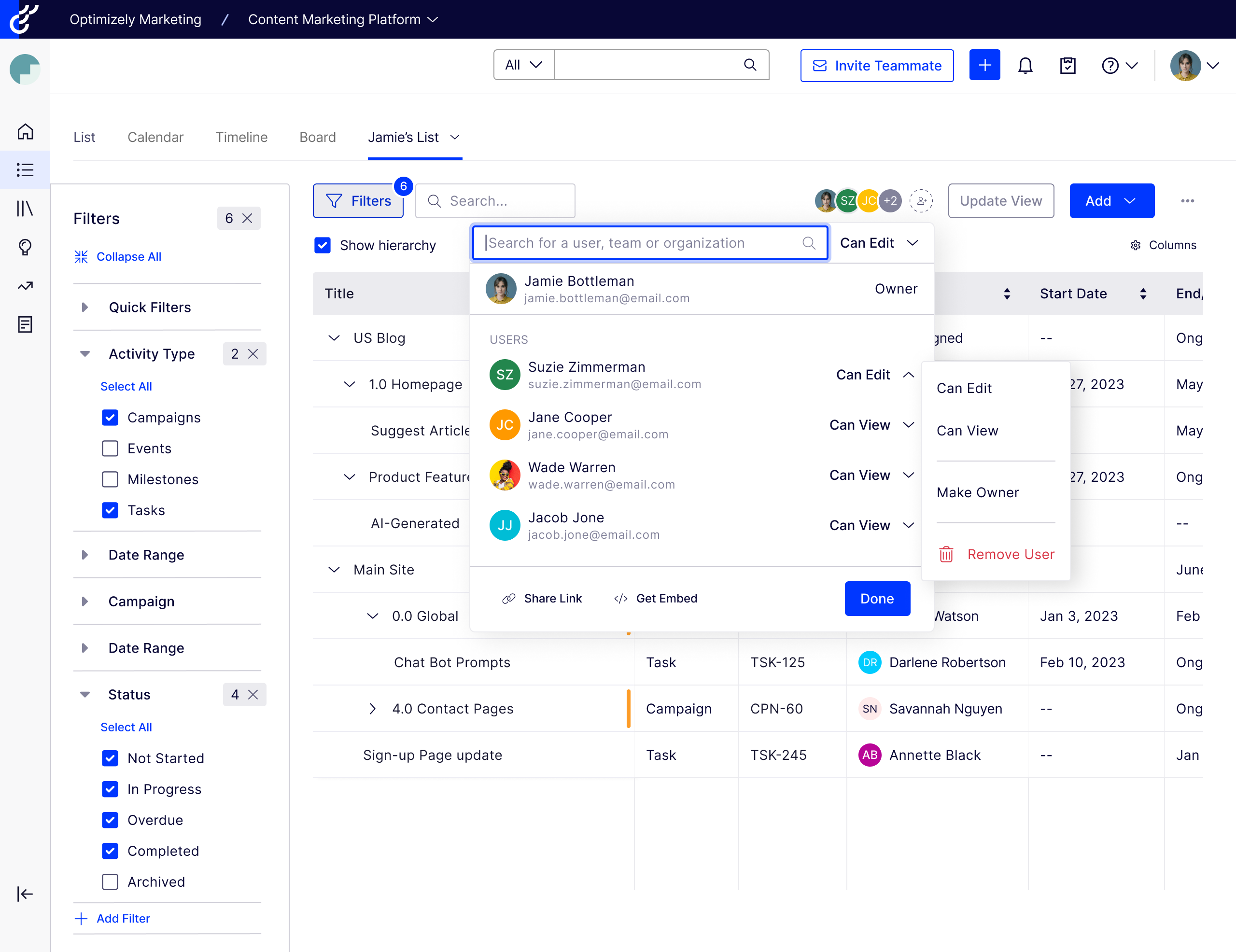 UX Delights
Nested folder search in Library: Search for assets within a specific folder
Character count on rich text fields: Set and view character count limits on rich text fields
Helper text for fields: Set helper text for fields in Settings to guide users to provide the appropriate information

Push Asset to Library pre-completion of Task: Send assets to Library before a Task is completed

Workflow step fields: Add fields to workflow steps to easily filter and view specific steps

Auto-complete Work Request: When a workflow or all Tasks associated with a Work Request have been completed, the request will automatically be changed to "Complete"

Progressive form updates in Work Requests: Keep forms to a single page and reuse fields more than once
Learn more about Optimizely's roadmap
Join us on World, the global Optimizely community site hosting forums, blogs and documentation for the Optimizely platform. Engage with the worldwide Optimizely community and learn about product updates to stay up to date on how to unlock your potential.
Disclosure and Safe Harbor. [2022-8]. This product roadmap is intended to outline our general product direction. It is intended for information purposes only. It may not be incorporated into any contract. It is not a commitment to deliver any material, code, or functionality, and should not be relied upon in making purchasing decisions. Customers who purchase our products should make their purchase decisions based upon features and functions that are currently available. Any unreleased services, features, functionality, or enhancements referenced in any document, roadmap, blog, website, press release, or public statement that are not currently available are subject to change at our discretion and may not be delivered as planned or at all.  The development, release, and timing of any features or functionality remains at the sole discretion of Episerver Inc. (dba Optimizely).