8 metrics to track the value of your content marketing
Content marketing sounds good in theory, but how do you measure the success of something that is mainly pictures and words, let alone gain a competitive advantage?
---
According to the Content Marketing Institute, 33 percent of B2B marketers and 41 percent of B2C marketers cited the inability to measure [content] as a significant challenge. There is often a disconnect measuring alignment with goals and objectives, especially when using the same KPIs as others (traffic, rankings, click-through rate (CTR), etc.). Instead, you can gain that immense edge that will increase your content marketing ROI and engagement by tracking these lesser-known metrics:
1. Cost per acquisition (CPA)
The big question is, how does content marketing translate to monetary value? The concept is straightforward, you create relevant content that increases engagement with potential customers, and they convert to purchase your product or service. A way to measure this is by looking at Cost Per Acquisition (CPA) or essentially the cost to acquire one paying customer on a campaign or channel level. The CPA model's primary use is for online advertising platforms, but in the context of content, you must look at it differently. To find this metric, take the cost to create content, add the cost of promotion, and divide it by the total attributed conversions. Knowing this will allow you to accurately assess the value of your content campaigns in terms of scalability, effectiveness, and precisely find out how much ROI you can directly attribute to content marketing.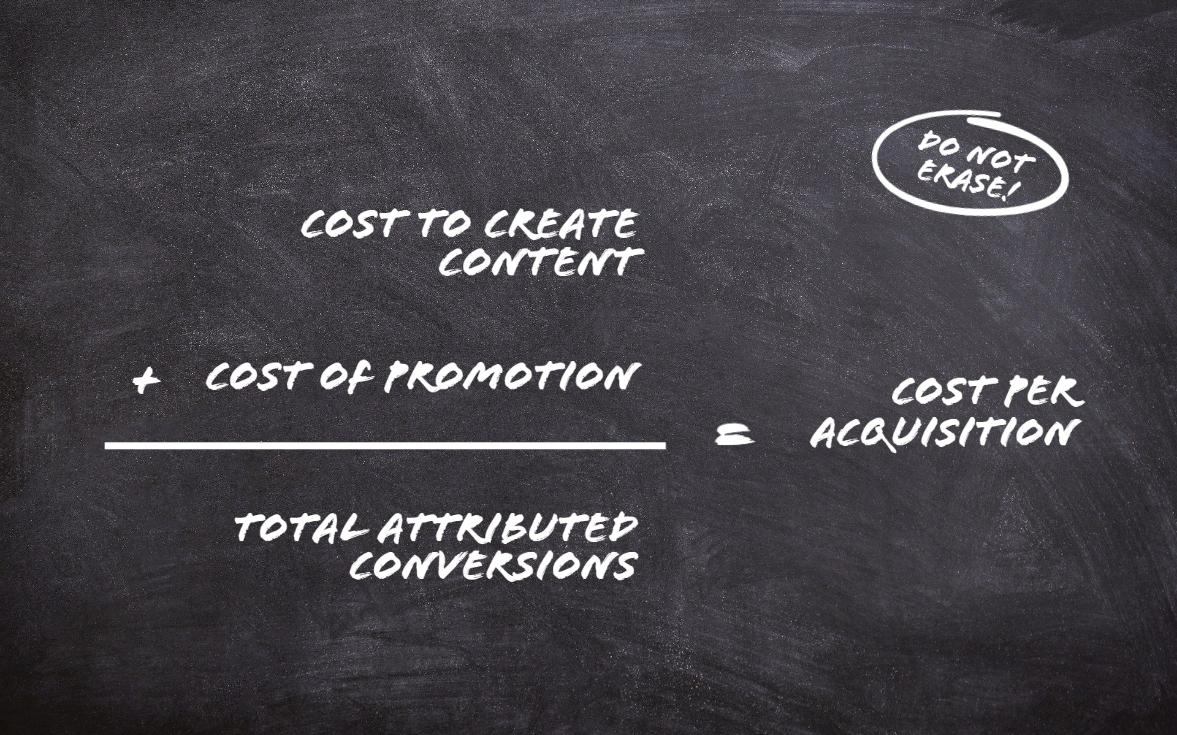 2. Time on page
Think about when you last spent a long time viewing a single web page. Was it interesting? Did you learn something new? Make a purchase? If any of this sounds familiar, the odds are that it was because the page met your expectations and delivered relevant material. The time on page reveals if your visitors are absorbing your content. For instance, if the average time on page for a long blog post is under 10 seconds, you can assume that most visitors aren't reading the post. Isolate specific pages where people spend the most and least time, identify high performing topics and concepts, and optimize content to find the right channel or medium. If people are leaving your pages rather rapidly, your content may not be what they had in mind. Instead of using a regularly tracked segment like Time Spent on Site, you can narrow your focus and segment your content effectively.
3. Number of sessions per user
You have stories to tell that can significantly improve your customers' lives, but is one story enough to keep them coming back? It's close to impossible to convert a shopper on their first visit, and according to Marketing Week, consumers use an average of almost six touchpoints (with nearly 50% regularly using more than four) before they make a purchase. The number of sessions per user determines how many of your users are returning to your site multiple times. Think of it as a rating scale where the higher the average is for this metric, the more likely your clients can't keep their eyes off you.
4. Exit rate
Have you ever seen a trailer for a movie that looked amazing, only to begin watching it and couldn't finish it? That is an example of a non-digital exit rate. Now imagine your customers see a fantastic, exciting headline for an article, only to click on it and find that it leads to… junk! Without the steak to back up the sizzle, your potential customers may not even give you a chance. By monitoring your company's exit rate, or the number of visitors that leave your website after a specific page, you can avoid these scenarios. Why do they leave? Is there a form required to download a document? Maybe it's registration? Shipping costs? Non-engaging content and barriers will cause people to leave your site, and if you compare the exit rates between each page, you can see which pages have content with high relevance, intent, and engagement.
5. Email sign ups
Let's say you're a travel nerd, you read blogs, learn about points and miles, and have your eyes set on the 2020 Olympics. One day, you receive an email offering a flight from LA to Tokyo for under $500 from a flight deal website where you filled a sign-up form. You book the flight, take the trip, find out sumo isn't an Olympic sport, and tell all your friends about the website that explicitly provided the content you wanted. If you have engaging content, the same thing may happen to your business. Think about adding an email sign-up opt-in form within the header, sidebar, in the end, or natively inside the blog post to increase this metric. What's a better indicator of engagement than someone who offers their email so they can receive notifications when you publish something new?
See what Episerver is doing right here?
6. Social shares
How your content engages with your customers is more substantive than merely making a claim; it validates you in the eyes of your users. When a customer visits your social media, they are actively trying to understand what you do and what you offer. If someone shares their content from their personal profile, they are indicating that they are willing to share your brand and content with their own contacts. Personal endorsements and shares can be a good indicator of high reach count and engagement rate. Just because someone likes a post, it doesn't necessarily mean that they consumed your content. With shares, you have a reliable indicator that you're writing the type of content that will earn followers, site visits, and adds to your business' reputation.
7. Backlinks
Having the authority of backlinks pointing to your website is one of the most important ranking signals to search engines like Google. If your content sells itself, it will naturally lead to others linking to you (increasing exposure) as well as raising the importance of search engines. Also, potential clients may think your website has authority if other sites link to it. Detailed descriptions and propositions of value to the client will allow your visitors to see how your business will solve their problems. Tracking who and the number of backlinks your content generates can help you identify what content is performing better, open more channels for your business, and increase your influence.
8. Organic traffic
You may already be tracking this metric in your content marketing strategy, but if not, it's one of the most important. This metric is a bit different because instead of engaging with people, you are trying to engage Google. The goal of search engines is to connect people's queries to the most relevant content possible. If your content has good SEO, it will start to show up more and more in search results rankings, and the direct outcome is that you will see organic traffic rise. If your organic traffic is growing every month, you can assume, for the time being, Googlebot is engaging with your website, and you're producing great content for your target keyword. So how exactly do you accomplish something like that? Find precisely what content of yours has the highest average time on page, optimize pages with high exit rates, increase your number of sessions per user, social shares, and add backlinks to guide customers to your website organically.

There are many ways to measure content marketing ROI. Still, these lesser tracked KPIs can position you to the top of your industry regarding content marketing. According to Aberdeen, year-over-year growth in unique site traffic is 7.8x higher for content marketing leaders compared to followers (19.7% vs. 2.5%). Tracking these metrics will positively impact your business, amplify your content marketing performance, and measure your success in a quantifiable way.