Presenting Optimizely's Q3 '22 Product Roadmap
A sneak peek at the 'why' & 'how' behind all the exciting new features coming to the Optimizely product suite
--------
At Optimizely, we're continuously listening to the market to identify what our customers need. And in today's world, we know that creativity and data have never been more important catalysts for business growth.
That's why we're focusing relentlessly on helping our customers collaborate seamlessly, make decisions rooted in data, and deliver exceptional customer experiences. And together, the best-of-breed technologies that comprise Optimizely's product suite come together to do just that.
Read on for a closer look at the key themes shaping our product direction as we look towards the second half of 2022.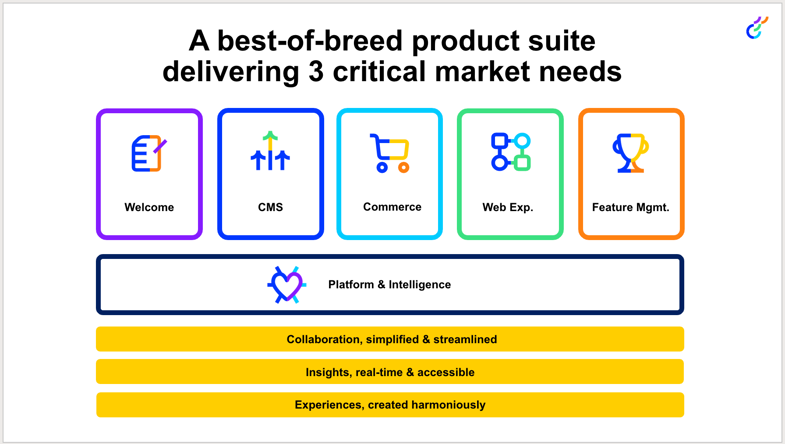 #1: Collaboration, simplified & streamlined...
Content is at the core of every great experience. Optimizely's best-in-class CMS helps our customers create and publish world-class digital content. However, with the explosion of channels and the resulting need for content, planning and ideation are paramount — critical steps in driving alignment and consistency upstream.
With Optimizely's recent acquisition of Welcome, we're now able to 'close the loop' on the marketing lifecycle and give teams a single workspace to manage the entire content lifecycle. From planning to production to measurement (and back again), we empower marketers with the ability to create high-quality content at scale.
That's why we're building modern, no-code tools for content creation, easy authoring and previews for autonomous publishing, as well as integrations to make it easier-than-ever to find and repurpose assets.
>> Read more about Welcome x CMS
#2: Insights, real-time & accessible...
Data, if leveraged properly, can become a brand's most powerful asset (not to mention a significant competitive advantage). Consider the content you create (Assets), the interactions and outcomes you desire (Behaviors), and the people you're creating it for (Customers). We call these the 'ABCs' of data.
With significant investment in its Data Platform, Optimizely is focused on helping brands harmonize, understand and act on all the data insights they collect across the customer journey.
That's why we're building easy, one-click connectors that integrate the Data Platform with key Optimizely applications, such as Web Experimentation and B2B Commerce, empowering practitioners to make data-driven decisions via real-time reporting and analytics.
>> Read more about Data Platform
#3: Experiences, created intelligently (& harmoniously)...
With data at our fingertips, infusing intelligence into the creation process is critical — whether it's for the production of a singular piece of content or the launch of high-risk/high-reward brand initiative. It's also imperative when considering how to empower practitioners to work smarter and faster — ultimately in pursuit of optimize the customer journey.
That's why Optimizely is focused on applying a scientific approach to the digital experience lifecycle, in order to help our customers optimize the entire creation process.
This can only be accomplisheds by surfacing smart tooltips and intelligence the moment you need them — whether it's providing intelligent recommendations while authoring content, to indicating experiment opportunities (tied to content), to providing step-by-step wizards and suggestions on what to do next.
---
Together, these strategic focus areas come together within Optimizely's best-in-class Digital Experience Platform, helping our customers collaborate seamlessly, make decisions rooted in data, and deliver exceptional customer experiences.
For more information on each of our products, click through the tabs on this page to see what's coming soon!

Anthony Aiosa is Sr. Director of Solution Marketing at Optimizely.
Ready to take your digital experiences to the next level?
Optimizely is trusted by over 9,000 leading companies for digital experiences, content management, experimentation and commerce.
Disclosure and Safe Harbor. [2022-8]. This product roadmap is intended to outline our general product direction. It is intended for information purposes only. It may not be incorporated into any contract. It is not a commitment to deliver any material, code, or functionality, and should not be relied upon in making purchasing decisions. Customers who purchase our products should make their purchase decisions based upon features and functions that are currently available. Any unreleased services, features, functionality, or enhancements referenced in any document, roadmap, blog, website, press release, or public statement that are not currently available are subject to change at our discretion and may not be delivered as planned or at all. The development, release, and timing of any features or functionality remains at the sole discretion of Episerver Inc. (dba Optimizely).