Presenting Optimizely's
Q3 '23 Product Roadmap
A sneak peek at the 'why' & 'how' behind all the exciting new features coming to the Optimizely product suite.
Editor's Note: For more information about your favorite digital experience solutions, be sure to check out Summer '23 Roadmap webinar series, hosted by Optimizely's very own product experts. 
---
The first half of 2023 has come and gone, and as we move through Q3, all eyes are on Opticon!  

The theme for 2023 is "Where Art & Science Intersect", and whether you've attended in the past or not, you won't want to miss this year's event! We're looking forward to sharing a string of big product announcements, hearing from top notch guest speakers, and hosting some compelling breakout sessions.
Registration is now open for all 3 events — San Diego, London, and Stockholm — so be sure to reserve your spot! You can visit optimizely.com/opticon to learn more, or if you're an Optimizely customer, please feel free to reach out to your account manager directly.


Before we look too far forward though, we should take time to reflect on several exciting releases from the last few months. 

In Q2, we focused on innovating against key themes, including...
...how we bring the Optimizely portfolio even closer together: 
Opti ID & Product Switcher:

Multi-product customers of Optimizely can now

benefit

from a

consolidated

authentication (SSO) process, cross-product authorization and navigation

(via a single, easy-to-use product switcher),

and centralized administration of user, roles, and permissions! Reach out to your account manager to learn more

.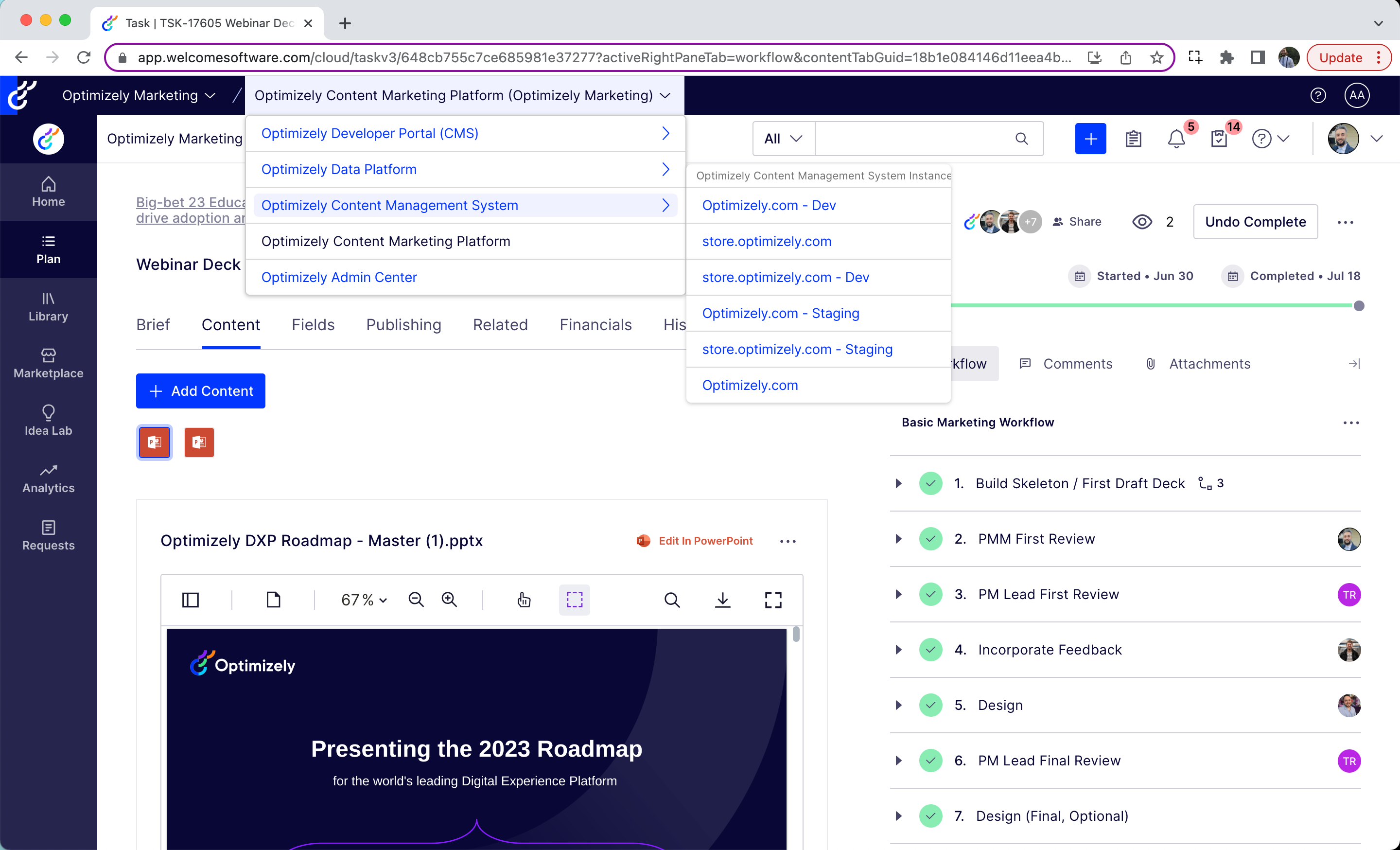 Pictured: Product Switcher & Admin Center for the Optimizely DXP
...how we enable creators to create amazing content, faster than ever before: 
AI Content Generator:

Spark creativity, overcome writer's block and save time on content creation with the CMP's AI Content Generator. Generate short or long-form written content in seconds by

providing

the topic, word count, and choosing the required tone and sentiment. Then create an image to

accompany

your content:

provide

a prompt and choose from a batch of AI-generated images to find the perfect match. It

doesn't

get easier than that! Learn more → 
Optimizely Graph:

 is a

new,

multi-tenant SaaS service that

provides

a more streamlined way to access your content

(

via

GraphQL

calls

) and deliver it across

channels and devices

.

Learn more →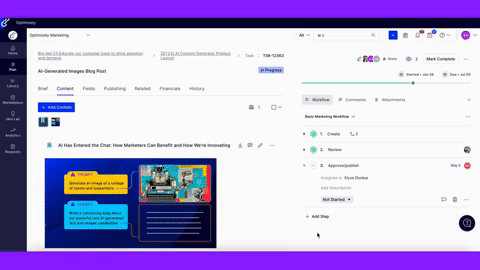 Pictured: AI Content Generator in the Optimizely CMP

...how we help teams get more targeted with their experiments: 
Google Analytics 4 Integration:

Use your established and refined user segments from GA4 in the experiments you run in Optimizely

​.

Send your GA4 audience

segments directly

to Optimizely Web Experimentation, all from 

the GA4 interface, and e

iminate the need to recreate segments —

all while unlocking

new targeting capabilities.  Learn more →

​

Advanced Audience Targeting: Leverage

 real-time segments (within Optimizely Data Platform)

out-of-the-box

 in

your experiments, personalization

campaigns, and targeted deliveries

​. Or u

se existing segments from your 3rd-party CDP 

(e.g.

mParticle

, Segment, and others …) to target with Web Experimentation

and Feature Experimentation.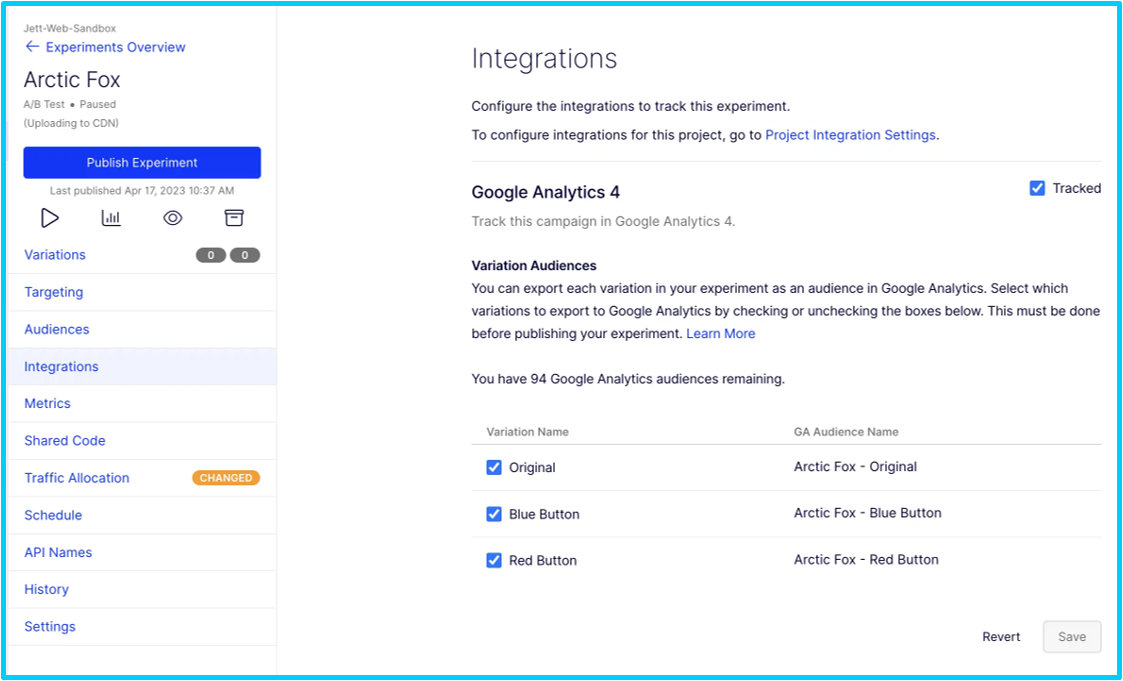 ​Pictured: GA4 integration with Optimizely Web Experimentation
...and how we help brands drive more conversions (and revenue): 
Customer Activation Dashboard: Reference a visually-appealing dashboard to measure key performance indicators and track the status of activations among your customer base, such a

s: how many

new customer accounts have been created, number of users that logged in and placed their first order, volume of accounts that placed at least one order over specific time periods, and more.

​Order Approval via Email: Enroll in dedicated email notifications and see all the valuable information you need to instantly approve field orders. Simultaneously save time, eliminate confusion, and improve sales efficiency. 
Pictured: Customer Activation Dashboard in Optimizely Configured Commerce


And rest assured, we're just getting started. 
We know that time-to-market, experimentation quality, and platform composability will remain at the forefront of our customers minds. That's why we remain dedicated to building world-class capabilities that enable our customers to collaborate better, create faster, and experiment smarter. 
Be sure to check check out our product-specific roadmaps for specific details on what you can expect to see (and use!) in your favorite tools soon: 
P.S. Want early access to the latest-and-greatest Optimizely capabilties? Keep an eye out for open beta programs. 
Anthony Aiosa is Optimizely's Sr. Director of Customer & Product Marketing.
Disclosure and Safe Harbor. [2022-8]. This product roadmap is intended to outline our general product direction. It is intended for information purposes only. It may not be incorporated into any contract. It is not a commitment to deliver any material, code, or functionality, and should not be relied upon in making purchasing decisions. Customers who purchase our products should make their purchase decisions based upon features and functions that are currently available. Any unreleased services, features, functionality, or enhancements referenced in any document, roadmap, blog, website, press release, or public statement that are not currently available are subject to change at our discretion and may not be delivered as planned or at all.  The development, release, and timing of any features or functionality remains at the sole discretion of Episerver Inc. (dba Optimizely).